Over 5,000 Individuals Receive Food for Thanksgiving
The North Texas Food Bank partnered with the University of North Texas – Dallas and Albertsons/Tom Thumb to host a holiday distribution for neighbors facing hunger.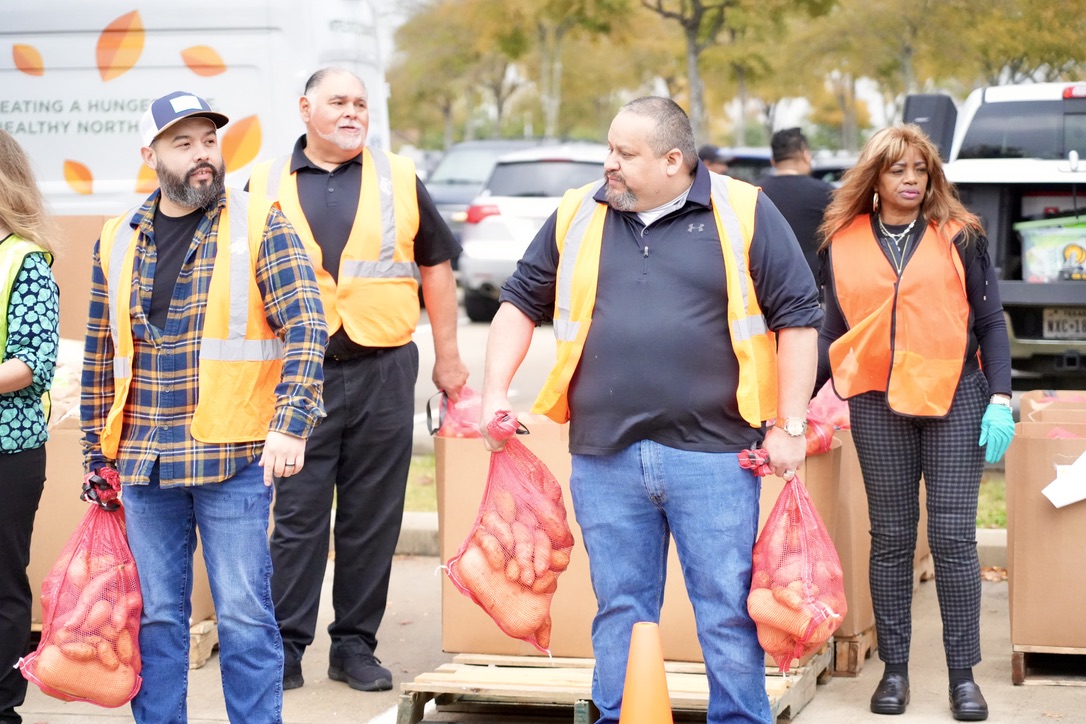 With a new grandbaby at home, Valencia Johnson wanted to be sure she had enough food to prepare a Thanksgiving meal for her family. She was among those who began lining up at 4 a.m. at the Nov. 20 holiday food distribution hosted by the North Texas Food Bank in partnership with the University of North Texas – Dallas 和 Albertsons/Tom Thumb.
"Without this, we wouldn't have a normal Thanksgiving dinner," she said. "We're grateful that you all do this."
Even lining up five hours before the distribution began, Valencia was not the first to arrive. The car ahead of her pulled up to the university parking lot at 1 a.m. Without the groceries being given out, the driver said, her family would not be celebrating the holiday this week with food.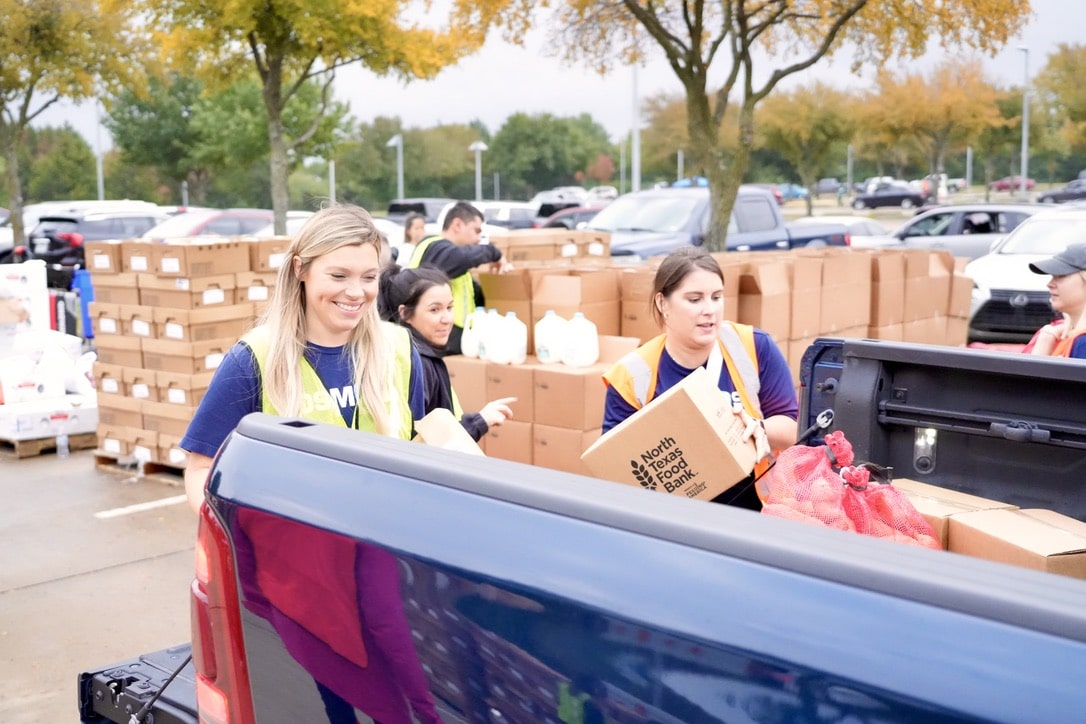 Across North Texas, the need is high, with one in eight facing hunger—the fourth highest rate in the nation. In South Dallas where UNTD is located, this time of year can be especially tough, said Joe Posada-Triana, director of the UNTD Office of Student Belonging who manages the campus distributions.
"We know that the holiday season is usually the most difficult," he said. "(This food) provides relief and support, not only for our families but also for our students and community. It reminds them, no matter their day-to-day struggles, the fact that they at least have food for the holiday season is a sign of hope. That's one of the biggest things we can offer our community."
In total, around 1,000 cars and more than 5,000 individuals were served during the distribution at UNTD. Each family received roughly 60 pounds of fresh groceries, including a turkey for the first 200 families and a $50 gift card to purchase food for the remaining families thanks to Tom Thumb/Albertsons. The campus became an NTFB feeding partner during the pandemic and now hosts a monthly distribution along with the holiday event.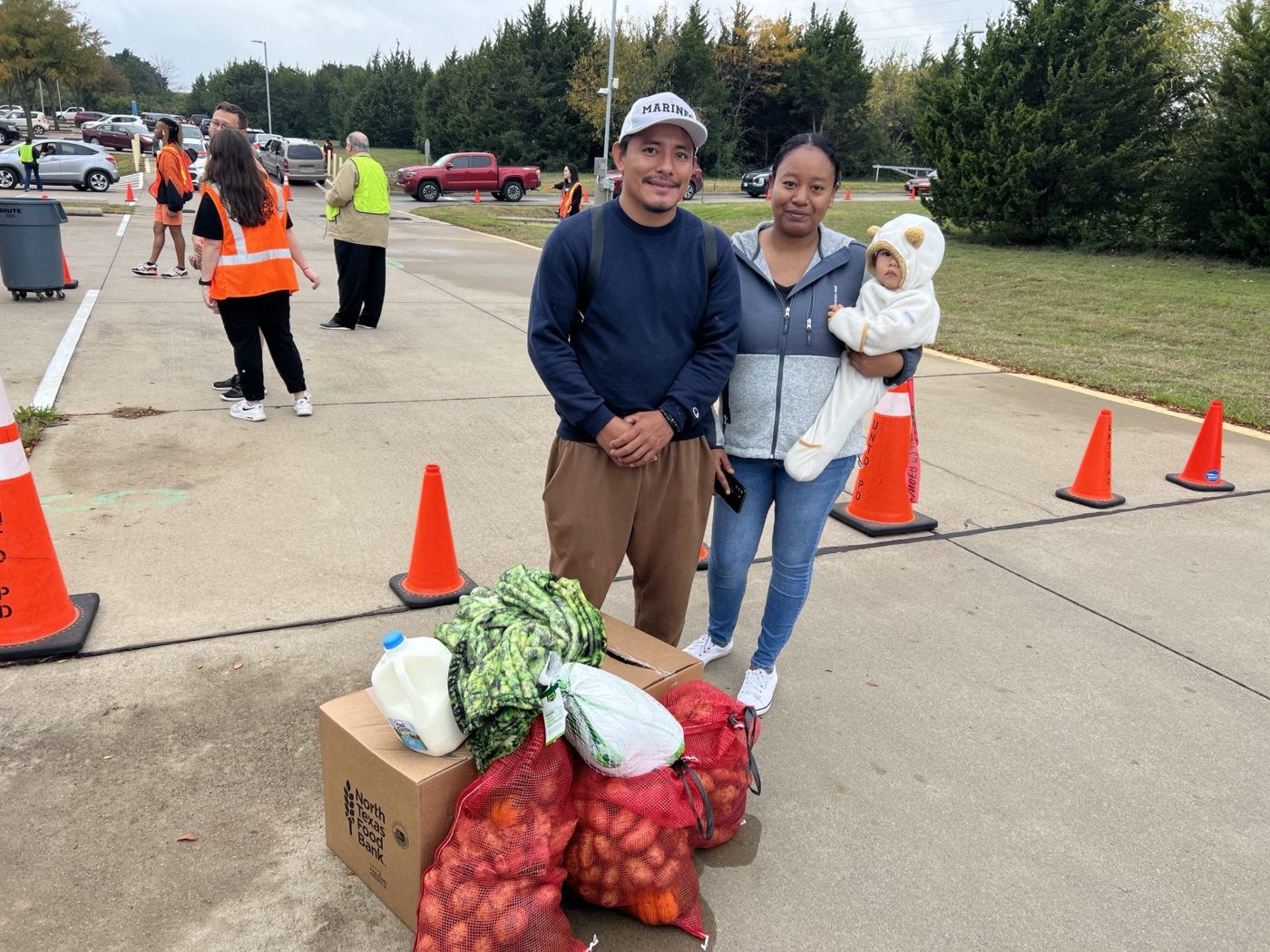 Rey David Saldaña said he heard about the distribution on TV and, along with his wife and young baby, took a bus, a train and a short walk to pick up groceries. They'd never sought food assistance before, but Rey David said he lost his job about a month ago and the wages he had been making didn't last long.
"It's a huge help honestly," he said, adding that they also have two older children at home. "This helps a lot because I don't have a way to financially support my family. I have been unemployed for a month now. This food will support us for many days while I try to find some work. It's a great help what you all are doing here, and we are so grateful. May God bless the organizations doing this and may you continue your work."
Like many, Kathy Turner said with the price of groceries remaining high, the distribution was the only way she was going to be able to make Thanksgiving dinner for herself, her daughter and her two grandchildren, who all live with her. She lives on social security and disability after a lupus diagnosis made it difficult for her to continue working.
"It's either pay rent, utilities or buy food," she said. "It's been kind of hard."
In addition to the 200 turkeys given out at the Nov. 20 event, the North Texas Food Bank provided more than 26,000 turkeys to its feeding network to distribute during the holiday season.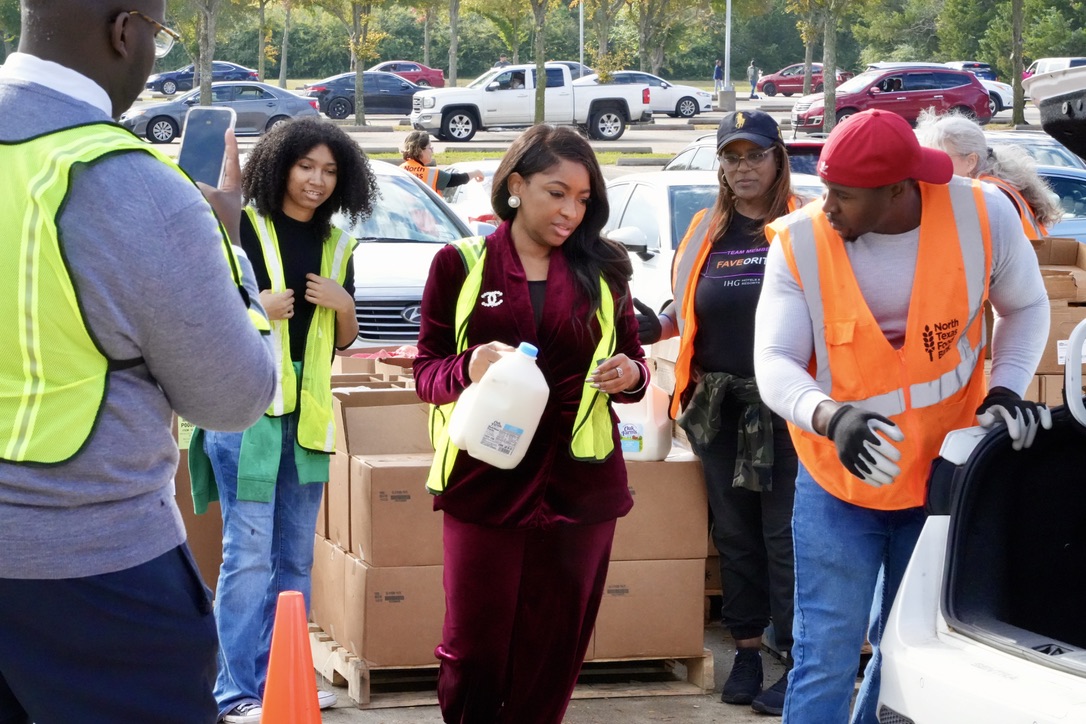 About 100 volunteers gave of their time Monday morning to help direct traffic, share information with neighbors and load food into vehicles.
Andrew Byrd says typically he's on the volunteer side of food distributions. However, with the cost of groceries going up while wages remain stagnant, he needed a little assistance this year.
"Thank you, thank you, thank you," he said, to those who made the distribution possible. "It's a blessing and I'm truly grateful."
Kathleen Petty is the communications manager for the North Texas Food Bank.