Donor Spotlight Q&A: Rent-A-Center
The North Texas Food Bank is incredibly grateful for the generous individuals, organizations and corporations who have allowed us to meet the continued elevated need of the North Texas community. Many of these donors have supported hunger relief since before the pandemic and remain vital partners of NTFB as we nourish communities and provide 今天的食物和明天的希望。
We are excited this month to spotlight one of our longtime corporate donors, 租賃中心. For 19 years, Plano-based Rent-A-Center has supported the Food Bank through its annual employee giving campaign. Thanks to the generosity of its employees and the company's passion for philanthropy and the NTFB mission, the NTFB 2021 #RACCares: Better Together campaign raised more than $170,000 for the Food Bank – Rent-A-Center's most successful campaign yet!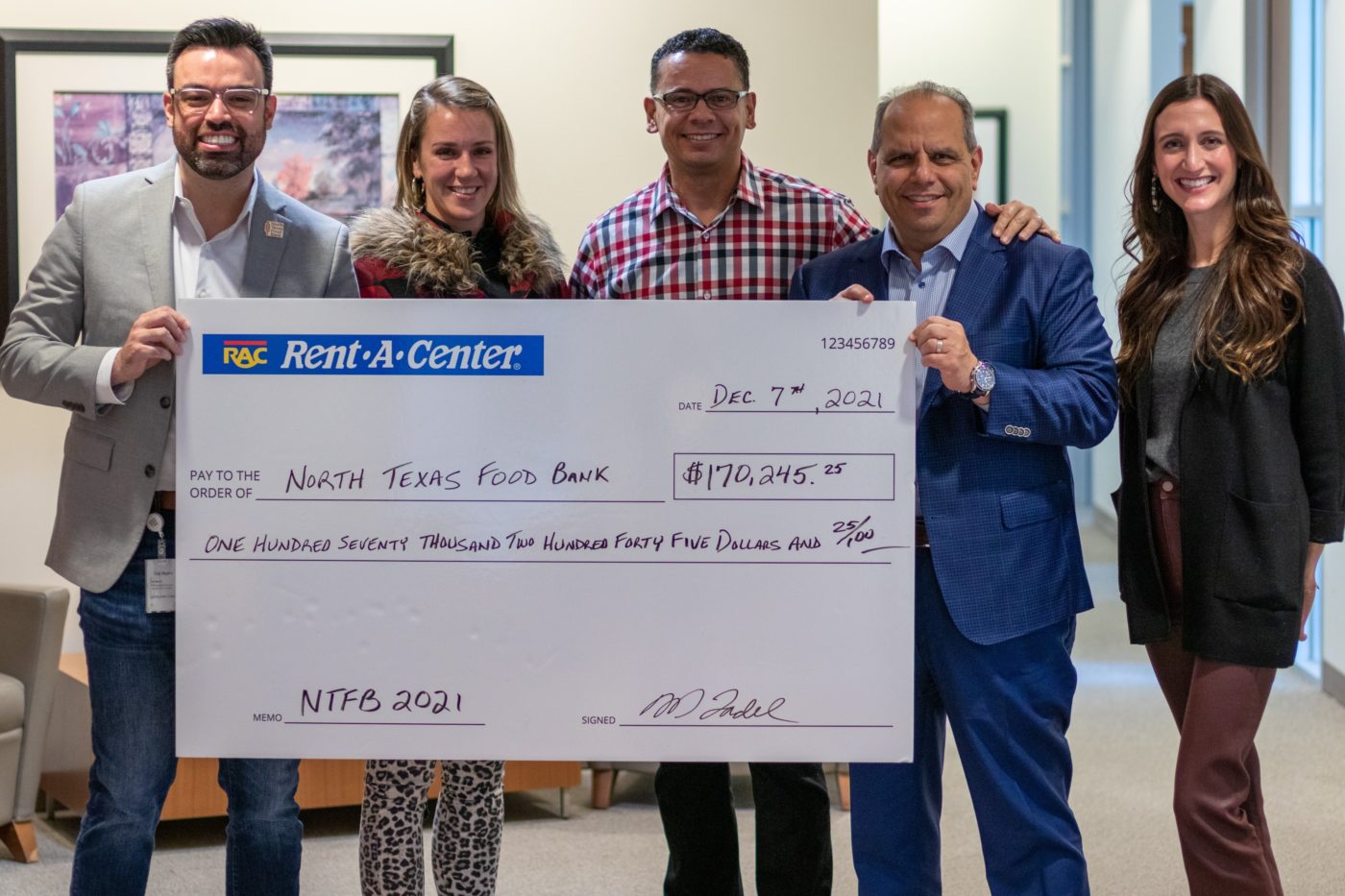 Throughout the course of the company's partnership with NTFB, the company has raised over $1.5 million in the fight against hunger, amounting to approximately 4.5 million nutritious meals for North Texans.
We visited with Nikki Carter, Rent-A-Center's Community Affairs Specialist, about the company's philanthropic efforts, its ability to engage employees in fundraising and why hunger relief is important to the company's mission.
Q: How would you describe Rent-A-Center's philosophy in giving back to the community?
A: Our charitable giving efforts are aligned with that same desire to help families thrive. We put our values into action by supporting causes that give families peace of mind and offer children opportunities that will help them reach their potential. Here's how we work to improve lives in the communities we serve:
Hunger Relief: Since 2002, Rent-A-Center has supported hunger-relief organizations in an effort to put an end to this national crisis. Throughout the year, Rent-A-Center participates in various local and national hunger-relief campaigns to fight hunger close to home and across the country.
Family & Youth Empowerment: At Rent-A-Center, our charitable giving efforts are aligned with the desire to help families thrive.
賑災: Disaster can strike anyone at any time. Rent-A-Center partners with the American Red Cross to provide emergency assistance to families who have lost everything in a disaster.
Q: Tell us more about your relationship with the North Texas Food Bank and your annual employee giving campaign.
A: Over the course of our 19-year partnership with NTFB, we have raised over $1.5 million in the fight against hunger, amounting to a little over 4.5 million nutritious meals for North Texans! After a successful 2021 campaign, we look forward to carrying that same momentum on into 2022!
Q: How do you engage your employees to produce such a successful fundraising campaign?
A: We use a variety of communication methods, from memos to bulletins to our intranet, to share the news and details of our campaign, and hype up our coworkers to participate. Our CEO always makes an announcement of the upcoming NTFB campaign during his Quarterly Update, so coworkers know to be on the lookout for more information. Then, because of the campaign's longevity, most people know what the campaign is and the goals we're trying to achieve, so coworkers stay tuned for the daily updates of events, results, etc., and that keeps the excitement levels up.
Q: Why is supporting hunger-relief important to Rent-A-Center?
一種: One in seven people in the U.S. don't have reliable access to nutritious food, which often serves as a barrier to other opportunities—a devastating reality in virtually every community.
問: What do you hope Rent-A-Center's support can allow the NTFB – and as a result, North Texans facing hunger – to accomplish?
A: It is our goal to help eliminate that barrier to other opportunities and improve the quality of life for people in North Texas. We are proud to support NTFB's efforts to raise awareness of food insecurity and fight hunger in the community. If we can help NTFB meet its goal of providing nutritious meals to North Texans, that in turn will help families achieve other goals they might not have been able to address due to hunger.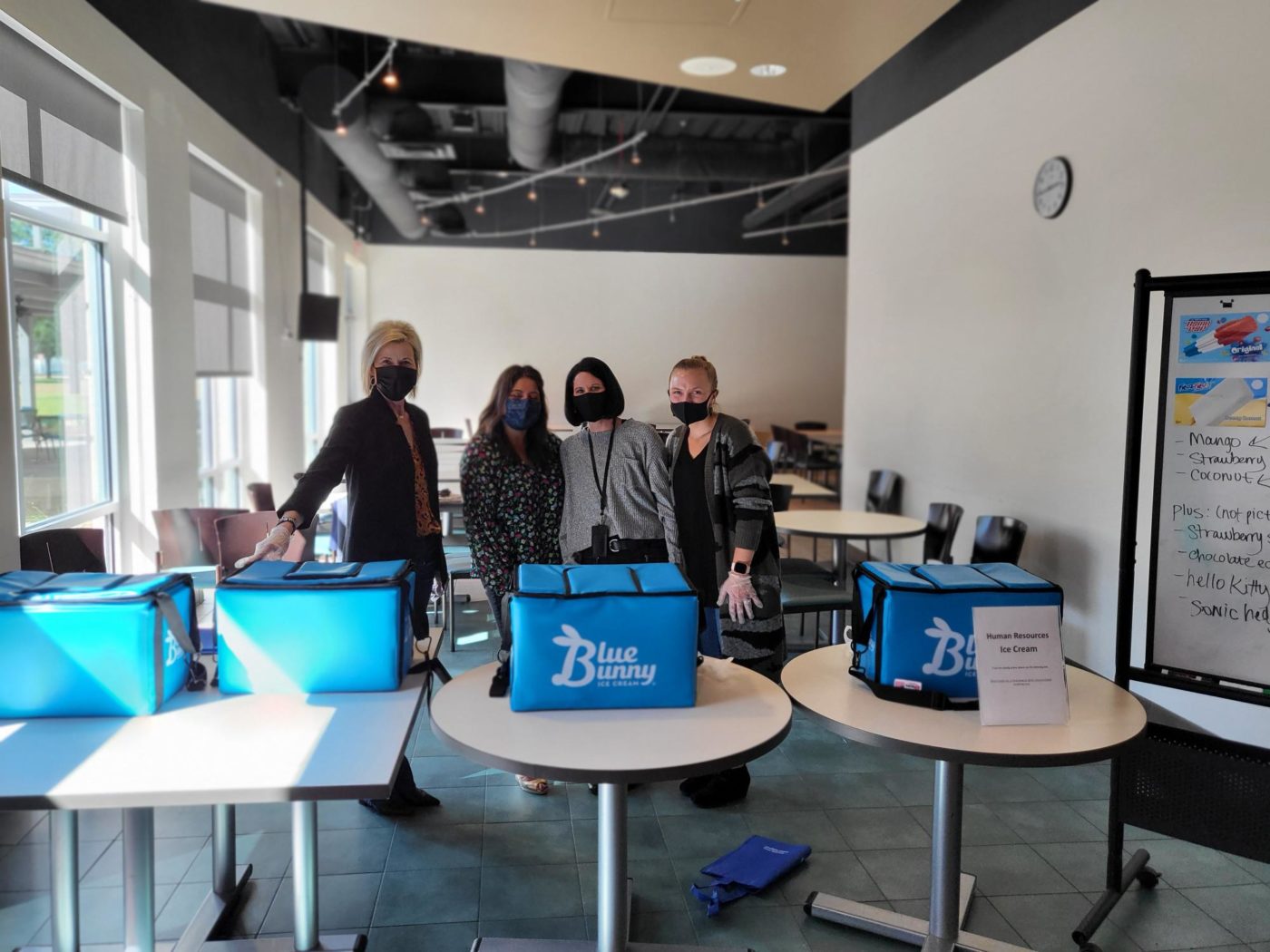 Q: What would you say to other corporations that are looking for ways to help or start an employee giving campaign?
A: Establish a diverse committee that is passionate about a charity's mission and start brainstorming ideas on the best ways to not only raise money, but actively engage your workforce to want to participate. RAC's efforts didn't expand overnight, but due to the success and popularity of the campaign through the years, we've been able to build a dedicated team of volunteers and create a signature fundraiser for our corporate Field Support Center that can raise significant money for NTFB.
Rent-A-Center would also like to thank the generous sponsors of their annual Golf Tournament which helped make this donation to NTFB possible: Anchor, Ashley, WCM, LLC, Benefit Marketing Solutions, Buildrite, Cigniti, Dell, Insight, Lane Furniture, Medallia, Samsung, Tandem Theory, Whirlpool, Identiti, Snowflake, ELEMENT, Venetian Worldwide, SSG Construction, Acertus, Data Bricks, Doyensys, Informatica, Reputation, SEALY, Tommy Gate, YPM.
---
Thank you to Rent-A-Center and all our supporters for your commitment to hunger relief. We are incredibly grateful as we continue our mission to bridge the hunger gap in North Texas.