Donor Spotlight Q&A: Kroger, Empty Bowls Presenting Sponsor
The North Texas Food Bank is grateful for the generous individuals, corporations and foundations whose financial support have allowed us to meet the continued elevated need of the North Texas community driven by inflation. We are excited this month to spotlight one of these dedicated donors, 克羅格.
Kroger has been a partner of the Food Bank since we began serving North Texas 40 years ago. Among its many contributions in the fight against hunger, the grocer has been the presenting sponsor for our signature 空碗 event for more than a decade. On February 23, Empty Bowls returns after a two-year hiatus due to the pandemic.

Food purchase is the largest expense for the North Texas Food Bank. When we receive donated food, we save costs and feed more families in need. Kroger has always been a leading partner in our retail donation program – even donating the first truck at the Food Bank to pick up rescued food from retailers. The relationship has continued to evolve, and we are grateful to now rescue items not just from its stores, but from Kroger's customer fulfillment center that opened last summer. The company has also made ordering and receiving groceries more convenient for customers throughout Texas and Oklahoma without a nearby brick-and-mortar store location through its robust Kroger Delivery services.
We spoke to Kroger about its commitment to being a prominent partner in the fight against hunger and the return of Empty Bowls as a way to spread awareness about the issue of hunger in North Texas.
---
Q: How would you describe Kroger's philosophy for giving back to the community?
A: It's a simple truth that our world is hungry for uplift. It's a universal need, as powerful as our need for food or fuel. At Kroger, Our Purpose is to Feed the Human Spirit. We do that through Our Promise to be friendly and caring, provide everything fresh, to uplift every way and improve every day. We share in our associates' and customers' pride of where they live, work and shop.
Through Kroger's Zero Hunger | Zero Waste social and environmental impact plan, we established a long-standing partnership with NTFB, ensuring that our neighbors in North Texas have ample access to fresh, nutritious food. Each year, Kroger donates more than 3 million pounds of fresh, nutritious food and millions of dollars to support local hunger relief organizations in North and East Texas and Northwest Louisiana.
Q: Tell us more about your relationship with the North Texas Food Bank and your support of hunger relief?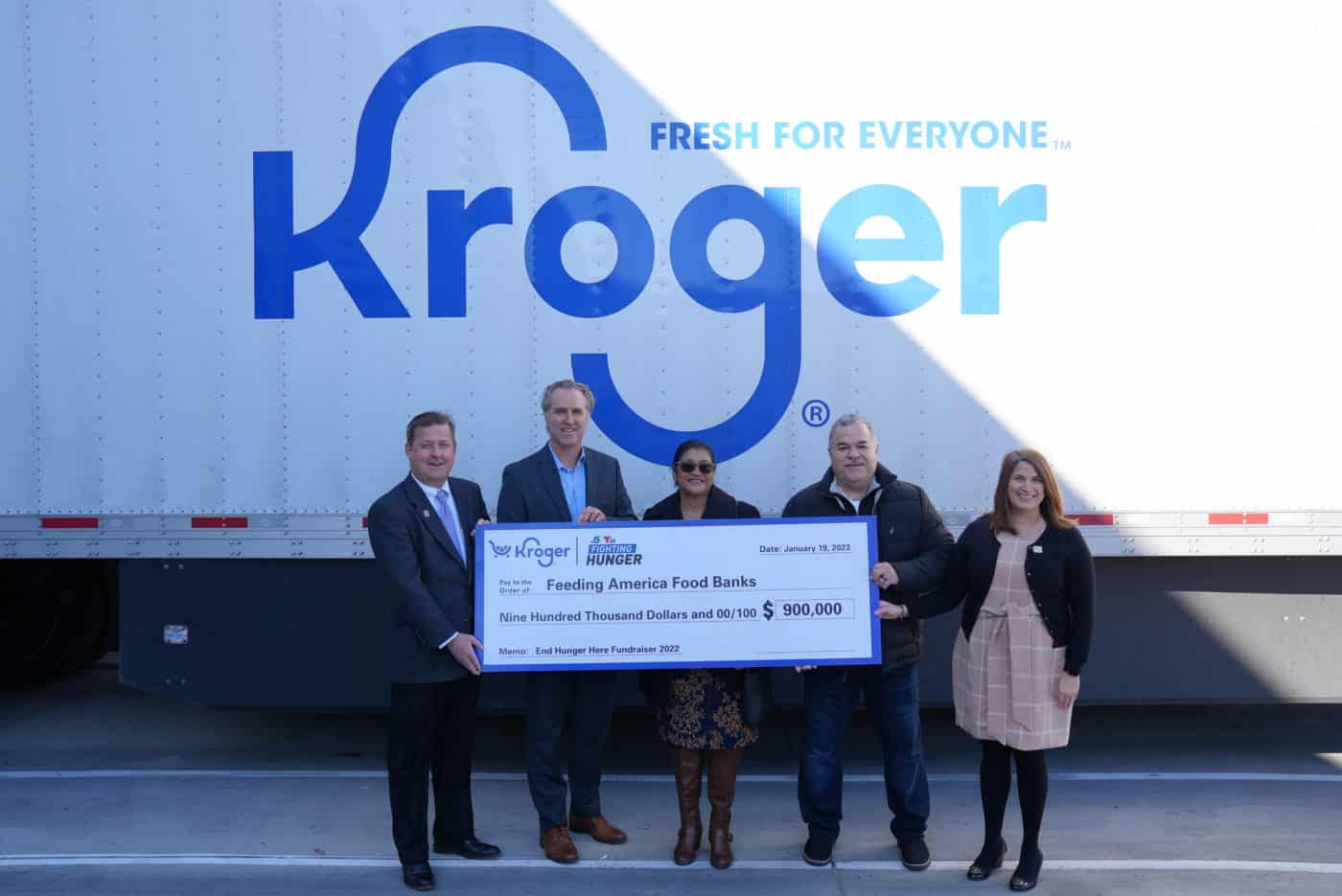 A: Since the beginning, Kroger has been a long-standing partner with NTFB to bridge the hunger gap in North Texas and provide children, adults and seniors a hunger-free future. For 40 years, Kroger's generosity and dedication to lifting up those in need is a bright spot in the enduring fight against hunger.
Through our 2022 End Hunger Here holiday fundraising campaign, Kroger stores in North & East Texas and Northwest Louisiana raised nearly $1 million to help combat hunger in our communities. We couldn't do that without amazing associates, generous customers, and compassionate partners like NBC5 and Telemundo 39 here in the Metroplex. The partnership delivered three truckloads of food and a check totaling more than a quarter of a million dollars to NTFB to provide hunger relief to our neighbors experiencing food insecurity. Our food rescue program provided more than 3.3 million pounds of food to our local communities, with 1.7 million of those pounds going directly to NTFB .
Q: What does Kroger's support of NTFB through its multi-year sponsorship of Empty Bowls mean to the company?
A: For 65 years, Kroger has been a good neighbor and trusted local partner to the communities we serve in North Texas. We have proudly been affiliated with NTFB since its inception 40 years ago. Our commitment to NTFB has included charitable giving, service and outreach that supports and strengthens neighborhoods and helps families live healthier lives. We're proud to be America's grocer and NTFB's local partner.
Q: What are you looking forward to with the return of Empty Bowls?
一種: Empty Bowls is an opportunity to gather and celebrate accomplishments and community partnerships, but more importantly, it is a chance to engage with attendees and remind them that hunger is a persistent issue in North Texas. With the high cost of inflation and the potential for a looming recession, we cannot relax in our fight against an ever-increasing need for food assistance.
Q: What impact do you hope Kroger's support of NTFB will have?
A: It all goes back to our Purpose and providing uplift. We want to see communities thrive and help people to live their best life possible. That's not possible if our neighbors are struggling to locate or create their next meal. Hunger is a distraction that prevents us from reaching our full potential. Through our support of NTFB, we hope to remove that obstacle for so many of our neighbors.
---
Thank you to Kroger and all our Empty Bowl sponsors for your commitment to hunger relief. We are incredibly grateful as we continue our mission to bridge the hunger gap in North Texas.