Mayors from 12 Cities Kickoff North Texas Food Bank Peanut Butter Drive
Mayors encourage North Texans to help collect 400,000 pounds of peanut butter to help feed children and families facing hunger.
Mayors from twelve cities across North Texas kicked off the race to collect peanut butter for the North Texas Food Bank (NTFB). Part of Hunger Action Month, the 10日 Annual Spread the Hope Peanut Butter Drive runs throughout September with a goal to collect 400,000 pounds of peanut butter, both physically and online through a monetary donation, to help feed North Texans facing hunger.
The twelve mayors met at the Andretti Indoor Karting and Games facility at Grandscape to film a promotional video to launch the peanut butter drive. The video features the mayors in a friendly competition to see which city will win the race for collecting the most peanut butter.
The brief and fun-filled video can be viewed at https://www.youtube.com/watch?v=LLZcIxRVbzU&t=4s. Although dozens of cities and communities across North Texas participate in the annual food drive, the cities and mayors that participated in the kickoff event and video included: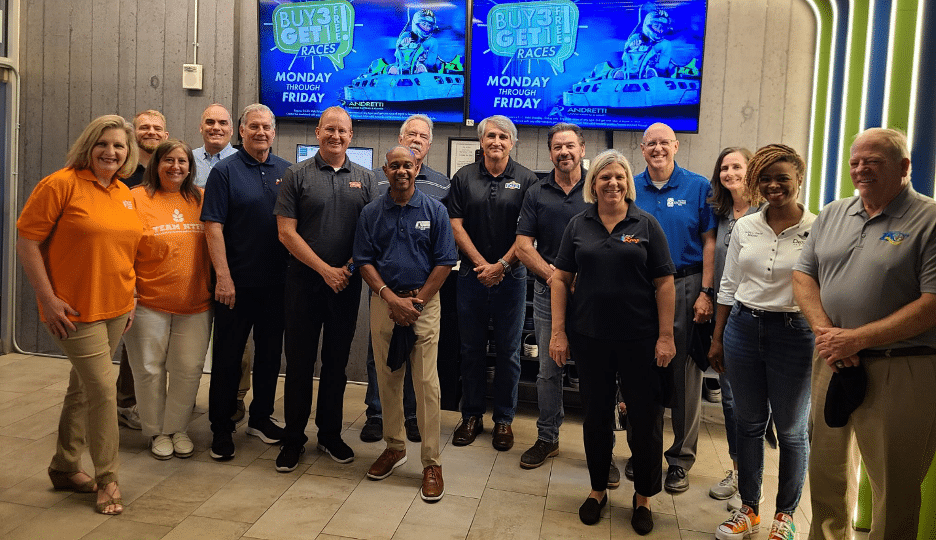 This drive brings together cities, neighborhoods, corporations and organizations to collect jars of peanut butter that can then be distributed through the North Texas Food Bank's Food 4 Kids backpack program and its feeding network of nearly 500 food pantries and organizations. Peanut butter is a healthy, kid-friendly and shelf-stable item that makes it a key component of nutritional charitable food assistance.
"With inflated food, gas, and housing costs, our neighbors in every zip code are facing increasingly difficult choices every day – deciding whether to purchase groceries or pay for other necessities such as gas, medicine or utilities," said Trisha Cunningham,北德克萨斯食品银行总裁兼首席执行官. "With record numbers of neighbors seeking food assistance, the annual peanut butter drive is critical for the North Texas Food Bank in providing for those who need us most right now."
Last year the North Texas Food Bank expanded the drive to include all 13 counties that it serves. Under the leadership of the county's mayors and community leaders, the 2022 campaign collected nearly 350,000 pounds, marking an increase of 1,900 pounds raised in the 2021 campaign. The Food Bank distributed nearly 1.4 million pounds of peanut butter last year.
North Texas residents and businesses can support the food drive by collecting physical jars of peanut butter or through a virtual food drive. Instructions for how to host a virtual food drive and promote it with friends or coworkers can be found at www.ntfb.org/peanutbutterdrive. Each dollar donated to the peanut butter campaign platform is used by NTFB to purchase peanut butter for a North Texas family facing hunger.
Physical 16-ounce plastic jars of any brand of peanut or any other nut butter can be delivered to the North Texas Food Bank's Perot Family Campus in Plano at 3677 Mapleshade Lane. Attendees at the State Fair of Texas this year also have an opportunity to participate by bringing two jars of peanut butter on opening day for discounted admission.
"The North Texas Food Bank service area has the fourth highest number of food insecure children in the country, and this food drive is about making sure that no children in our 10,000 square mile service area go hungry," said Cunningham. "Our community can provide hope for our neighbors experiencing hunger through a simple donation of peanut butter. We are grateful to all the mayors and committee members who support this campaign and help advance our mission of providing food for today and hope for tomorrow."
For more information on how to participate in the Annual Spread the Hope Peanut Butter Drive go to www.ntfb.org/peanutbutterdrive.