Partner Spotlight: Manna House
北德克萨斯食品银行很荣幸与超过 400 food pantries and other community organizations in its Feeding Network to provide brighter futures for the nearly 700,000 North Texans facing hunger.
With decades-high inflation and the ending of many government-assistance programs that were helping our neighbors navigate difficult times, the work of our feeding partners is more important than ever.
And often, it is about much more than food. Aligned with the NTFB's strategic plan to provide Food for Today and Hope for Tomorrow, these organizations often provide critical wraparound services that address the underlying barriers to food security and empower their neighbors move toward economic stability.
This includes our feeding partner, Manna House. Based in Midlothian and serving communities in Ellis County for more than 30 years, the agency is focused on meeting the immediate needs of those in crisis with dignity and empowerment through food, financial assistance and senior care. We had the pleasure to visit with Manna House about the organization's mission and impact.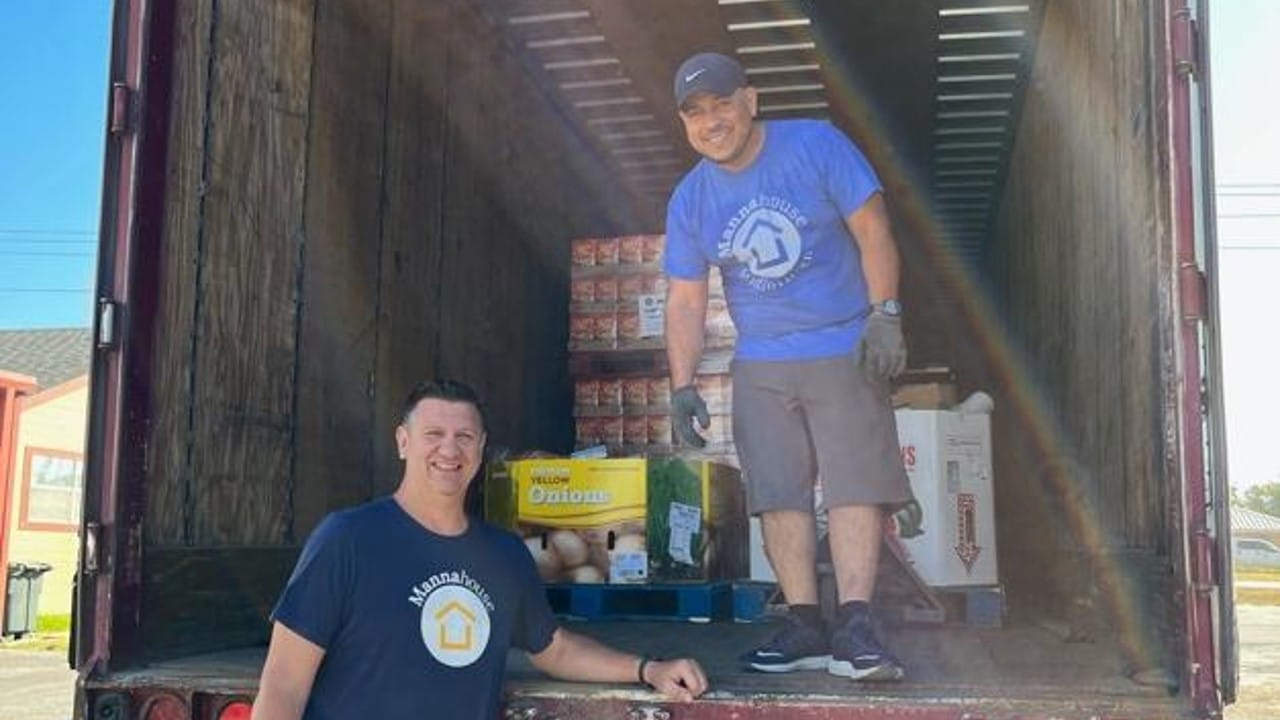 问: Can you share some background on Manna House and the impact it has had in your community?
A: Manna House is a nonprofit that was created in 1992 to serve the emotional, physical, and spiritual well-being of people in Ellis County. We have grown to serve thousands of people every year, and have recently opened a second location in Italy, TX! Our mission is to bring hope, encouragement, and stability to build a stronger, healthier community. Our programs meet the immediate needs of those in crisis and include a food pantry, financial assistance and senior care.
Over the past 30 years, Manna House has served thousands of individuals and families through our pantries, financial assistance and senior care. In 2022, we served a record number of clients and celebrated many milestones, including:
distributing over 1.5 million pounds of food
providing financial assistance for 576 families
serving 125,000 meals through the summer feeding program
delivering Thanksgiving meals to over 400 families
问: When did you become a feeding partner of the NTFB and how has this partnership helped you increase your impact?
A: We became a feeding partner of the NTFB around 1992. The 健康食品储藏室轻推项目 through the NTFB has helped us immensely to improve the nutritional options at our food pantry, so everyone can access healthy meals! Additionally, in October 2022, we partnered with the NTFB for the Feed the Need drive at the 德克萨斯州博览会. Because of our partnership, we were able to collect 48 pallet boxes of donations, equating to 40,000 pounds of food. This was enough to feed an additional 800 people in our community!
问: Manna House offers critical services beyond food – tell us more about your organization's philosophy for strengthening communities and empowering your neighbors.
A: At Manna House, we strive to serve our community by providing assistance to meet all basic needs. Manna House exists to give residents a helping hand, empowering them to rise above the immediate crisis with a sense of dignity. Many of us at Manna House have experienced the same hardships others are facing and are passionate about paying forward the support we have received.
In addition to our 备餐间(为储藏食物,对食物作简单处理的地方, to serve people experiencing hardship, we cultivate an emergency fund to support those who need clothing, utilities, rent, prescriptions and other health costs. We also offer a senior care program that gives senior citizens access to food and other resources they may need. For those who may be homebound due to illness or injury, we deliver food and hygiene products to their homes.
问: What are some of your goals moving forward for Manna House?
A: One of our main goals this year is to broaden our services to cover more of Ellis County. Related to this, we want to provide pop-up pantries on a weekly basis to make sure no one goes hungry in our community. We're aiming to distribute more than 1 million pounds of food in 2023! Residents can check our social channels to find updates on our pop-up pantry locations.
Q: What initiatives/services are you most proud of, particularly as it relates to food assistance but in general as well?
A: We are proud of our pop-up pantries, which allow us to take our food supplies out of our building so we can meet people in their everyday environment. This is an important service given that there are over 8,000 people currently facing hunger in Midlothian and Venus alone. Through the generosity of our donors and volunteers, we can offer fresh fruits and vegetables to patrons on a weekly basis without them needing to come to us!
---
Thank you to Manna House for all you do to provide food for today and hope for tomorrow! You can learn more about the Manna House and its programs 这里.