The North Texas Food Bank's Response to Covid-19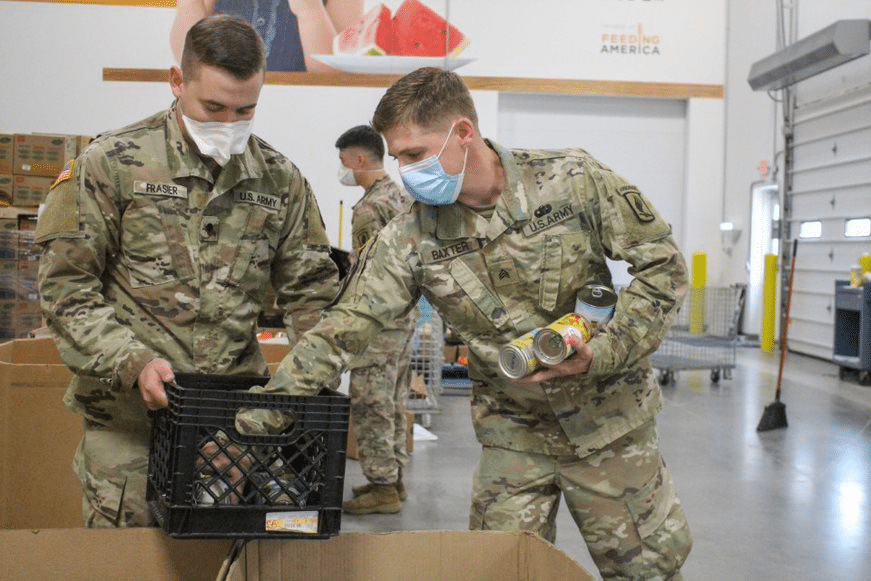 The Food Bank is considered critical infrastructure and will remain open. In order to safely meet the need for food assistance in our region, the Food Bank is receiving support from the Texas National Guard.
Meeting the Need in North Texas
We have seen the need for food assistance grow. Effective Sunday, April 5, more than 250 members of the National Guard will be deployed at the North Texas Food Bank.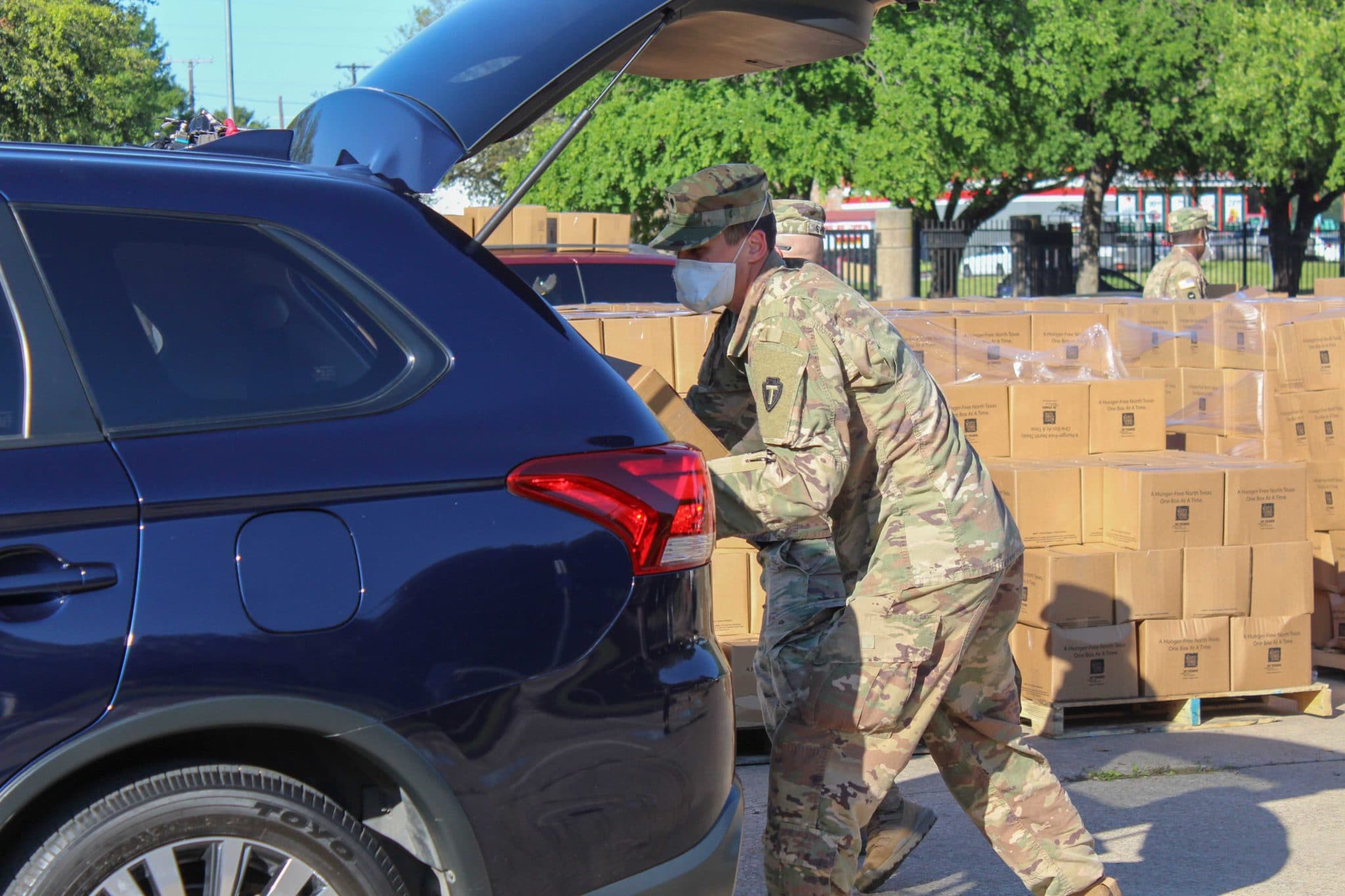 Guard members are on-site and are helping in four areas:
Production line: 120 are working on the production floors, creating family meal boxes for distribution.
Mobile Pantry distribution: 30 are deployed to expand our growing Mobile Pantry Distributions.
Warehouse and Supply Chain: 42 guard members have been trained on our warehouse operations and 12 have been allocated as drivers.
Partner agency support: 60 are available to assist our partner agencies who are also in need of support.
The efforts by the Texas National Guard enables the Food Bank to create at least 60,000 family meal boxes each week and making these available for our Partner Agencies and via our Mobile Pantry program.
By shifting to a box model, we have created a no to low touch distribution model that is safer for our partners and the neighbors they serve.
The Food Bank is enabling our Partner Agencies to create their own food boxes by providing them with boxes and food items.
NTFB has opened a temporary warehouse space in Plano to help us meet the need for boxed food. This warehouse is also staffed by members of the Texas National Guard.
The Mass Care Task Force is now active. This is a collaborative partnership between NTFB, The Red Cross, The Salvation Army and Volunteer Now
We are working with local school districts to ensure continuity of our Food 4 Kids program as well as the School Pantry program.
Our team is collaborating with the City of Dallas to prepare and deliver snack/hydration kits for the homeless who were moved to the Convention Center.
The Food Bank team is exploring the possibility of additional food distributions with the City of Dallas as well as the surrounding regions.
Our Mobile Pantry program is now exclusively a  drive-thru model to create a "low touch" experience.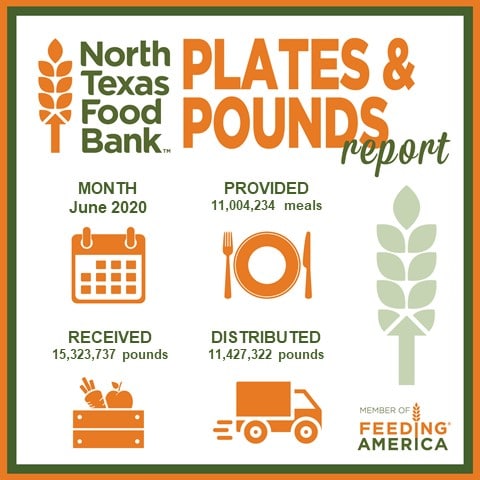 Key Statistics & Information
In June 2020, NTFB provided 11M+ meals (including SNAP meals).
For FY20, NTFB distributed 34M+ pounds of produce, which was 37% of our
total gross distribution.
For the week of June 29, NTFB distributed more than 450K meals.
Nationally, from March 1 to May 24, Feeding America distributed an estimated 1.3 billion meals to people facing hunger in the United States.
NTFB distributed 23M pounds of food March-May, 2020.
July marks the beginning of NTFB's new fiscal year and a new goal of distributing 105M meals as we continue to assess, experience, and respond to the impact of COVID-19 in our community.
Precautionary Hygiene Measures
Right now, the food bank's volunteer and distribution efforts are continuing thanks to the support of the Texas National Guard.  Additional precautionary hygiene measures and contingencies are in place to maintain the health and wellness of our staff, the members of the Texas National Guard as well as those that receive our food:
We are taking necessary measures to ensure all employees, visitors, and persons served who are experiencing any symptoms of illness stay home and avoid contact
Prior to each shift NTFB staffers and members of the Texas National Guard will have their temperature checked
We are creating additional spacing between the groups working on the volunteer floor
External facing staff have been provided with sanitizing kits to safeguard themselves and the public
We are following the recommendations of the CDC to help stop the spread of germs and have posted their guidelines in public areas as a reminder for those coming to the Food Bank
All team members will be prompted to wash hands before and during shifts and we will also have gloves available 
Hand sanitizing stations are available across the volunteer floor
Tools used during each shift will be cleaned after each shift
High touch surfaces will be cleaned frequently

Locally, the Food Bank is active in the Mass Care Task Force, a coalition comprised of NTFB, the American Red Cross, Salvation Army as well as Volunteer Now. This group has responded to disaster situations before and has activated in order to meet the needs of the North Texas community during this crisis.
For the Food Bank, the safety of our employees, volunteers and those we serve is the top priority. We pride ourselves in providing essential services to our neighbors in need and our goal is always to provide food to the neighbors that need it most. We know that disruptions from work or school can cause strain on low-income families, making our services that much more critical.
In addition, we are also providing the following suggestions to employees, volunteers, partners and other supporters:
If you feel ill, stay home and avoid exposing others
Wash your hands with soap and water for at least 20 seconds and help young children do the same. If soap and water are not available, use an alcohol-based hand sanitizer with at least 60% alcohol
Avoid touching your eyes, nose, and mouth with unwashed hands
Avoid close contact with people who are sick
Clean and disinfect frequently touched objects and surfaces using a regular household cleaning spray or wipe
Cover your cough or sneeze with a tissue, then throw the tissue in the trash. If you do not have a tissue, use your sleeve (not your hands)
For additional information and resources please visit the CDC website or call the Texas Department of State Health Services hotline: 1-877-570-9779 with hours: 7:00 a.m. - 6:00 p.m., Monday - Friday.
Thank you for your continued support of the North Texas Food Bank, we are committed to serving our neighbors in need.