The North Texas Food Bank's Response to Covid-19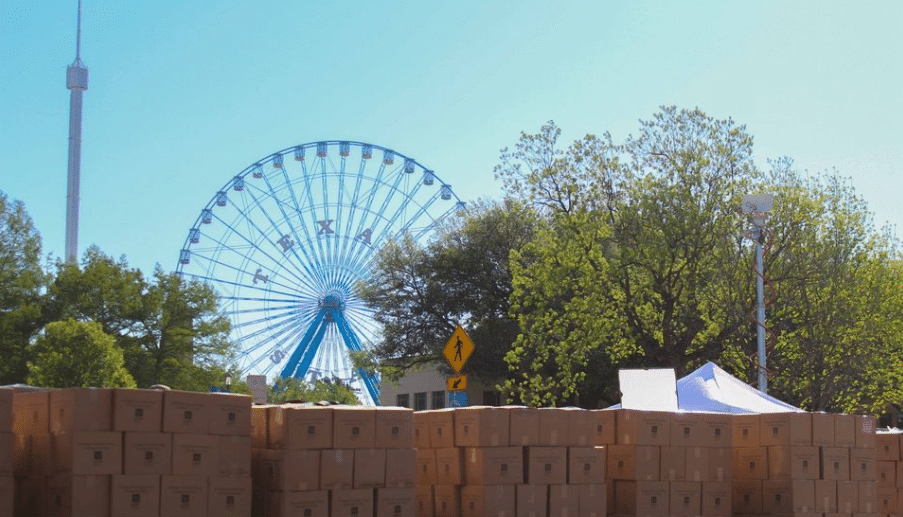 Meeting the Need in North Texas
NTFB has welcomed back volunteers to sort and pack food at our Perot Family Campus in Plano Thursday-Saturday. To keep our volunteers and staff safe we have implemented new policies and appreciate everyone's cooperation.
NTFB continues to work with displaced hospitality employees to create family meal boxes. This partnership provides income thanks to Shiftsmart and a fund at the Communities Foundation of Texas called Get Shift Done while also providing a critical service to the community.
The Mass Care Task Force is now active. This is a collaborative partnership between NTFB, The Red Cross, The Salvation Army and Volunteer Now.
We are working with local school districts to ensure continuity of our Food 4 Kids program as well as the School Pantry program.
Our team worked with the City of Dallas to prepare and deliver snack/hydration kits for the homeless who were moved to the Convention Center.
Our Mobile Pantry program is now exclusively a  drive-thru model to create a "low touch" experience.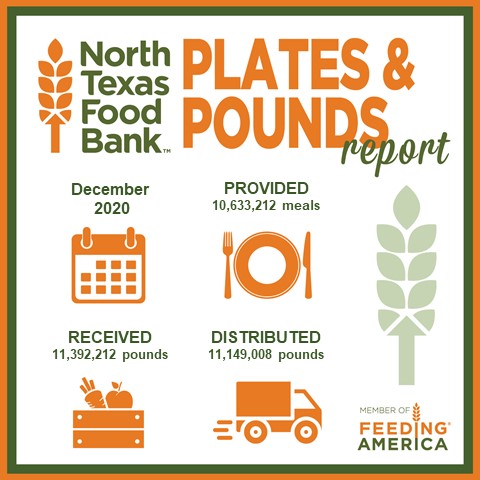 Key Statistics & Information
A resurgence in Coronavirus cases is increasing demand even further and according to Feeding Texas, Texas food banks estimate they will need to distribute approximately 80 million pounds of food per month over the next 6 months to keep pace with the demand.
Feeding America estimates the total need for charitable food over the next year will be 17 B lbs. – that is over three times its network's distribution typical annual distribution of 5B lbs.
The North Texas Food Bank's Mobile Pantry program has been a lifeline to hundreds of thousands of North Texas families. From March 1 through Dec. 31, the program has served more than 122,000 households and distributed
10.3M pounds at nearly 331 mobile distribution events.
In December, NTFB provided more than 10.6M meals, an increase of 73% from December 2019. NTFB distributed more than 11.1M pounds.
For the week of Dec. 28, NTFB distributed more than 593,000 nutritious meals.
For the week of Jan. 4, NTFB distributed more than 2M nutritious meals, an increase of 78 percent from this week last year.
Precautionary Hygiene Measures
Right now, the food bank's volunteer and distribution efforts are continuing thanks to the support of the workers employed thanks to the Get Shift Done fund.  Additional precautionary hygiene measures and contingencies are in place to maintain the health and wellness of our staff, Get Shift Done team members as well as those that receive our food: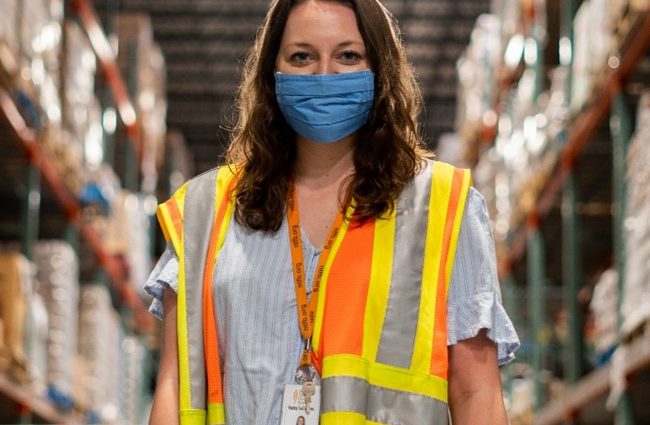 We are taking necessary measures to ensure all employees, visitors, and persons served who are experiencing any symptoms of illness stay home and avoid contact.
Prior to each shift NTFB staffers and anyone entering our building will have their temperature checked.
We are creating additional spacing between the groups working on the volunteer floor.
External facing staff have been provided with sanitizing kits to safeguard themselves and the public.
Hand sanitizing stations are available across the volunteer floor.
Tools used during each shift will be cleaned after each shift.
High touch surfaces will be cleaned frequently.
We are following the recommendations of the CDC to help stop the spread of germs and have posted their guidelines in public areas as a reminder for those coming to the Food Bank.
All team members will be prompted to wash hands before and during shifts and we will also have gloves available.
In addition, we are also providing the following suggestions to employees, volunteers, partners and other supporters:
If you feel ill, stay home and avoid exposing others
Wash your hands with soap and water for at least 20 seconds and help young children do the same. If soap and water are not available, use an alcohol-based hand sanitizer with at least 60% alcohol
Avoid touching your eyes, nose, and mouth with unwashed hands
Avoid close contact with people who are sick
Clean and disinfect frequently touched objects and surfaces using a regular household cleaning spray or wipe
Cover your cough or sneeze with a tissue, then throw the tissue in the trash. If you do not have a tissue, use your sleeve (not your hands)
For additional information and resources please visit the CDC website or call the Texas Department of State Health Services hotline: 1-877-570-9779 with hours: 7:00 a.m. - 6:00 p.m., Monday - Friday.
Thank you for your continued support of the North Texas Food Bank, we are committed to serving our neighbors in need.