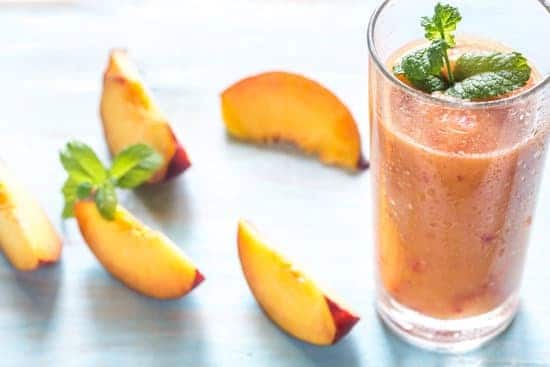 Servings: 4                                    
Total Time: 5 minutes
1/2 cup of ice cubes
1/2 cup of strawberries
1/4 cup of blueberries
A handful of spinach
1/2 cup of peach slices
1 ripe banana
1/2 cup of 100% fruit juice
1/2 cup of low-fat plain yogurt
TIPS:
Fruit can be fresh, frozen, or canned.
Experiment with other fruits like blackberry, orange, mango, pear, raspberry, pineapple, seedless grapes, watermelon, kiwi, or grapefruit.
Use any of your favorite juices: orange, pineapple, and apple juice all work well in smoothies.
Smoothies are a great way to hide and incorporate vegetables without sacrificing flavor. Try adding vegetable juice or kale in place of spinach.