Program Spotlight: SNAP Mobile
The North Texas Food Bank is always striving for innovative solutions to advance our mission of closing the hunger gap in North Texas. Hunger is a complex issue that requires bold initiatives to meet our neighbors where they are to provide not just nutritious food, but also to address the underlying barriers to food security and create lasting change for our neighbors.
Earlier this year, the Food Bank launched its latest resource to close the hunger gap in North Texas with the unveiling of the North Texas Food Bank SNAP Mobile. The mobile office is staffed with a team that travels to isolated communities experiencing high levels of food insecurity within the Food Bank's 13-county service area to provide information and application assistance for the Supplemental Nutrition Assistance Program (SNAP) and other benefit programs such as Medicaid, Temporary Assistance for Needy Families (TANF), and the Medicare Savings Program, as we additional community resources.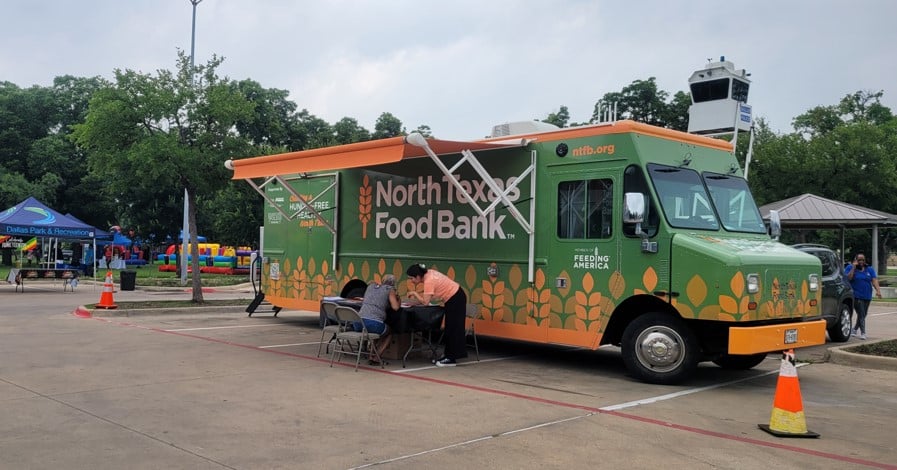 "The NTFB SNAP Mobile is a component of our Hope for Tomorrow strategy of addressing food insecurity in communities of great need and is an extension of our current agency operations," said Anne Readhimer, Vice President of Community Impact for the North Texas Food Bank. "The SNAP Mobile will serve as an additional method of providing access to SNAP and other benefits assistance to address increased demand in high areas of need that are not conducive for an NTFB Case Assistance Navigator to permanently be stationed onsite."
For each physical meal NTFB can provide, SNAP, formerly known as food stamps, is able to provide nine meals, making it the first line of defense for fighting hunger and a key tool for assisting low-income Americans and low-income communities in prioritizing spending on other areas of need, such as medical and transportation expenses. Connecting neighbors to SNAP and other benefit programs is even more critical during this time of high cost of living expenses and the expiration of many government relief programs offered during the pandemic – including the end of SNAP Emergency Allotments.  
In just its first six months, the SNAP Mobile initiative provided assistance for 131 SNAP applications – equating to access for more than 250,000 meals.
The NTFB SNAP Mobile is sponsored by the Tom Thumb / Albertsons Foundation and the Kalman and Ida Wolens Foundation and will provide much needed resources to high-need zip codes across our service area.
The NTFB SNAP Mobile schedule and details are posted here, including a request form to have the NTFB SNAP Mobile come to specific events and communities, leveraging partnerships across the Food Bank's service area.