North Texas Giving Day – Thursday, September 19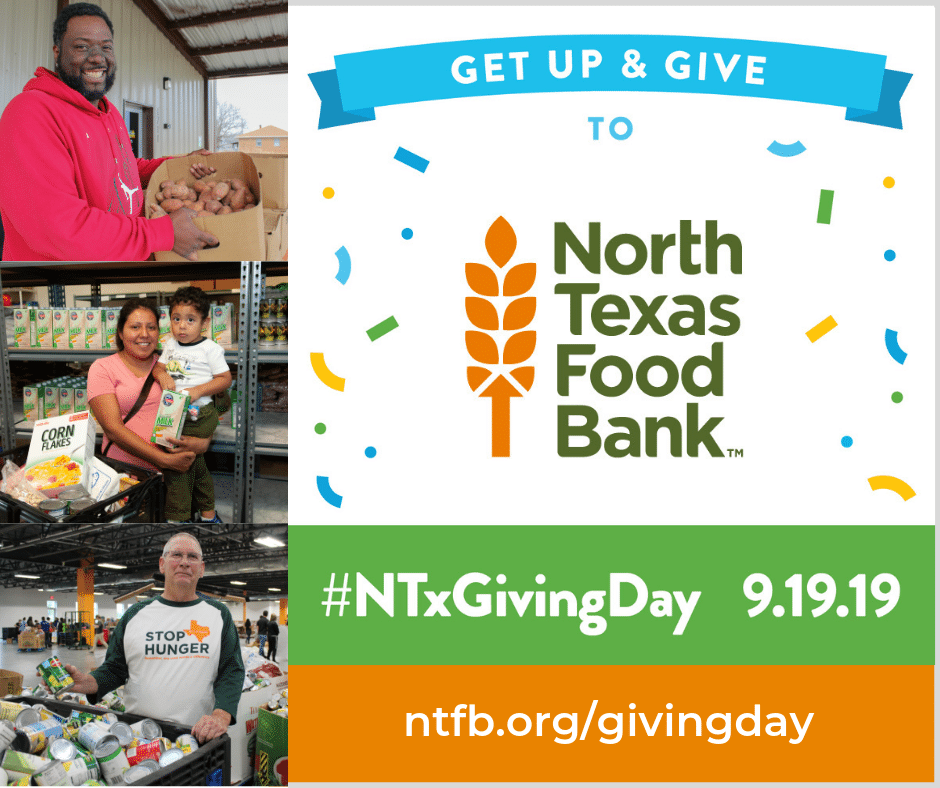 What can you do with $1? At the North Texas Food Bank, $1 provides access to three nutritious meals to hungry neighbors in our community. Currently almost 800,000 of our North Texas neighbors are food-insecure – meaning they do not know where they will find their next healthy meal. So $1 could ensure one more child has food on the table come dinnertime, or a senior neighbor doesn't forgo groceries to afford a prescription. Closing the hunger gap in North Texas requires the collective support and compassion of many, and the Food Bank is proud to partner with the Communities Foundation of Texas for North Texas Giving Day.
On Thursday, September 19, NTFB will join other North Texas nonprofits in celebrating community-wide philanthropy for North Texas Giving Day. Since 2009, this 18-hour online giving event has built awareness and support for local nonprofits and causes in one easy-to-use platform. North Texas Giving Day aims to amplify our collective-community impact while highlighting each organizations unique focus area.
Last year on North Texas Giving Day, your gifts funded more than 2.2 million healthy meals for our hungry neighbors. Support from friends like you helps sustain our ability to provide access to more healthy food to more food-insecure households. Thanks to support provided by Priscilla Endicott Charitable Foundation, The Ryan Foundation and two anonymous donors, our Giving Day donations will be matched up to $150,000! That means, your donation will be doubled and go twice as far. This year, our goal is to fund 2.4 million meals because the need for hunger relief in our community continues to grow.
Here's how you can support NTFB for North Texas Giving Day:
*Become a SuperFan – create your own NTFB FUNdraising page, and help gather support from friends, family and your supporters
*Schedule your donation early – scheduling begins Monday, September 9 through Wednesday, September 18
*Donate to NTFB on Thursday, September 19, North Texas Giving Day
*Spread the word about North Texas Giving Day – visit the NTFB Facebook page for more information and share on your social media channels
To learn more, become a SuperFan and to donate, visit www.ntfb.org/givingday.