My mom is an essential NTFB employee
Hi, my name is Lily Hawthorne, my mom is an essential worker at the North Texas Food Bank. Normally, she is their Government Relations Director, but because of this pandemic, she is now working to help people get food at the Food Bank's Mobile Pantry sites.
She leaves the house almost every morning at 5:30 am to go to work and doesn't get back until dinnertime. Even after she gets home, she is on the phone and on her computer, looking concerned. During this pandemic it has been hard to stay sane. There is so much happening that I don't understand but I know it's all really serious.
I really miss school but I'm getting used to homeschooling.  Our teacher uploads new work to a site called Google Classroom daily and we work on our assignments until we are done for the day. I know our school work is not as much work as what my mom and her friends at the North Texas Food Bank are doing right now.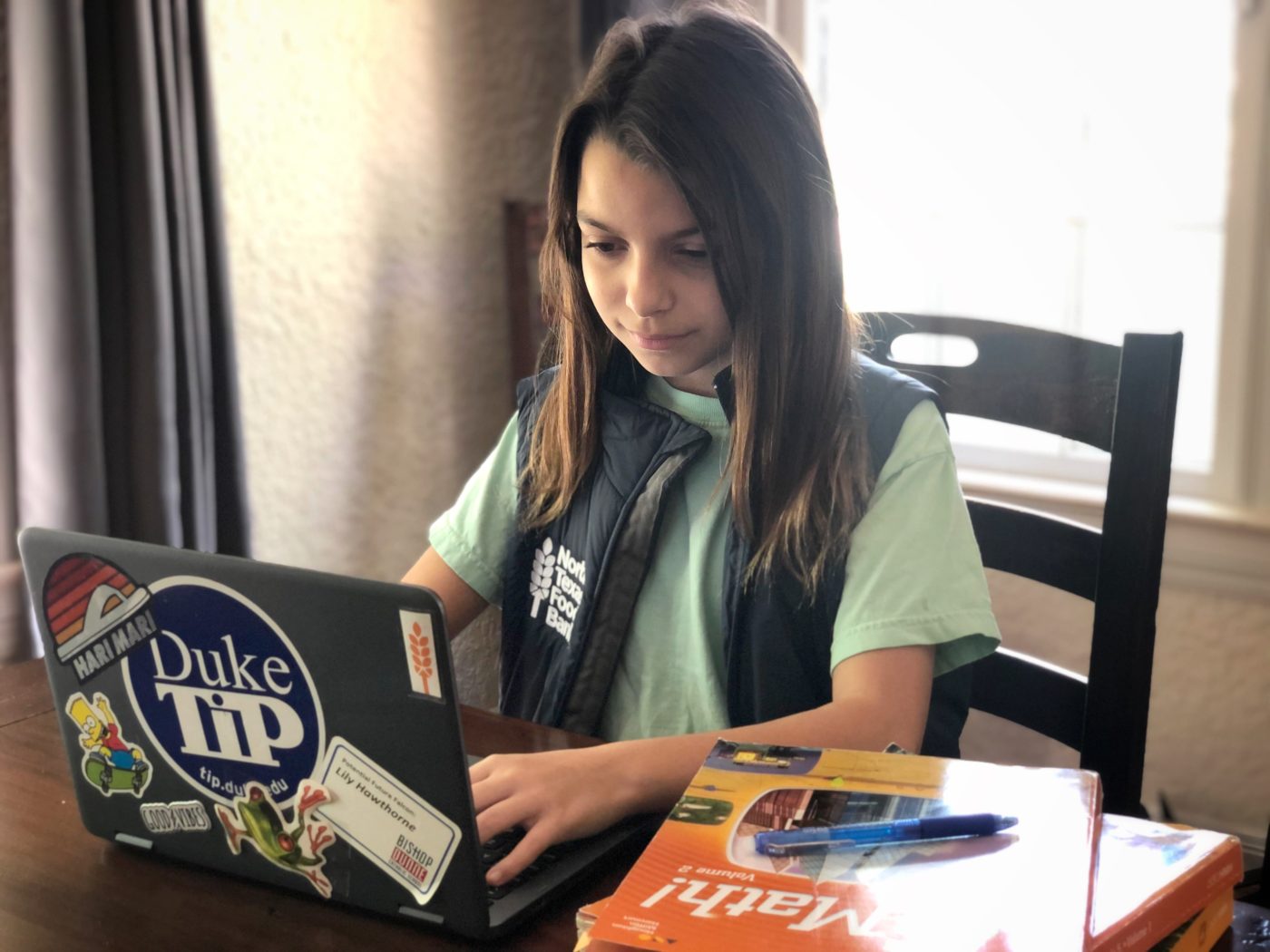 I really miss a lot of my friends at school, but I still get to see them when we log on to Zoom. Sometimes I worry about my friends from Rosemont Elementary (it's in Oak Cliff) who may not get food they are used to receiving each day.  Our school gets free breakfast and lunch, and an afternoon snack.  It's probably really expensive to now pay for all those meals, especially for my friends who have 3 or 4 brothers and sisters.  My mom said schools are helping those kids, so that's good.  I really miss my mom during the day but I know she has to help people get food – especially those that have lost their jobs due to COVID-19.
I hope this doesn't go on for forever, but I know I'm lucky that no one in my family is sick and we are all OK. I get to talk to my great-grandma on the phone but I'm sad I don't get to see her at Easter. She tells me the food she is eating in her room doesn't have enough spices but she is lucky to have meals and she misses going out to eat.
I'm sad that not being able to find food is really stressful for people right now, but I'm also happy that the North Texas Food Bank is helping as many people as they can. I'm honored my mom and her friends at the Food Bank are helping people who are trying to get through this really unfortunate time.
Lily Hawthorne is the 11 year-old daughter of NTFB's Government Relations Director, Dr. Valerie Hawthorne