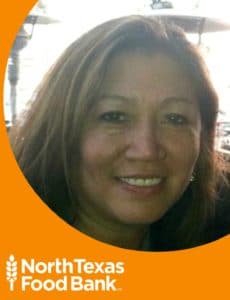 NTFB Senior Director of Logistics
At the North Texas Food Bank, our work providing access to nutritious foods to our neighbors in need is accomplished through the dedication and hard work of many. As the Senior Director of Logistics at NTFB, Cynthia Ferris ensures that every day, food-insecure children, seniors and families in North Texas receive the critical food assistance they need to survive. Learn more about Cynthia, and her role in closing the hunger gap.
What brought you to the North Texas Food Bank?
I moved to DFW for personal reasons, and having been in the nonprofit work world all of my life, I intentionally sought out a position that spoke to my heart. It still speaks to my heart after eight years.
Describe your role.
As Senior Director of Logistics, I oversee all functions in the warehouse related to the receipt, production, distribution and transport of food.
What is your favorite part of your role?
Knowing every day that we are making a significant impact in the lives of people we serve.
Why is hunger relief work important to you?
There is no substitute for food. People without a place to live can couch surf, or others without a car, can catch a ride, etc. There is no survival without food.
Any stories to share?
I was shadowing a NTFB staff member conducting a SNAP (Supplemental Nutrition Assistance Program) assistance interviews at one of our Partner Agencies during my first few months here. He was interviewing a young, single mother of three who had recently lost her job after a very bad car accident. She could not recover from her injuries in time to save her position. Her children sat quietly at a nearby table cutting out shapes from construction paper. When our staff member asked what the children were making, one of the little girls said, "a sandwich so my mom can eat." I think about that story every day.