The North Texas Food Bank Remembers Bette "Aunt Bette" Perot
The North Texas Food Bank mourns the passing and is honoring the legacy of 베트 페로, a woman who lived a life committed to service, compassion and the stalwart belief that all people have the right to thrive.
Bette, better known as Aunt Bette to us, has left an undeniable mark on North Texas through her generosity, guidance, humor and her deep commitment to making our community a better place for all. The North Texas Food Bank is proud to have been among the many organizations that benefited from Bette's support and advocacy, and we are privileged to carry her name and legacy through our work at the Perot Family Campus in Plano.
A hunger fighter by heart, Bette was among the first supporters of the Food Bank's mission and played a critical role in our 40-year history. She served on the NTFB board of directors until 2005 and was named a Life Board Member. One of NTFB founders, Liz Minyard, recalls that when the North Texas Food Bank needed an affordable warehouse, Bette, along with her brother Ross and the Perot Foundation, purchased the facility on Cockrell Hill Road from Trammel Crow in 1987 and leased it to the Food Bank for just $1.00 a month until the Food Bank was able to purchase it in 2004. The NTFB operated from that facility until 2018 when it moved to the newly constructed Perot Family Campus. That original building still houses NTFB's social services team and serves as a home to Crossroads Community Services, one of the NTFB's feeding partners, serving the southern sector of Dallas.
"Bette meant a lot to me," said Minyard. "She was witty, smart, and always thought ahead. I learned so much from her over the years, and the Food Bank meant so much to her."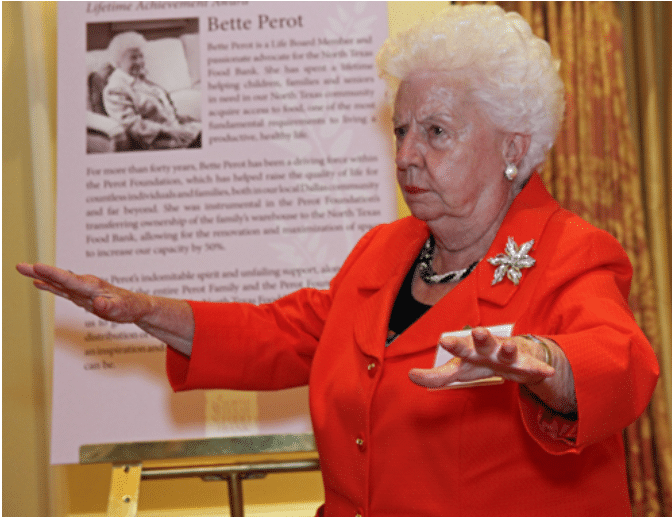 Bette embraced the Texas "Get it done" attitude when it came to food banking and was an advocate for innovation. As an educator, she recognized the importance of nutrition on a child's ability to learn, thrive and grow, and when she learned that food pantries in the NTFB's network didn't have proper refrigeration, she set out to fix it, ensuring families could have access to fresh foods. It is only fitting that NTFB's first "model pantry", located at St. Philip's School & Community Center and designed to provide neighbor-choice and a more dignified shopping experience, bears Bette's name. Aunt Bette's Community Pantry, operated by St. Philip's, revolutionized how we serve our neighbors experiencing hunger.
As Bette recounted when she received the NTFB's Lifetime Achievement Award in 2011, this heart for service came naturally. She shared the story of her mother, Lulu May Perot, feeding anyone passing by their Texarkana home who was hungry during the days of The Great Depression. "Mother would fix them a sandwich, a piece of cheese, piece of fruit and would tell them to sit down right there in the backyard and eat!" To this day the Perot name is synonymous with providing nourishment and hope.
"Bette's impact is beyond measurable but can be felt across North Texas by all of us that have benefited from her wit, wisdom and extreme generosity," says Trisha Cunningham, President and CEO of the North Texas Food Bank. "Today, a child is performing better at school because he has access to proper nutritious foods. A parent may be resting easier because she was able to feed her family. And a senior did not have to make a hard choice between paying for food or medicine. These are examples of Aunt Bette's legacy."
That legacy is carried out today across the 13 counties that the NTFB serves from the Perot Family Campus, centrally located for efficiency and maximum impact, and named in honor of the Perot family legacy of hunger fighting. When Bette had the opportunity to tour the 230K square-foot warehouse in 2018 with two of her nieces, she commented on the sheer size of the space. She understood the complexities of hunger. "The massive operation we run to provide food assistance matches the giant heart that Bette had for our mission and this community," shares Cunningham.
Bette often shared the wise words of her mother, "You do better for others before you do for yourself."  She lived, loved and demonstrated this fiercely for our neighbors facing food-insecurity and so many others across North Texas. It is an honor for the NTFB to carry forward Bette's desire to do good.
Bette's obituary can be found 여기.