Donor Spotlight Q&A: Pi Kappa Alpha
대학 캠퍼스는 학습, 개발, 개인 및 직업적 성장을 위한 우리 사회의 초석입니다. 그러나 학생들은 공복 상태에서 이것을 할 수 없으며 커뮤니티 칼리지와 대학교는 슬프게도 많은 이웃들이 직면하고 있는 기아와 식량 불안정의 일상적인 투쟁에서 면역이 되지 않습니다.
The North Texas Food Bank is committed to our relationships with colleges and universities to ensure that students can stay in school and prepare for their futures without worrying about having enough to eat. We work alongside many places of higher education such as Dallas College, the University of Texas at Dallas and Texas A&M Commerce to distribute food to students and staff facing hunger.
That's why we are incredibly grateful when college students dedicate their time and energy to raising awareness and funds for the issue of hunger and the Food Bank. Recently, the members of the Theta Xi chapter of the Pi Kappa Alpha fraternity at Texas A&M Commerce presented a check for $11,300 to the North Texas Food Bank. The funds were raised at the chapter's 25th annual Crawfish Festival in April. Over the last two years, Pi Kappa Alpha's fundraising efforts have provided more than 60,000 meals to neighbors facing hunger in North Texas.
We visited with Charles Berry, the chapter's president, about the organization's philanthropic efforts and why hunger relief is important to the fraternity's mission.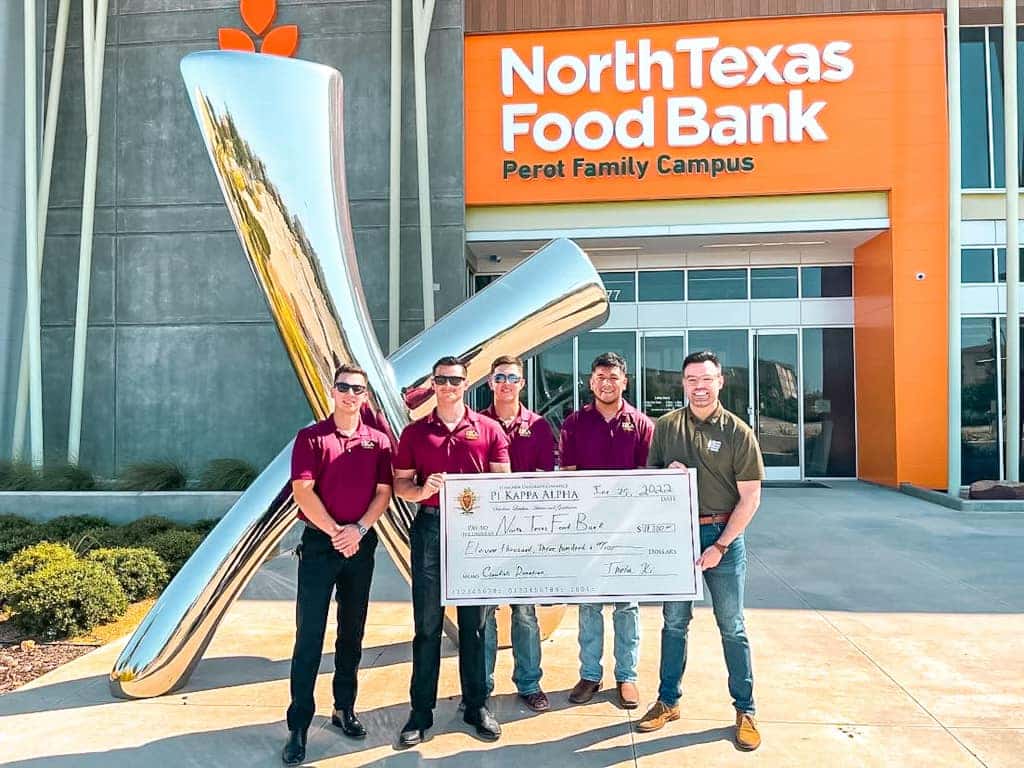 Q: Pi Kappa Alpha has been supporting the North Texas Food Bank for the last two years. Tell us more about your relationship with the NTFB and why you chose our organization to support?
NS: We chose to begin supporting the North Texas Food Bank in 2021 because of the severe winter storm that affected Texas early that same year. Our own community was affected by the inclement weather, and we witnessed first-hand the devastation that it had on families in Texas. We wanted to do what we could to help the families who were impacted and who were struggling to obtain food. After extensive research, we determined the North Texas Food Bank to be our best channel through which we could most effectively do that. And in 2022, because of the economic hardships many families in our country are facing, we decided to continue our mission to help provide food to families in need in our community and state.
Q: Why is supporting hunger relief important to Pi Kappa Alpha? How have you seen it impact students on your campus?
NS: Hunger relief is an issue that is very important to our members. Our community witnessed first-hand how easily families can fall into situations of financial hardship and how horrible it is to go through that. As a chapter, we all shared a similar desire to help families get access to food however we could, and it was through the North Texas Food Bank that we learned just how much of an impact that we could create, not just in our community but in multiple counties in our area. As college-aged adults, it is not uncommon for us to experience situations of financial hardship ourselves because of our time-consuming positions as full-time students making it difficult to earn a living wage. Our university currently has programs in place to help students in situations like this and give them access to food through a food pantry. It is not a scarcely used resource, as many students may rely on that pantry for their primary source of food. Hunger is a real issue, and it can affect anyone, including ourselves as students. That is why this issue is so near to our hearts, and why we are committed to supporting hunger relief.
Q: Tell us more about Pi Kappa Alpha's commitment to service and philanthropy.
NS: Pi Kappa Alpha nationally supports many philanthropic efforts across the country, at every college and university where a Pi Kappa Alpha chapter can be found. Our chapter, located at Texas A&M University Commerce, also hosts philanthropy events to support the Taylor Trudeau Leukemia and Lymphoma research foundation, as well as annual fundraisers to raise money and show support for our local fire department. We also participate in the philanthropy events of other student organizations and help contribute to their philanthropic causes as well.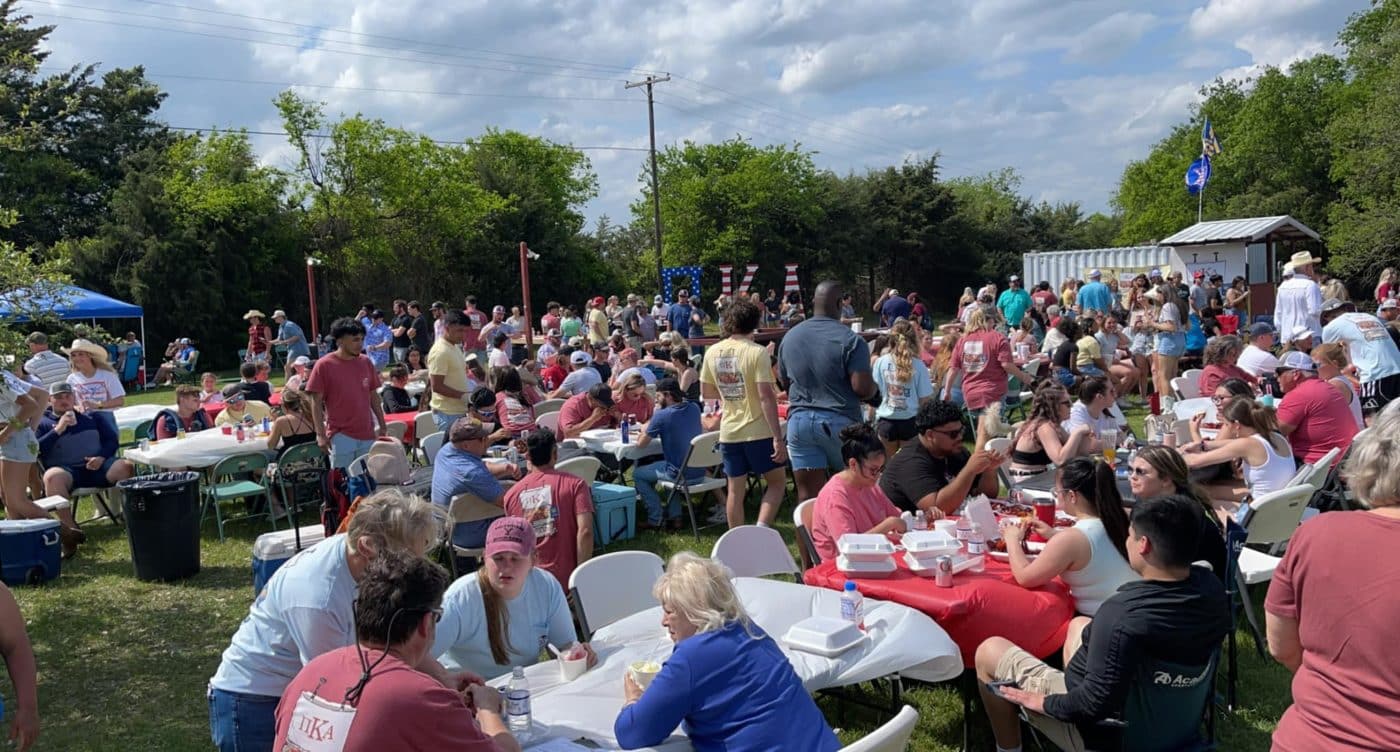 Q: What impact do you hope your support will have on neighbors facing hunger in North Texas?
NS: It is our sincere hope that the work we have done has helped families in need put food on their table and give them a chance to lift themselves out of whatever situation they may be in without having to worry about where their next meal will come from. We hope that because of what we have done, someone somewhere did not have to make the decision to skip a meal. We also hope that we have raised a large amount of awareness for the North Texas Food Bank and their efforts and have inspired others to contribute to NTFB or similar causes.
Q: What are your plans to support the NTFB and hunger relief moving forward?
NS: Our chapter of Pi Kappa Alpha constantly evaluates how we can provide the most benefit to our community and adapts to be able to do that. Currently we believe that we are providing the most good to our community by contributing to the North Texas Food Bank and providing food to families in need. Because of the economic challenges many people are facing in today's world, we believe that this cause is one that currently requires our attention and support, and we plan to show our support to the North Texas Food Bank and its efforts for as long as this is the case. We can only hope to expand our own efforts and discover more ways that we can contribute to hunger relief in the future, whether it be through additional philanthropic fundraising or by having our members participate in community service efforts to assist the North Texas Food Bank's physical operations. It is constantly our goal to out-compete ourselves and donate more money to philanthropic efforts each year than the year prior. We take great pride and fulfillment in the work that we do, and the ways that we have contributed to hunger relief, and we look forward to continuing.
---
Thank you to Pi Kappa Alpha and all our supporters for your commitment to hunger relief. We are incredibly grateful as we continue our mission to bridge the hunger gap in North Texas.