Join NTFB on Giving Tuesday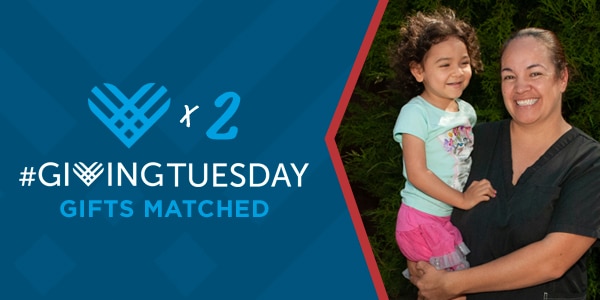 Today is #GivingTuesday, a day that celebrates generosity and the power of people and organizations to transform their communities and world.
At the North Texas Food Bank, we believe that nourished people can create communities that flourish and thrive, and for whole communities to thrive, each neighbor needs to be nourished in many ways. An absolutely critical component of that belief is the acknowledgment that fundamental nourishment comes from nutritious food.
Neighbors like Ruth and her daughter Scarlet need our help to flourish and thrive. Ruth works at a local healthcare clinic that provides free of cost care to underserved neighbors. While her work helps others in need, she and her family often worry about keeping food on their table. The expenses that come with a growing family can create a financial burden for just about anyone. "We always, as a parent, we want to be there for our children all the time," she shares.
But Ruth receives fresh produce, protein and shelf-stable items from a NTFB Mobile Pantry truck. Her children look forward to the fresh fruit. "They like the bananas and grapes," she shares. Even as Ruth struggles with hunger, she works to help others struggling in our community. Imagine what might be possible if Ruth and her family overcame hunger. How many more neighbors in our community are like Ruth?
When you support the North Texas Food Bank on #GivingTuesday, your gift will have twice the impact for neighbors like Ruth and her family. Through midnight tonight, Santander Consumer USA Foundation is matching every gift made up to $100,000. That's two times the nutritious meals for hungry children, seniors and families in North Texas.
Join us today, and make a gift in honor of someone this holiday season, because the gift of nourishment will transform our community. To make a #GivingTuesday gift, visit ntfb.org/givingtuesday or visit the Food Bank Facebook page.