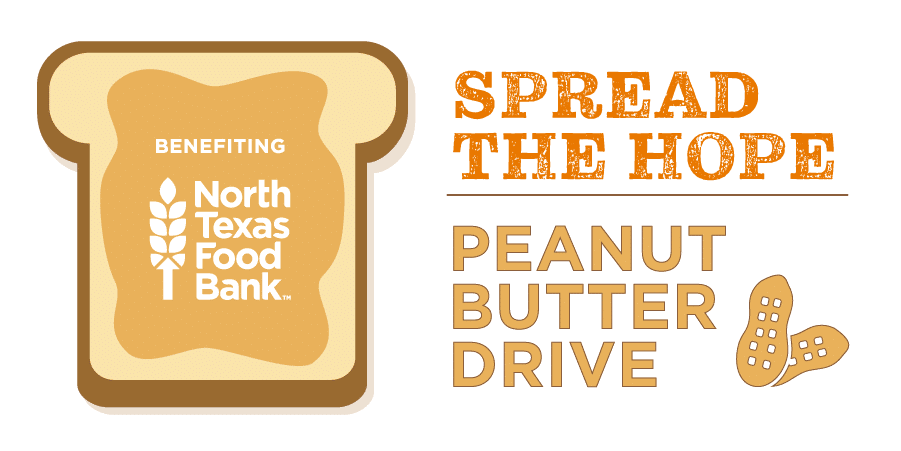 Join us in the annual Peanut Butter Drive!
The Peanut Butter Drive is back and this year the goal is 500,000 pounds of peanut butter or dollars to purchase peanut butter. To achieve this goal, we're welcoming participants and cities in all 13 counties in NTFB's service area.
For those unaware, the annual Peanut Butter Drive began in Plano in 2014 as a way for the community to get involved while raising awareness of child hunger in North Texas.
Each September during Hunger Action Month, cities, companies, organizations, schools, and faith-based organizations come together to collect peanut butter to distribute through NTFB feeding programs like Food 4 Kids, the school backpack program that feeds up to 11,000 chronically hungry kids each week.
In recent years, we have included a virtual option so participants can make a simple donation or they can set up their own virtual peanut butter drive and share with friends, family, and colleagues.
Donate funds for NTFB to purchase peanut butter now!
Start your own Virtual Peanut Butter Drive below.
Let us know you're participating and stay in the loop to hear the final tally.
Below you will find materials to help you with your Peanut butter drive this year.
This year, we are glad to share that NTFB Partner Agencies are getting involved and you can deliver your peanut butter to any of the locations below. These agencies will then keep the peanut butter you deliver and place directly on their shelves.
North Texas Food Bank
3677 Mapleshade Ln
Plano, TX, 75075
Mon-Fri 8:30A - 4:30P
Community Lifeline Center
1601 N. Waddill St. #102
McKinney, TX 75069
Tues, Thur 12:00 - 3:00P
Community Food Pantry
701 N 7th Street
Honey Grove, TX 75446
1st & 3rd Thur 5:00 - 7:00P
4th Tues 10:00A - 4:00P
The Market Depot
619 E Houston
Sherman, TX 75090
M W F 9:00A - 4:00P
T TH 9:00A - 1:00P
Network of Community Ministries
1500 International Parkway, #300
Richardson, TX 75081
Mon-Wed 8:00A - 4:00P
Cumby Food Pantry
8285 I 30 Service Road
Cumby, TX 75433
Mon - Fri 9:00 - 11:00A
Hands of Compassion
2701 St. John Street
Greenville, TX 75401
Wed 9:00 - 11:00A
Helping Hands of Ennis
604 N.E. Main St
Ennis, TX 75119
Mon-Fri 9:00A - 5:00P
Metrocrest Services
13801 Hutton Drive Suite 150
Farmers Branch, TX 75234
M-F 9:00A - 3:00P
Sat 9:00A - 12:00P
Crossroads Community Services
4500 South Cockrell Hill Rd.
Dallas, TX 75236
M-F 9:00A - 4:00P
A special thank you to the following cities for helping spread the word this year.
Allen
Anna
Carrollton
Coppell
Dallas
Fairview
Fate
Frisco
Lancaster
Lavon
Lewisville
McKinney
Mesquite
Mobile City
Murphy
Parker
Plano
Princeton
Prosper
Richardson
Sachse
Wylie
We are excited to kick off the nutty drive again this year and hope you participate. Every jar counts!
If you have any additional questions, please reach out to PBD@ntfb.org.