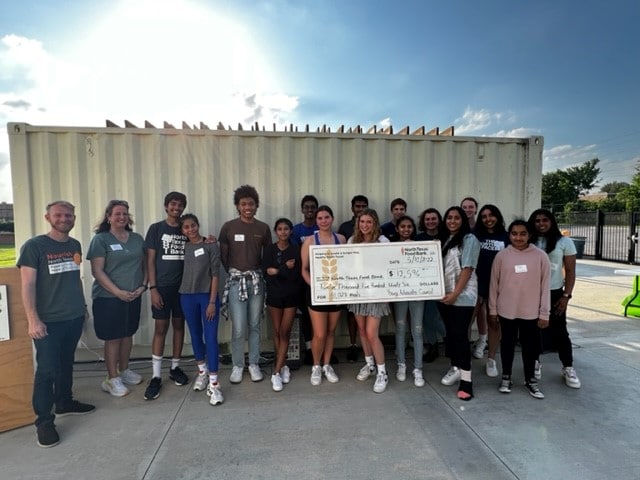 We are thrilled to introduce the North Texas Food Bank's Young Advocates Council! This opportunity engages dedicated and entrepreneurial high school students at the premiere hunger-relief organization in North Texas.
Join our Board of Directors, Young Professionals, NTFB's Executive Leadership, and your peers from across North Texas as we work toward closing the meal gap in the Metroplex. Your gift of time and effort will not only help you to perfect valuable skills for college and your career, but you will have a profound and lasting impact on your North Texas neighbors.
Interested in becoming a Young Advocate?
If you will be in the 9th - 11th grades for the 2022-2023 school year, we want to hear from you! Seniors will be accepted on a case-by-case basis, please reach out to YAC@ntfb.org for more information.
Click on the button below to submit your application for next year. The deadline to apply is Thursday, June 30.
Once your application is submitted, we will reach out to you by the end of July, 2022.
Schedule
End-of-Year Celebration – May 10, 2022.
Next year's application due Thursday, June 30.
         Interviews to take place through             July 1 – July 31.
YAC Class of 2022-2023 to begin sessions in August.
Impact
Raise critical funds to provide access to nutritious food.
Nearly 800,000 of our friends and neighbors are food insecure. We need your help to secure new funding, sources of food, and new advocates.
Experience/Skills
Accounting
Active Citizenship
Building Relationships
Conflict Resolution
Debate
Diversity Appreciation
Interviewing
Meeting Management
Persuasive Writing
Professional Dress
Public Speaking
NTFB Thanks the Young Advocates Class of 2022!
Thank you to our Young Advocates class of 2022 for all your hard work and dedication this year. We are excited to share that your fundraisers were a total success! Your hard work will have a lasting impact on your hungry neighbors across North Texas.
This year your hard efforts provided access to more than 41,000 nutritious meals! Thank you!
YAC 2022 Accomplishments
Elected the first YAC Leadership Board including the following young leaders.

President: Jasmine Najari
Vice-President: Kamau Njendu
Secretary: Defne Gurun
Historian: Brooke Hieronymus
Social Media Manager: Ameya Khond
Fundraiser Coordinator: Marie-Therese Nasah

Drafted the first YAC Students Against Hunger Highschool Club Charter.
Volunteered at the Perot Family Campus to prepare bags of kid-friendly food and produce for distribution to hungry children across North Texas.
Learned valuable skills with NTFB staff and leadership.
Successfully hosted 3 fundraisers to feed hungry children, families, and seniors.
Check out our Young Advocates!
Beyond this page, the Young Advocates can be found on Instagram: @ntfb.yac