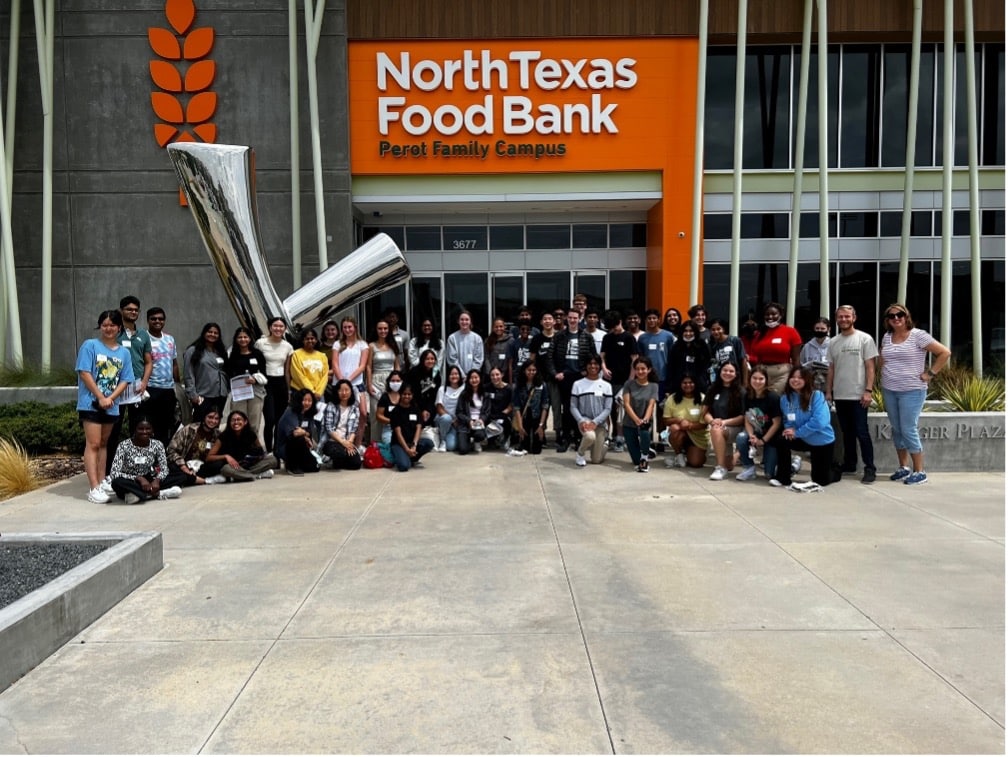 We are thrilled to introduce the North Texas Food Bank's Young Advocates Council! This opportunity engages dedicated and entrepreneurial high school students at the premiere hunger-relief organization in North Texas.
Join our Board of Directors, Young Professionals, NTFB's Executive Leadership, and your peers from across North Texas as we work toward closing the meal gap in the Metroplex. Your gift of time and effort will not only help you to perfect valuable skills for college and your career, but you will have a profound and lasting impact on your North Texas neighbors.
NTFB Thanks the Young Advocates class of 2023!
Thank you to our Young Advocates class of 2022-23 for all your hard work and dedication. We are excited to share that your fundraiser and Canned Food Drive were a total success! Your hard work will have a lasting impact on your hungry neighbors across North Texas.
This year you have provided access to nearly 73,000 nutritious meals! You also successfully established 4 high school clubs dedicated to fighting hunger and spreading awareness.
Thank you!
YAC 2023 Leadership Board
The following students ran for office and were elected to their positions.
Co-President: Ren Staveteig
Co-President: Ameya Khond
Secretary: Jace Mehta
Communications Manager: Samantha Ward
High School Club Co-Manager: Arjun Ramprasad
High School Club Co-Manager: Kaaviya Shenbaharaman
Canned Food Drive Co-Manager: Quinn Graves
Canned Food Drive Co-Manager: Aarzoo Modha
Interested in becoming a Young Advocate next year?
If you will be in the 9th - 11th grades for the 2023-2024 school year, we want to hear from you! Seniors will be accepted on a case-by-case basis.
Next year's application is now open and the deadline to apply is Friday, June 30.
Once your application is submitted, we will reach out to you by the end of July, 2023. If you have any questions, please reach out to YAC@ntfb.org.
Schedule
Kick-off Orientation
Volunteer Experience - August 20, 2023.
Meeting 2
September, 2023

Meeting 3 
Volunteer Experience - October, 2023
Meeting 4
December, 2023
Spring Fundraiser
TBD
Impact
Raise critical funds to provide access to nutritious food.
Help NTFB prep food for distribution through volunteer experiences.
1 in 8 of our friends and neighbors are food insecure. We need your help to secure new funding, sources of food, and new advocates.

Experience/Skills
Fundraising

Marketing

Accounting

Active Citizenship

Building Relationships

Interviewing

Meeting Management

Persuasive Writing

Public Speaking
Check out our Young Advocates!
Beyond this page, the Young Advocates can be found on Instagram: @ntfb.yac