Nourish North Texas Telethon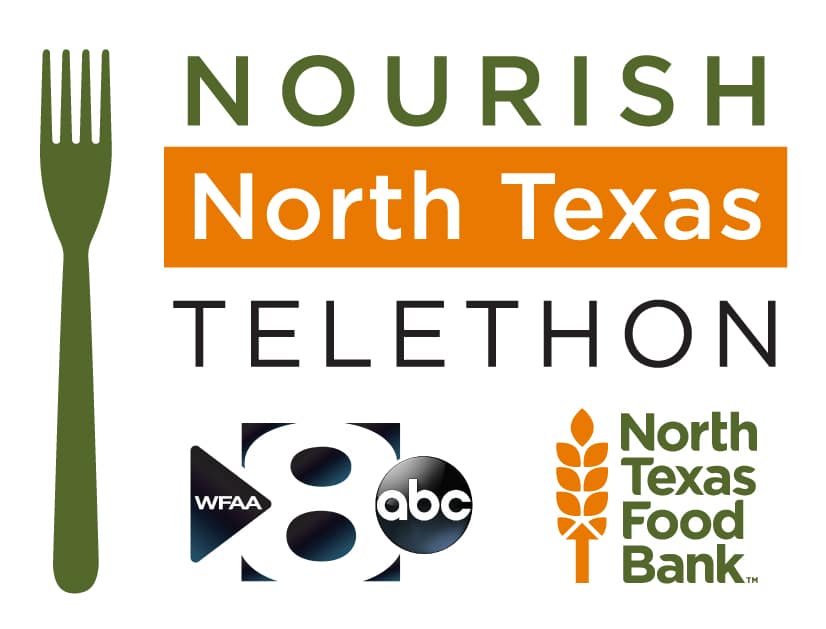 WFAA and NTFB are teaming up again this year to host the 3rd Annual Nourish North Texas Telethon on June, 27, 2023, that aims to raise awareness and funds to help provide healthy meals for neighbors across North Texas.
The goal of the campaign is to raise $350,000 to provide more than 1.05 million meals for North Texas families. Through a carefully crafted marketing campaign, NTFB will generate community awareness behind the telethon and the opportunities to give.
Sponsorship Opportunties
We hope you will consider being a part of this special event as NTFB works to nourish our community and transform lives.
Feed the Need Sponsor (Three Available)
Level – $25,000 | Impact – 75,000 meals
Name and logo recognition at the close of a segment cut in
Logo inclusion, alongside other sponsors in at least 1 marketing email for the event (NTFB database of over 50,000 people)
Opportunity to provide 20 virtual (or in-person) volunteers for donation collection (via a call center at WFAA or on Zoom)
Recognition in all digital materials and media: including social media
Volunteer Provider (Five Available)
Level – $5,000 | Impact – 15,000 meals
Provide volunteers for a 2-hour shift (20 volunteers total)
Brand recognition via zoom backgrounds if applicable as well as team t-shirts (provided by sponsors)
Recognition on social media via NTFB "thank you" post
To receive further information on ways to participate in the Nourish North Texas Telethon please contact Danielle at Danielle.dow@ntfb.org
Sponsored by: