Canstruction 2019 – Heroes Against Hunger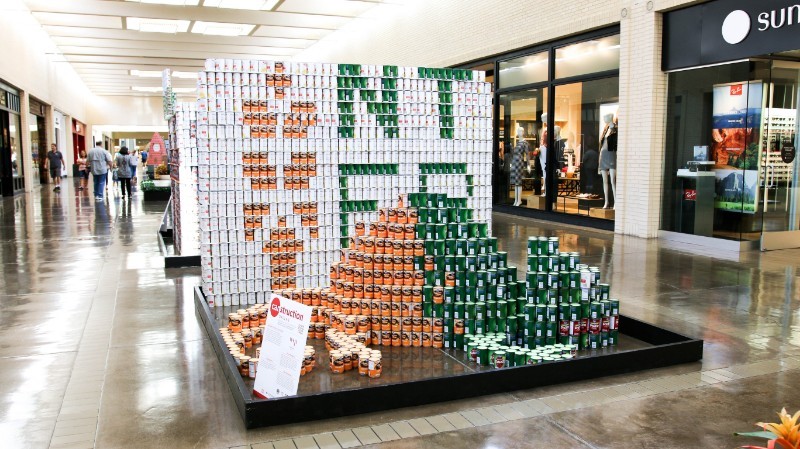 A friendly competition with a mission to feed food-insecure neighbors, Canstruction features fanciful displays made entirely of canned goods. These cansculptures not only help spread critical awareness surrounding the issue of hunger but once deconstructed, will help fill cupboards and pantries throughout North Texas.
Starting Saturday, September 7 through Sunday, September 22, giant canned food structures will line NorthPark Center for Canstruction 2019: Heroes Against Hunger. This annual design and build competition engages teams of architects, engineers and designers in constructing large, innovative displays made entirely out of full cans of food. Following the competition, all cans utilized in each sculpture are donated to the North Texas Food Bank. Last year, Canstruction contributed more than 150,000 pounds of shelf-stable food for our hungry neighbors. Every day, the North Texas Food Bank provides access to more than 200,000 nutritious meals to hungry children, seniors and families and the support received from Canstruction advances our work feeding more neighbors in need.
Designs from past Canstruction competitions featured the iconic Dallas Pegasus, a recreation of Van Gogh's Starry Night and even the Colosseum. Join us this year and see how our 29 participating teams will interpret the 2019 Canstruction theme: Heroes Against Hunger. Then vote for your favorite displays – $1 buys one vote, and all proceeds will support the North Texas Food Bank. Voting starts September 7, and visit ntfb.org/canstruction to cast your vote.
For additional information about Canstruction 2019, click here.
---
Canstruction: Heroes Against Hunger
September 7 – 22
NorthPark Center