Calling in Reinforcements
At the beginning of our fiscal year, the team at the NTFB tagged this year as the Year of Community. At the time, we couldn't have possibly known what this would come to mean. The term community has become even more relevant for us as we work to serve our beloved North Texas community putting them at the center of all we do.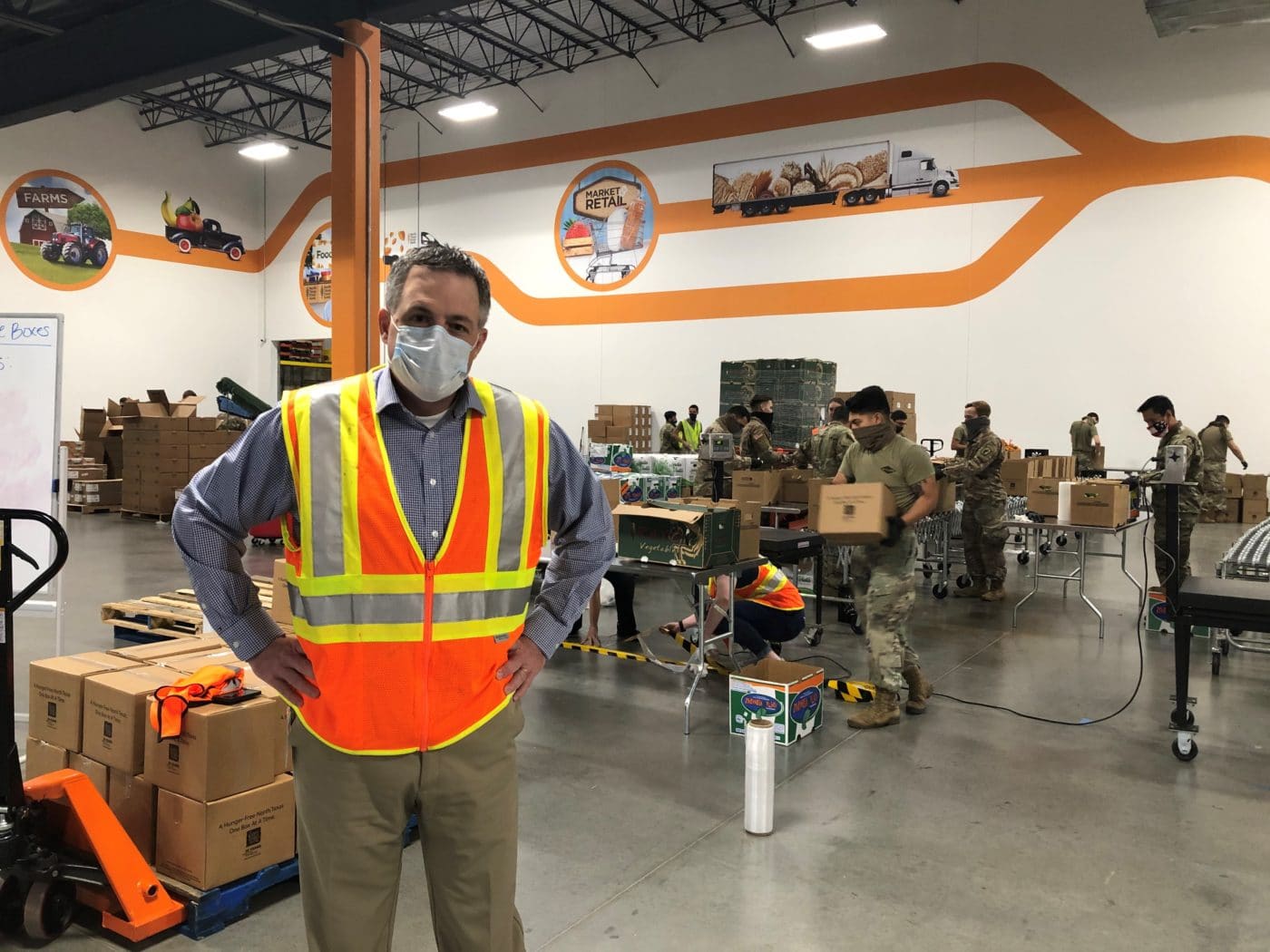 Throughout this COVID-19 crisis, information changes day by day or even minute by minute. Every day, the team at the Food Bank comes in to work with one goal: feed our hungry neighbors.
And each day, it is sobering to see the number of hunrgy neighbors continue to grow. It cannot be overstated: The economic and societal impact of this disease is widespread and will be longlasting. For our team, it is more important than ever to be able to continue to safely meet the need.
That is why we are thankful to have the support of the Texas National Guard, who were offically "boots on the ground" at NTFB yesterday. This humanitarian mission is critical in providing a helping hand to our team, as we work to 1) increase our food distribution capacity to meet the growing need and 2) ensure that food bank operations can be sustained, even if/when food bankers get sick.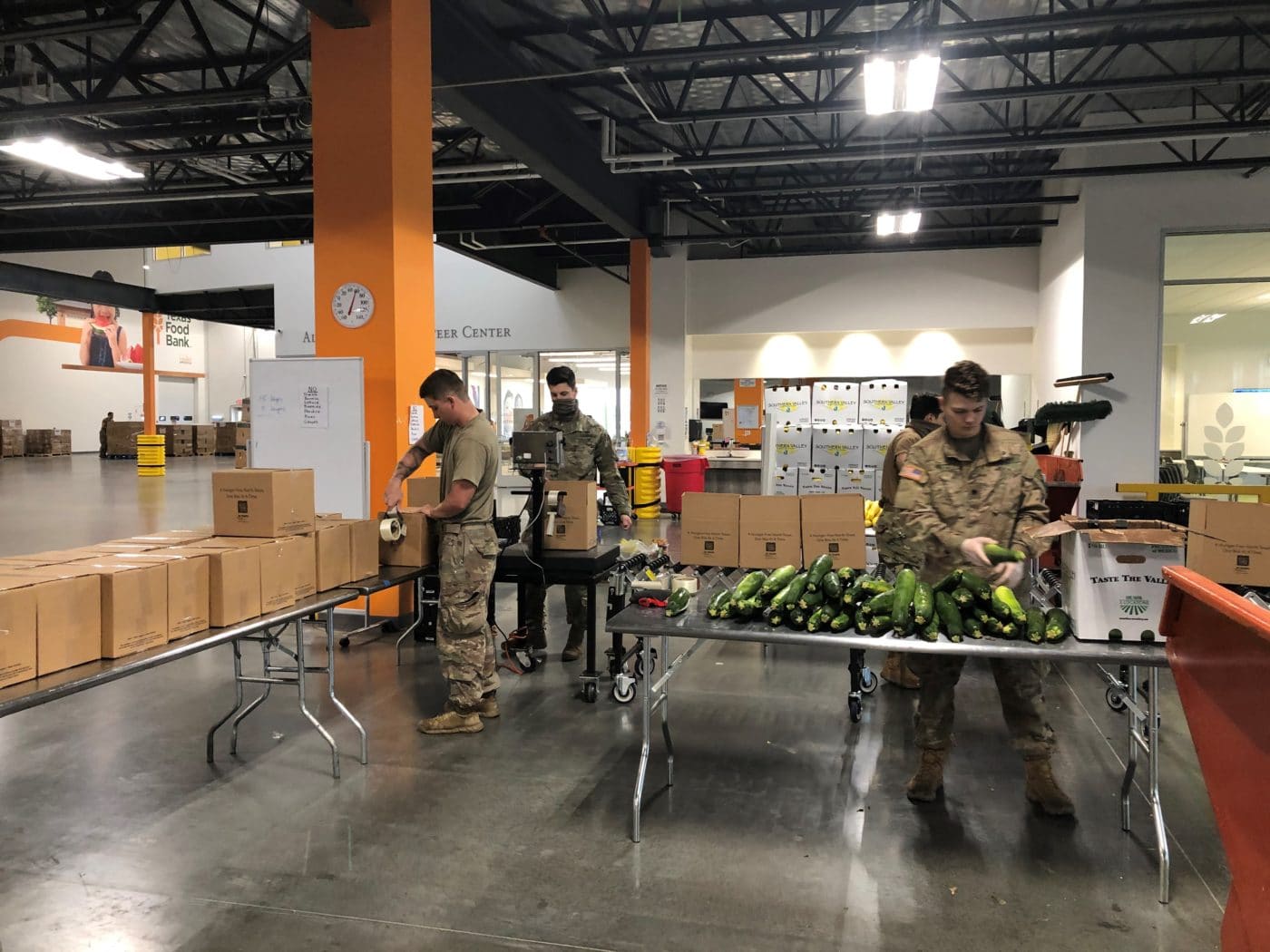 Our appreciation goes out to Governor Abbott and local elected officials, who partnered with us to make this request a reality. To the men and women who are now serving along our side, we welcome you into our food banking family. We know the sacrifcle you are making to help ensure our hungry neighbors are fed and could not be more grateful to your families for sharing you with us during this time of high need.
This support could not come at a more critical time. The Food Bank's mobile pantry efforts have seen a ~5X increase in demand in recent weeks due to the pandemic, surging to nearly 2,000 households served at each location. Our Feeding Network report similar increases in demand, and we're working hard to keep food supplied to them. Guard members will be on-site initially for 30 days and will be applied in four primary areas:
Production line: 120 have been immediately put to work on the production floors, creating family meal boxes for distribution.
Mobile Pantry distribution: 30 are assigned to expanding our growing Mobile Pantry distributions.
Warehouse and Supply Chain: 42 guard members are getting trained on our warehouse operations, and 12 are allocated as Drivers.
Partner Agency support: 60 have been assigned to work with/at our larger Partner Agencies across NTFB's 13-county service area.
Right now, creating and distributing boxed food is our most critical mission, and support from the Texas National Guard allows us to do this safely, effectively and efficiently. They provide us with the manpower to make more than 60,000 food boxes each week, making these available to our partners and via our Mobile Pantry program.
We are grateful to have this manpower and we want the public to know that they can also play a role in making sure we meet our mission. Last night, Dallas County Judge Clay Jenkins announced the Neighbors helping Neighbors Virtual Food Drive to benefit the North Texas Food Bank. This effort will help us cover the increasing costs we are facing to create these boxes of food. If you can donate, know that your support will go directly to this relief effort.
This crisis is a situation that none of us could have ever predicted. While every day represents an exhaustingly wild ride with great uncertainty, I feel we are privileged to be able to do such important work. I remind myself and my team to relish the opportunities we have to serve. Today's experiences are the stories we'll each be telling our friends and loved ones for years to come.
I am grateful to be a part of this North Texas community, I know that together, we can ensure that our hungry neighbors have access to the food that they need.
Brad Stewart
Chief Operations Officer