Young Hunger Fighters Celebrate Innovative and Successful School Year
The North Texas Food Bank is dedicated to inspiring the next generation of hunger fighters.
The Young Advocates Council (YAC) is an opportunity to engage dedicated and entrepreneurial high school students to start or continue their journey in addressing hunger in North Texas and strengthening their communities.
As we wrap up the school year, we are so proud of the accomplishments of the 2022-23 YAC group. The 89 students, including 29 new members, represented 27 high schools across the Metroplex. Members started clubs at four of their high schools to encourage their peers to get involved as well. The YAC members broadened their understanding of the hunger issue and how the Food Bank operates through four NTFB learning sessions and three volunteer experiences.
The students also planned and coordinated their own fundraisers. This year, they hosted a canned food drive and hand painted tote bags for their fundraiser, which served as thank you gifts for donors. With funds and pounds raised, the YAC members provided access to more than 82,000 meals to our neighbors facing hunger this year. This contributes to the more than 170,000 meals provided over the Council's three-year history!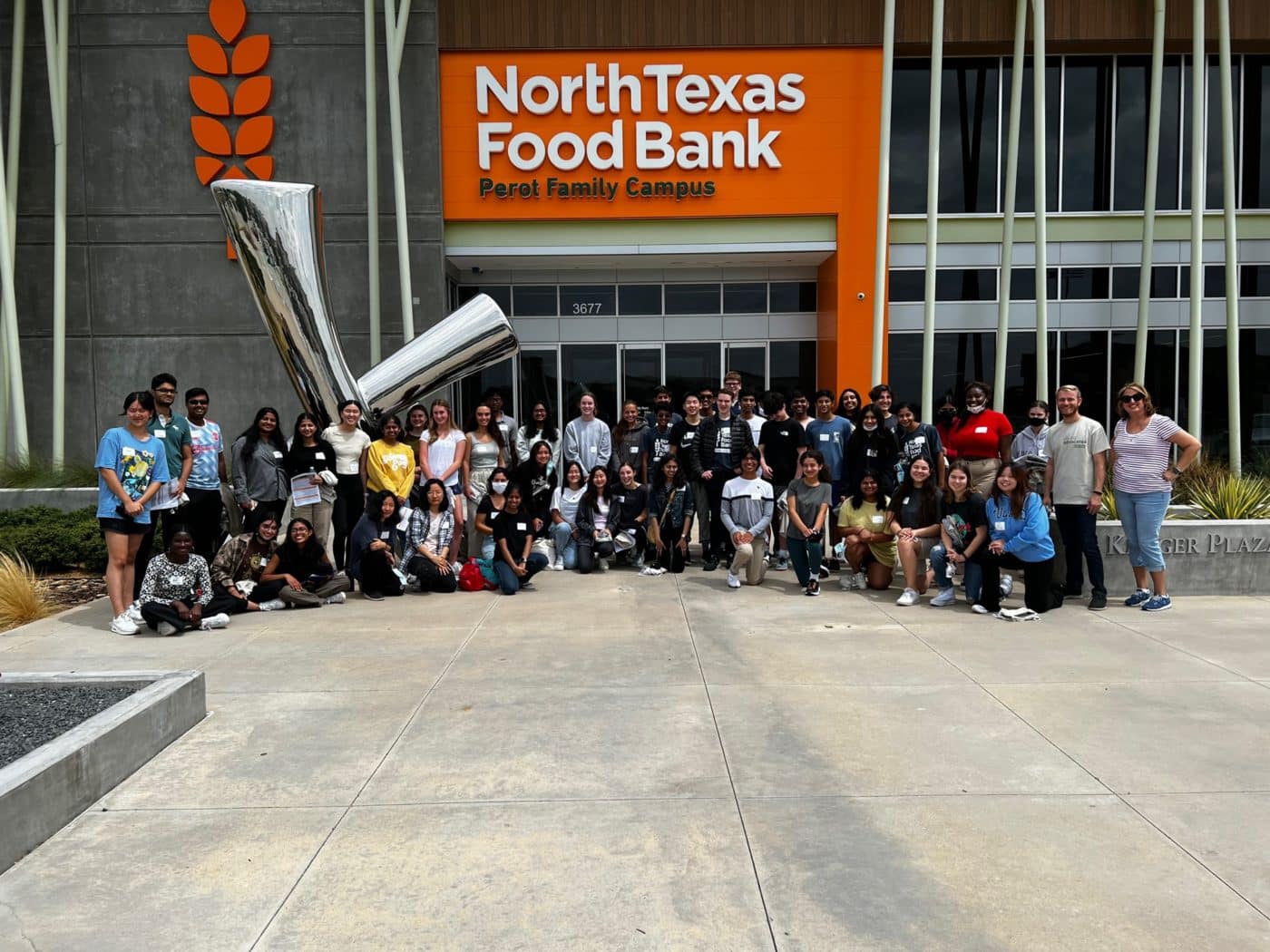 Involvement in YAC inspired two members to develop apps addressing food insecurity. Though not affiliated with the North Texas Food Bank, the apps represent how important it is to engage the younger generations in the hunger fight, as they have the motivation, skills and dedication that are critical to the NTFB's mission of closing the hunger gap in North Texas.
YAC member Define Gurun, a junior at the Hockaday School who has been involved with YAC since her freshman year, developed an app called Komshu that "aims to connect people who have extra resources with those who are in need of them. If you have extra clothing or food you do not need, you can post them on the app and make them available to others. If you require clothing or food, you can search for these items on Komshu and connect with people who are willing to share their resources," Define said.
Her time with YAC helped inspire Define to create an app that would make a positive difference.
"Seeing firsthand the widespread issue of hunger in our communities fueled a strong belief in me that we must take action to bridge the gap between those with excess food and those who struggle to access it. Technology has incredible potential to transform and address societal challenges. I was inspired by how technology can facilitate connections and bring about meaningful change," she said.
Another member, Akhil Peddikuppa, along with friends from the School for the Talented and Gifted, created FoodNex to help coordinate food donations. The app even garnered local media attention.
We also want to recognize our student Leadership Board for the 2022-23 year. The following students ran for office and were elected to their positions.
Co-President: Ren Staveteig
Co-President: Ameya Khond
Secretary: Jace Mehta
Communications Manager: Samantha Ward
High School Club Co-Manager: Arjun Ramprasad
High School Club Co-Manager: Kaaviya Shenbaharaman
Canned Food Drive Co-Manager: Quinn Graves
Canned Food Drive Co-Manager: Aarzoo Modha
We are grateful for, proud of and impressed by the hard work, innovation and commitment to service of all of the YAC members. Thank you for an incredible year! And thank you to Catie Enrico for all your involvement and guidance of the YAC group – this program is not possible without your leadership!
Interested in becoming a Young Advocate next year? If you will be in the 9th – 11th grades for the 2023-2024 school year, we want to hear from you! Seniors will be accepted on a case-by-case basis.
Next year's application is now open and the deadline to apply is Friday, June 30. You can learn more and access the application here.
Johnny Jenkins is the Strategic Initiatives Manager for the North Texas Food Bank.