The final patches of snow have melted, but the effects of last week's historic winter storm are still being felt throughout our state. North Texans, still experiencing devastating impacts from the pandemic, are facing additional strain as they assess home damage, water supply and food needs.
The North Texas Food Bank is committed to helping our community through this disaster by feeding our neighbors and connecting them to resources that can address their basic needs during this difficult time. Please see more information below and share with your neighbors.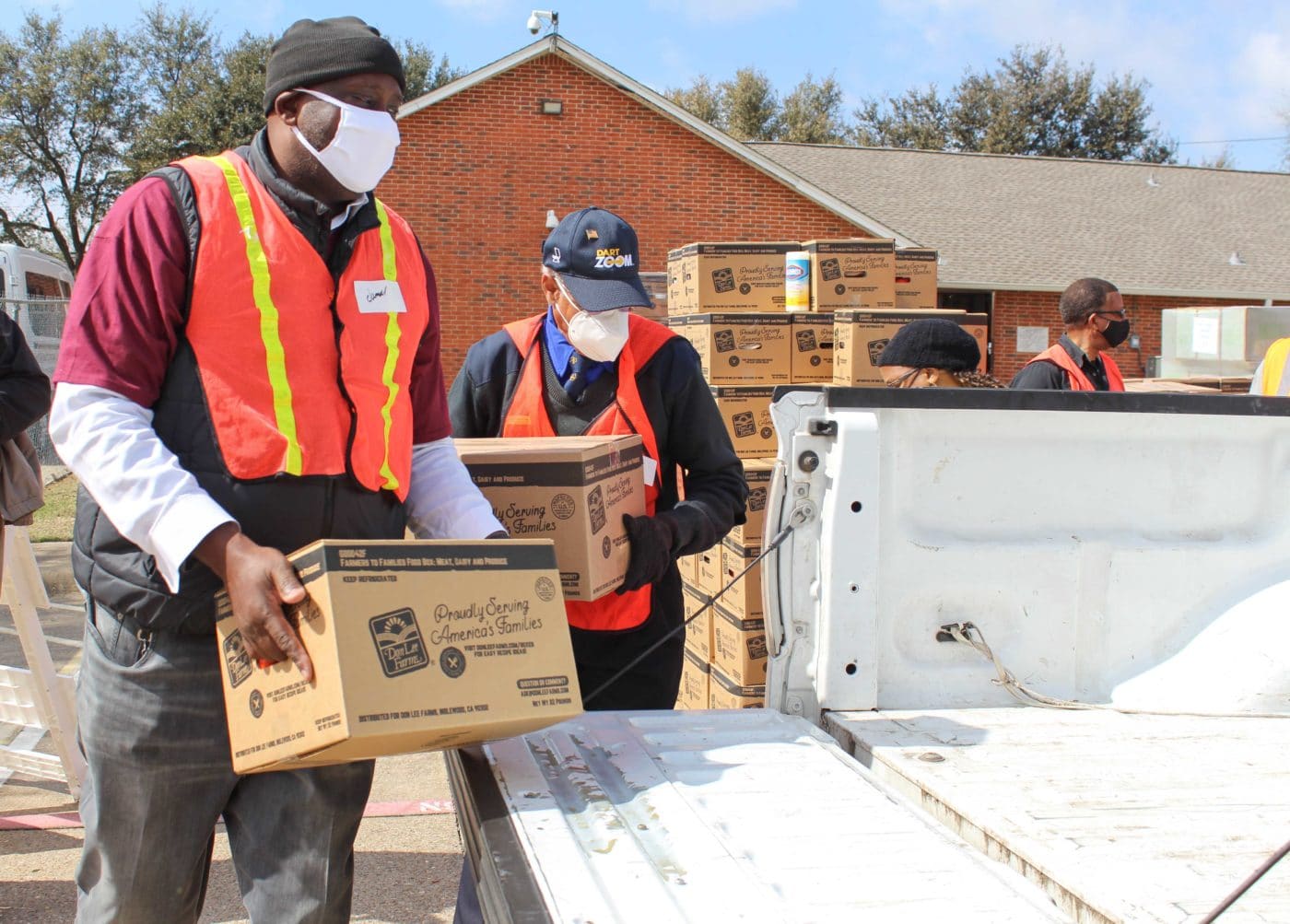 Food Distribution: The North Texas Food Bank will be continuing its Mobile Pantry distributions throughout our 13-county service area. Find the schedule here: ntfb.org/mobile-pantry. NTFB's network of more than 200 Partner Agencies will also be hosting distributions. Find an agency near you here.
SNAP Benefits: The Texas Health and Human Services Commission received federal approval for recipients of the Supplemental Nutrition Assistance Program (SNAP) to use their benefits for hot foods and ready-made foods, such as rotisserie chicken or grocery store deli foods, at any retailers in the state that accept SNAP. SNAP recipients can use their Lone Star Cards to purchase these foods through the end of March 2021. SNAP recipients can also apply for replacement benefits for food lost or destroyed due to the severe weather by calling 2-1-1. The replacement benefits process is as follows:
Clients can call 2-1-1, option 2, calling only M-F 9 a.m.-6 p.m. to request replacement SNAP benefits and do NOT need to separately send an affidavit. 
2-1-1 will accept their verbal statement attesting to their loss of food purchased by their SNAP benefits and use a telephonic signature. 
Clients can request up to 100% of their monthly benefit depending on how much food was lost.
Or they can call our Food Bank SNAP hotline for assistance outside of these hours: 214-269-0906. You can also email: snap@ntfb.org.
For additional SNAP assistance, contact NTFB here.
Housing: The federal government declared 77 Texas counties as major disaster areas, including much of the Dallas-Fort Worth Metroplex. This means the Federal Emergency Management Agency (FEMA) can distribute assistance to residents in these counties for needs such as temporary housing, home repairs and property damages and losses not covered by insurance. You can call 800-621-3362 or apply online at disasterassistance.gov. For more information and for a list of the counties covered, check here.
Water: There are several free water stations and water distributions happening across North Texas this week. Click here for a list of events and locations.
We encourage everyone to follow your local elected officials to stay up to date on additional resources, distributions and benefits available to North Texans as we come together to rebuild and recover.