Winter Recipe: White Bean Chili
Nothing exemplifies winter comfort food more than a hearty bowl of chili. With shorter days and colder temps, the winter months are the perfect time to cook up a batch that can be eaten over a couple of days and brings the warmth we crave during this season.
While the great chili debate – beans versus no beans – always surfaces this time of year, the NTFB Nutrition Services team at the North Texas Food Bank is taking a side with its White Bean Chili recipe. This recipe is quick to prepare and provides a healthy and substantive meal to warm you up this winter!
White Bean Chili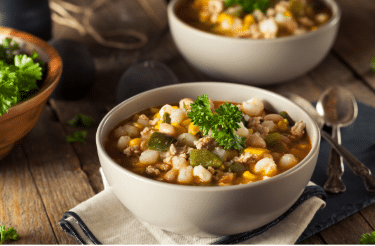 Servings: 10
Total Time: 40 minutes
Ingredients:
3 (15 ounce) cans no salt added navy beans, drained
3 (15 ounce) cans no salt added northern beans, drained
2 white onions, diced
4 cloves garlic, minced
2 (4.5 ounces) cans chopped green chilis
7 cups low sodium chicken stock
2 teaspoons cumin
1 1/2 teaspoons oregano
1/4 teaspoons cayenne pepper
1/2 teaspoons black pepper
1/4 teaspoons salt
2 cups fresh kale, ribs removed and chopped
Low-fat cheese
Directions:
Add the beans, onions, garlic, green chilis, chicken stock, and seasonings into a large pot.
Simmer on medium for 20 – 25 minutes, stirring occasionally.
Add kale and heat until greens are wilted, about 3-5 minutes, stirring occasionally.
Garnish with cheese and enjoy!
TIP: Add avocados, black olives, or jalapenos for extra flavor and enjoy with whole grain crackers!
Full nutrition information and additional recipes can be found here: https://ntfb.org/recipes/
---
The NTFB Nutrition Services team offers a variety of programming, including a virtual nutrition education series for organizations that serve at least 50 percent low-income clients. If your organization is interested in scheduling virtual programming from our Nutrition Services team, you can make your request here.
Caryn Berardi is a Communications Specialist for the North Texas Food Bank.