Volunteer Appreciation Month Spotlight: Kenn Stokes, Production Kernel
Volunteer Appreciation Week is in full swing, and we are excited to share more about our wonderful volunteers. Today we are highlighting a volunteer leader from the distribution center in our Plano facility.
Millions of meals are distributed through our Partner Agencies and feeding programs thanks to our distribution center volunteers. This is where the food is sorted and packed in preparation for transport to our feeding network of more than 200 food pantries and community organizations.
Today we are spotlighting one of our distribution center volunteers, Kenn Stokes. Kenn, who lives in Addison, has been volunteering with NTFB for two years where he is a production kernel for our Saturday shifts. Inspired by the seed of the wheat plant, an NTFB Kernel is a volunteer leader who helps our organization grow. These dedicated individuals assist in almost every facet of the organization and regularly give their time to the North Texas Food Bank.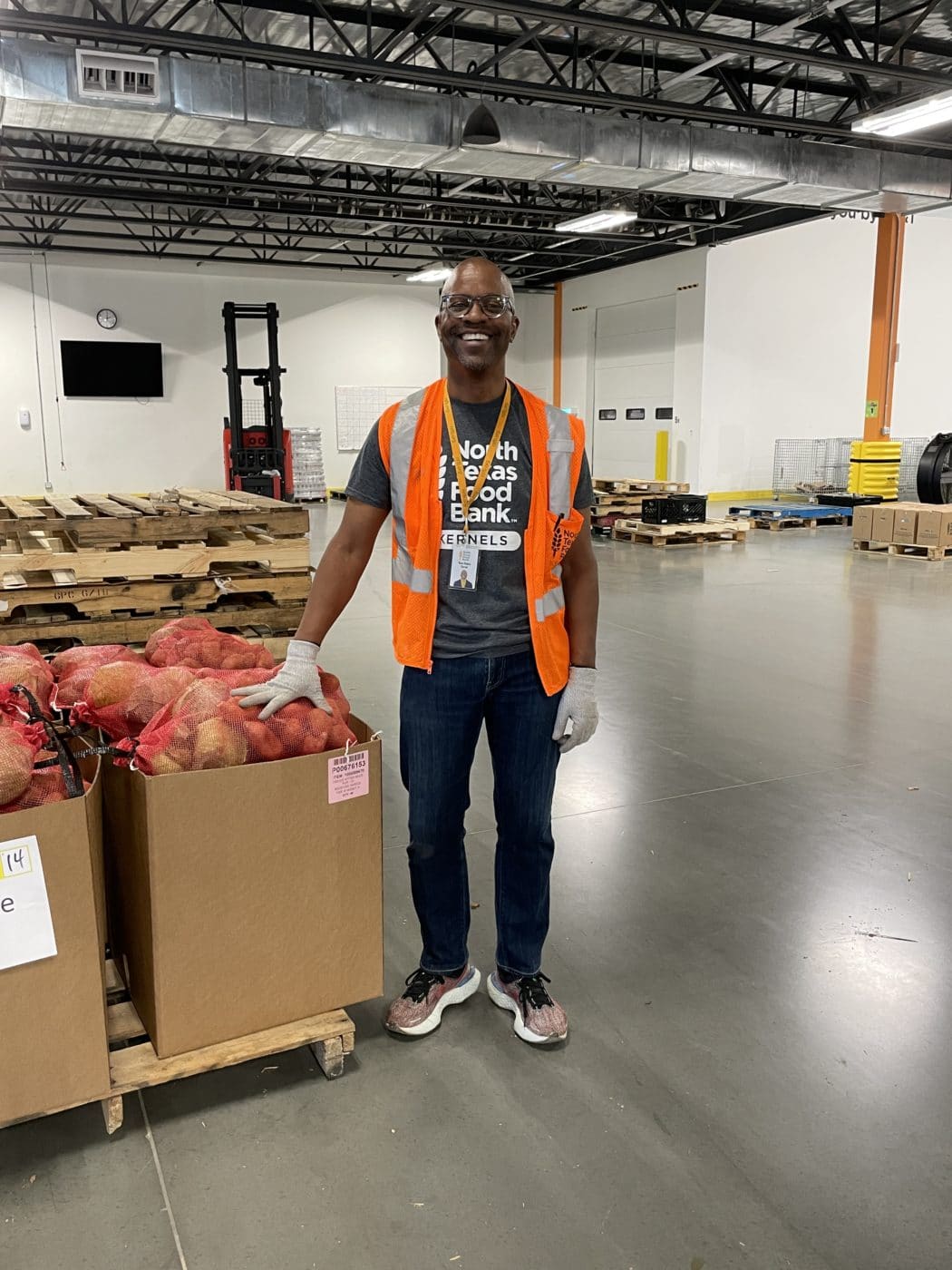 We are grateful to Kenn and all our volunteers for helping us create a hunger-free North Texas!
---
Q: What inspired you to volunteer here and how did you get involved?
A: I relocated to Texas four years ago from California. I volunteered for several organizations while I lived on the West Coast and wanted to repeat the volunteer experience here in Texas. The NTFB checked off many boxes of what I was looking for, which is how I ended up volunteering. I was also inspired by the NTFB's firm commitment to serving North Texans who are experiencing food insecurity.
Q: What do you like most about volunteering in the distribution center?
A: I love the distribution center's energy. Working with an incredible group of people, including Cassie, Haley, Josue, Dan, Amal, Jennifer, Donnie, and Cody, just adds to an enjoyable time in the distribution center. But most importantly, I'm making a significant contribution to the community with every box that I pack and load. I feel good about myself, knowing that I'm making a difference in someone's life.
Q: How long into volunteering did you become a kernel, and what does it mean to you? What do you like about it?
A: I became a kernel six months into my volunteering. And what being a kernel means to me is being an invaluable contributor to the continued success of the NTFB. It's also a serious commitment and responsibility that I do not take lightly. I also like the leadership and teamwork aspect involved in making whatever activity we're engaged in a success. Seeing the level of engagement from other volunteers is very rewarding, and the volunteers feel the same way, which I see on their faces when we recap the work we've completed in a two-hour shift.
Q: Why do you think giving back to your community is important, especially in these last couple of years?
A: To me, it's all about the people. People want to be acknowledged and know that there are resources available to them in their time of need. I've always been a champion of the underdog, and there is no shame in seeking help, no matter what your situation is at the time. People need hope, and I think the NTFB is a beacon of hope to many people.
Q: What would you say to others who are considering getting involved in the North Texas Food Bank?
A: Please sign up and join us! I guarantee you that you'll have a fun and rewarding experience!
---
Learn more about all NTFB volunteer opportunities here: https://ntfb.org/volunteer.