NTFB Volunteers Share Their "Why"
We commemorated Volunteer Appreciation Week last week with daily social media posts highlighting some of our incredible and dedicated volunteers. As we wrap up Volunteer Appreciation Month here at the Food Bank, we are sharing those volunteers' "why" – why they volunteer at the NTFB and why fighting hunger is important to them. As we said when we kicked off the month, we are so grateful for these and ALL our amazing volunteers – this month and always!
Janet Hoppe
"I have chosen to volunteer at NTFB for two reasons. First, I had a career in the food service industry, so I fed people for a living. Through my work experience, I believe many people don't realize dining out is a luxury. Now, I have the opportunity to help people who may not have the means to feed their family. Second, I had been through a season of food insecurity. I understand firsthand the uncertainty of not knowing where my next meal was coming from. Fortunately, I was able to receive help, and now I want to pay it forward."
Cindy and Steve Harris
"It is a first-class organization and the ease of signing up and contributing to our community were important factors in serving at NTFB. It is so much fun every time we come."
Andon Epp
"It is a great way to spend my free time. I enjoy packing the food for neighbors while meeting new people."
Claire and Alvin Yam
"Food insecurity is such a hidden problem in America. Both of my daughters have known classmates who are food insecure. It's tough to think in this day and age that it is a problem. I never was food insecure, but my mom was for a while when she grew up in Asia. We just love the atmosphere at the NTFB. We've done almost every volunteer job at the Perot Family Campus. Honestly, most of the time it doesn't really feel like we are doing work until you look back after the shift and see how much was done."
Julie and Gareth Buchanan
We chose to volunteer at NTFB because it has varied opportunities to aid communities in need, by providing food parcels, meals, stocking food pantries, senior and emergency services, and nutrition services that include workshops for cooking and healthy food choices, and our own favorite, a Garden Produce Program. What we enjoy the most about being garden volunteers in Jan's Garden is the new friendships made and the teamwork as we grow produce from seedlings to mature fruit, vegetables and leafy greens. It is always a lot of fun, even on the chilly, wet days!"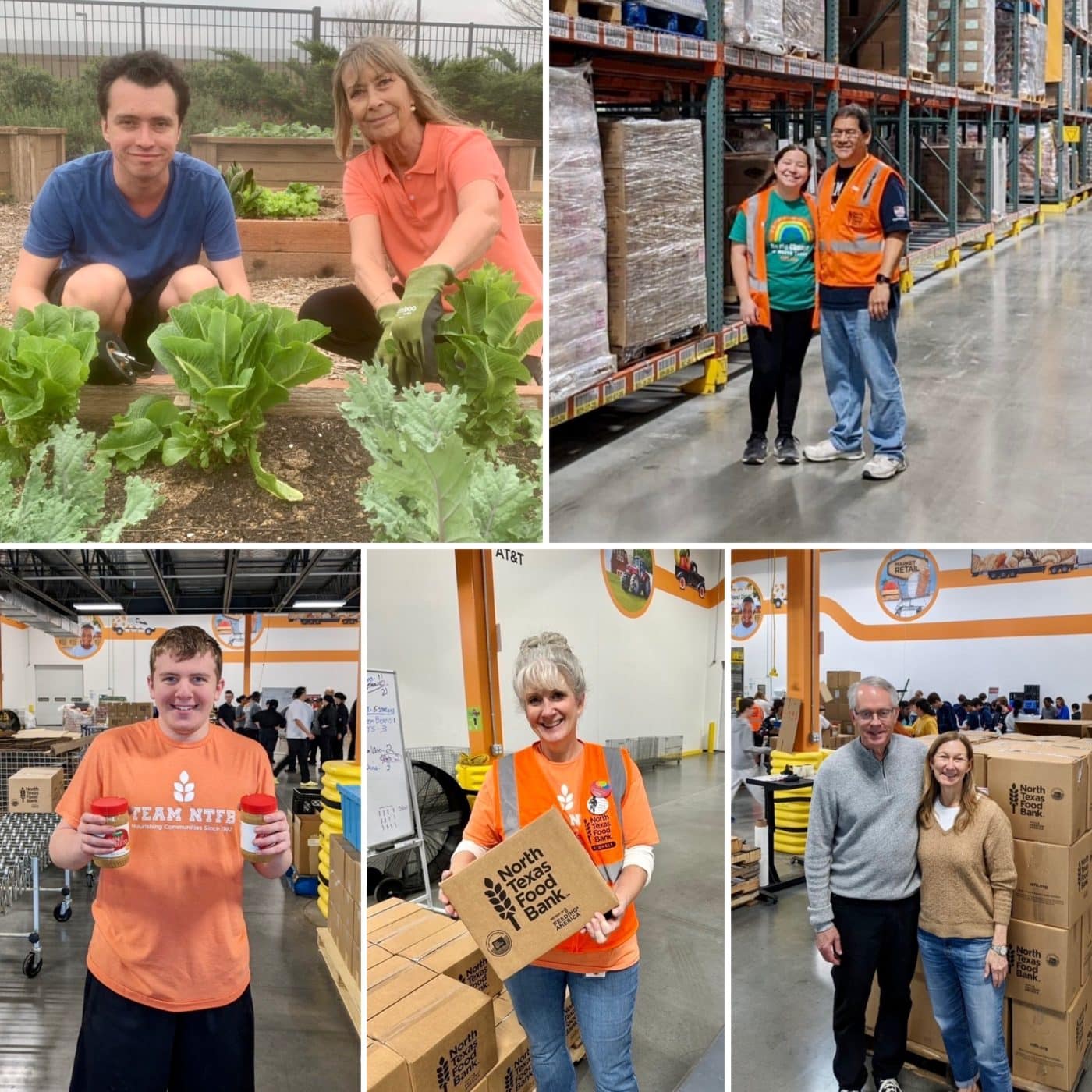 If you would like to learn more about volunteer opportunities at the North Texas Food Bank, visit here.
Elizabeth Campo and Riley Mainord are Volunteer Specialists for the North Texas Food Bank.