Triple Your Impact This Spring
The imminent arrival of spring signifies renewal and reawakening as we watch colors return to the trees and flowers begin to bloom. And while there is much beauty to be found during this season, our community also continues to face the effects of the pandemic.
Many children, seniors and families are still left wondering when their next healthy meal will be. Since last spring, when COVID-19 began its historic descent into our communities, the need has only risen – with nearly 900,000 neighbors in North Texas experiencing hunger, including 1 in 4 children.
But as with spring, we can add color back into the lives of North Texans facing food insecurity through the gift of nourishment and hope.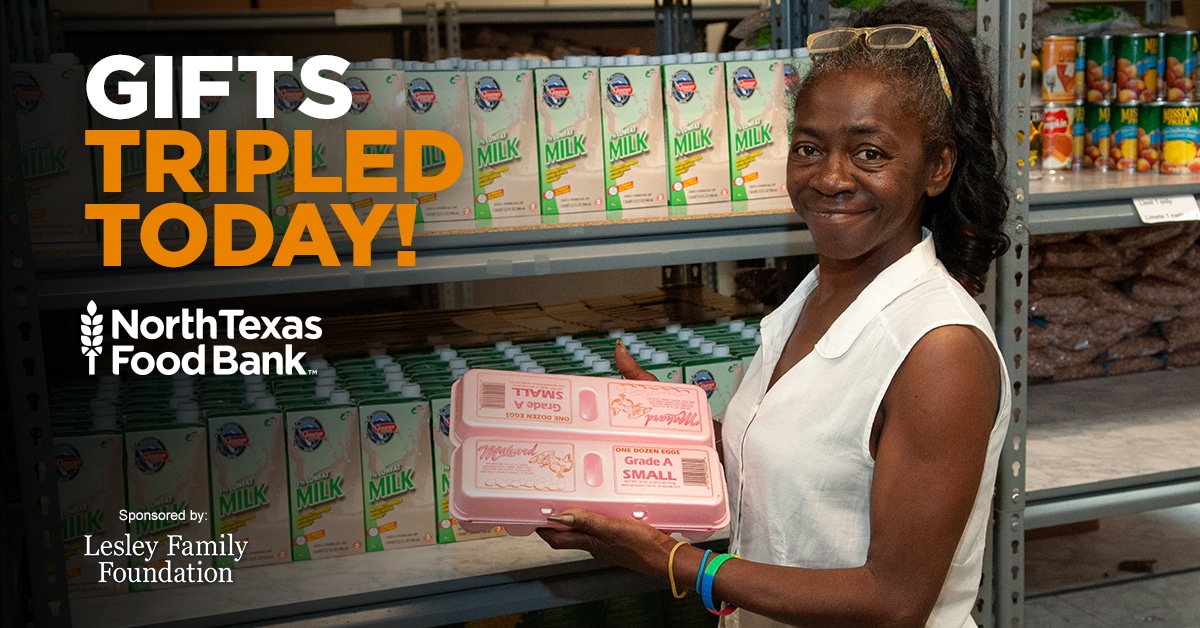 Now through March 29, you can make three times the difference with just one gift. Thanks to our generous friends at the Lesley Family Foundation, gifts to the North Texas Food Bank are tripled – up to $85,000 through this link. With $1 providing access to nine meals, that means a gift of $30 will triple to provide 270 meals – enough to feed three people for an entire month.
Your generosity will help people like Sharon, a senior who lives on a fixed income and does not have money at the end of the month for anything beyond food basics such as milk and bread. Because of the assistance she receives from an NTFB Partner Agency, she can get meats, produce and canned goods to last her through the next month. As she says about the assistance, "Whenever you need something, they are there, and they are so helpful for me and my community."
There is a sense of renewal this spring as we enter a more hopeful time in the course of the COVID-19 pandemic, but we also know that families and seniors like Sharon will continue to feel the impact for months, and possibly years, to come. The North Texas Food Bank remains committed to helping our neighbors through this time and beyond, and we are grateful for all who can join us in our fight this spring.
For more information and to give, visit/share: ntfb.org/springtriplematch.