Thankful Series: Volunteers
This year will certainly be remembered for its challenges. But it will also be known for those who eased the burden for others and for the resiliency of our communities. As we approach Thanksgiving, we want to take the time to recognize and thank the many North Texas Food Bank partners who are critical in carrying out our mission. Each day this week you will hear from a different Food Banker expressing our gratitude to the partners who are working with us side-by-side to bridge the hunger gap in North Texas!
---
As a Volunteer Experience Coordinator for NTFB, I have the pleasure of working with the people who generously give their time to ensure our neighbors experiencing hunger get the nutritious food they need. From packing, sorting and distributing, our volunteers play a vital role in the Food Bank process.
For most of the past year, our volunteer operations have looked very different than normal. I have been with the Food Bank for the last 11 months, and in that time, I have worked with three diverse volunteer groups: traditional external volunteers, Get Shift Done and The Texas National Guard.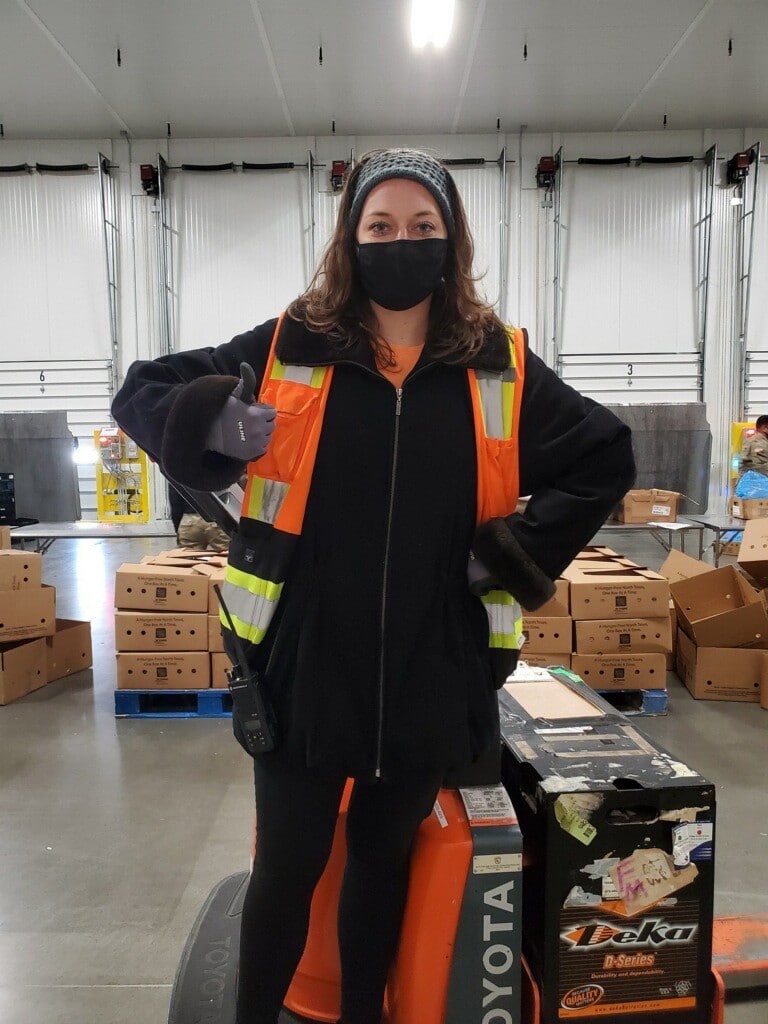 I am so thankful for all these groups that have stepped up since March as the economic crisis of the COVID-19 pandemic made our services more important than ever. We needed to halt our traditional volunteer operations to mitigate spread of the virus and keep our staff and volunteers safe. At the same time, our demand doubled in the span of a couple weeks. If it were not for Get Shift Done and the National Guard, I do not know how we would have managed packing up kitted boxes and hosting mobile distributions across North Texas to meet the increase in demand.
As we are opening up limited traditional volunteer opportunities, I am grateful to see our external individual and group volunteers returning to the Food Bank and the communal feel of a Saturday on the production floor with the common goal of helping our neighbors in need!
Finally, I am also so thankful for my team at NTFB. We have been through many ups and downs during these tumultuous times and have had to remain flexible and adaptable. We counted on each other for support and as a small but very mighty team, we have pushed through, kept each other safe and healthy, and have spread the North Texas Food Bank's values of integrity, compassion and collaboration not only internally, but among our volunteers.
Thank you to everyone who has volunteered their time to the mission of the North Texas Food Bank. We are so grateful.
To learn more about volunteer opportunities at NTFB, visit: https://ntfb.org/get-involved/volunteer/.
Haley LaCoume is a Volunteer Experience Coordinator for the North Texas Food Bank.