North Texas Food Bank Provides Food Assistance to Federal Employees at DFW Airport and Love Field Airport
For many federal employees in North Texas, tough choices are now on the table. While the government shutdown has stopped their income – it has not stopped the demands of daily life, and many are forced to make difficult decisions: paying rent or buying groceries, putting gas in the car or making a utility payment, or negotiating childcare costs. But for federal employees who live paycheck to paycheck, without a rainy day fund or savings account, their refrigerators are now empty, little is left in the pantry and the need for food assistance is increasing by the day.
At the North Texas Food Bank, our mission is to close the hunger gap by providing access to nutritious meals to our hungry neighbors. In recent days, that population now includes neighbors who are federal employees. After several weeks without a paycheck, many are now seeking food assistance – many for the first time. During the government shutdown, and always, the North Texas Food Bank is committed to supporting our hungry neighbors, because regardless of the cause, whether it be environmental disaster, economic instability or unexpected personal crisis, we believe no one deserves to be hungry.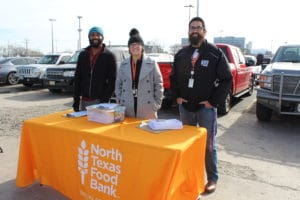 This past week, the Food Bank was onsite at DFW Airport and Dallas Love Field Airport to distribute food directly to federal employees and share information about our partner agency network where neighbors can receive continued assistance. Food Bank staff also helped employees sign up for emergency Supplemental Nutrition Assistance Program (SNAP) benefits.
While loading milk, potatoes, oranges and several shelf-stable items into her car, Maggie*, a federal employee at DFW Airport, expressed her gratitude and frustration.
"I am very grateful for this generosity provided to us – it has been really hard not having any income for so long," said Maggie. "I am the primary breadwinner for my family and I have two teenage daughters. It has been rough to be uncertain about our income – this will help us fill our pantry and make us feel like people care."
As the longest government shutdown in history continues, the North Texas Food Bank will continue to mobilize support to ensure federal employees impacted by the shutdown have direct access to nutritious food and social services.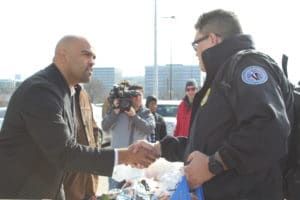 Terry*, a federal employee who works in security at DFW Airport, received assistance enrolling in emergency support services, and shared the significance of a helping hand.
"We're all hurting and we don't know what to expect, and most of us don't even know how to start to fill out these forms," said Terry. "This support is very important – most of us have never been through this before – so it just means a lot."
Although the future of the government shutdown remains uncertain, the North Texas Food Bank will continue to support federal employees so they can continue to put food on the table and make one less tough choice.
For additional information on our critical work aiding federal employees during the government shutdown, visit: www.ntfb.org/shutdown. To join us in this critical work, and to help close the hunger gap in North Texas, visit: www.ntfb.org/get-involved.
*The names of federal employees featured in this article were withheld to honor their request to remain anonymous.