Summer Recipe: Two Salsa Dishes for Summer Celebrations
Well, North Texas, it's hot!
There is not much else you can say about our current summer situation. But despite the weather, summer is still a time to gather with friends, family and community for fun and relaxation. Hotter temps call for food that is light, refreshing and nourishing.
The NTFB Nutrition Services team has two ideas for nutritious and delicious salsa dishes. The Sweet Summer Peach Salsa and the Black Bean and Corn Salsa recipes bring together flavorful ingredients and are perfect for a side dish at home or to bring to a gathering.
Don't forget to pair your meals with plenty of water to keep you hydrated and healthy during these hot summer months! Enjoy!
****
Sweet Summer Peach Salsa
Servings: 8
Total Time: 20 minutes
Ingredients: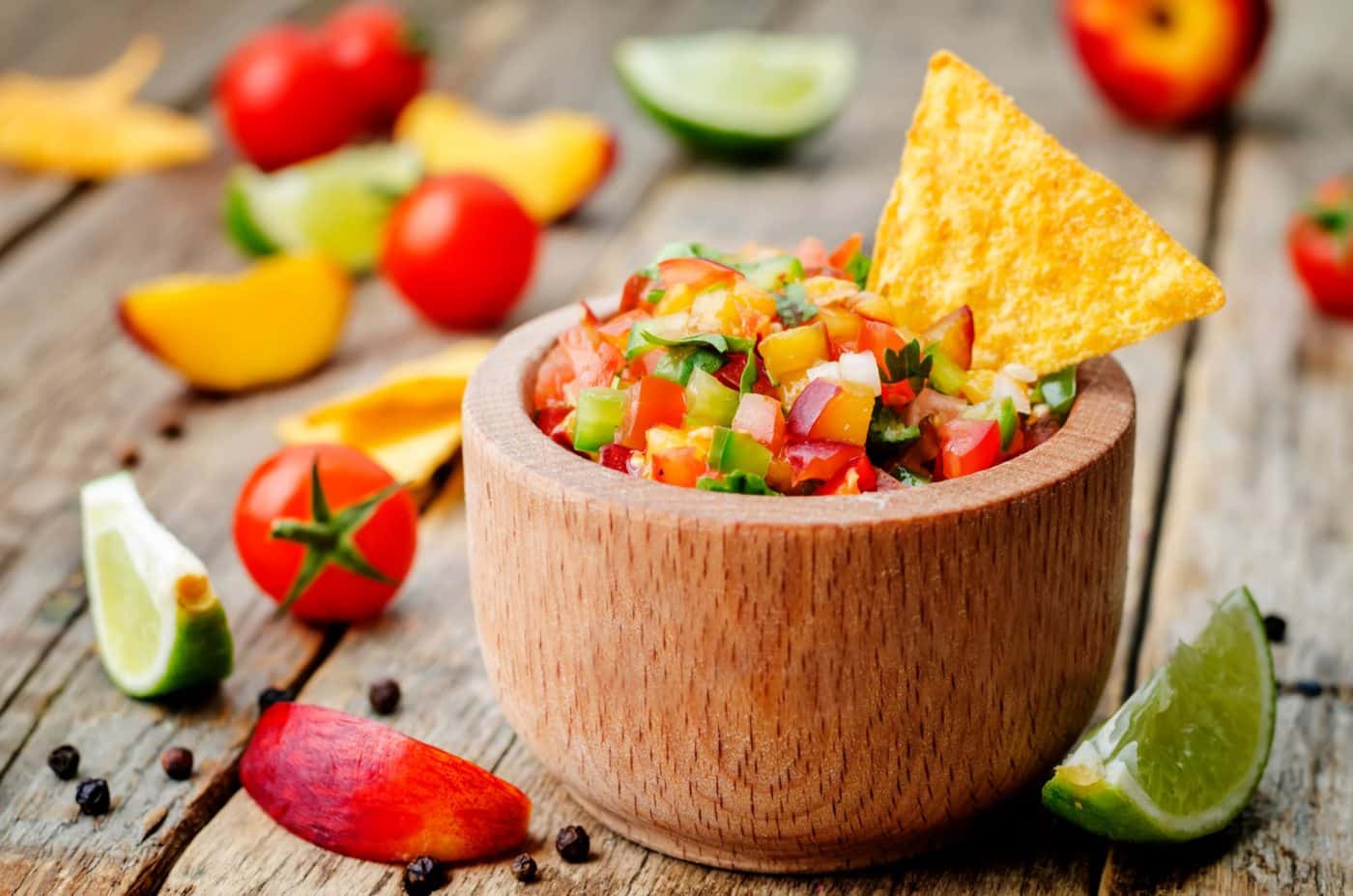 1 1/2 pounds tomatoes, chopped
2 bell peppers, seeded and finely chopped
2 jalapenos, seeded and finely chopped
1 medium onion, finely chopped
1-pound peaches, pitted and chopped
1/2 bunch fresh cilantro, minced
1 lime, juiced
1/4 teaspoon pepper
Directions:
Add tomatoes, bell peppers, jalapenos, and onions to a large bowl and mix well.
Add chopped peaches to the bowl.
Add cilantro, lime juice, and pepper and mix.
Serve with whole-grain tortilla chips.
Tip:For a more intense flavor, refrigerate salad 1-2 hours before serving.
Full nutritional information about this recipe can be found here: ntfb.org/sweet-summer-peach-salsa/
Black Bean and Corn Salsa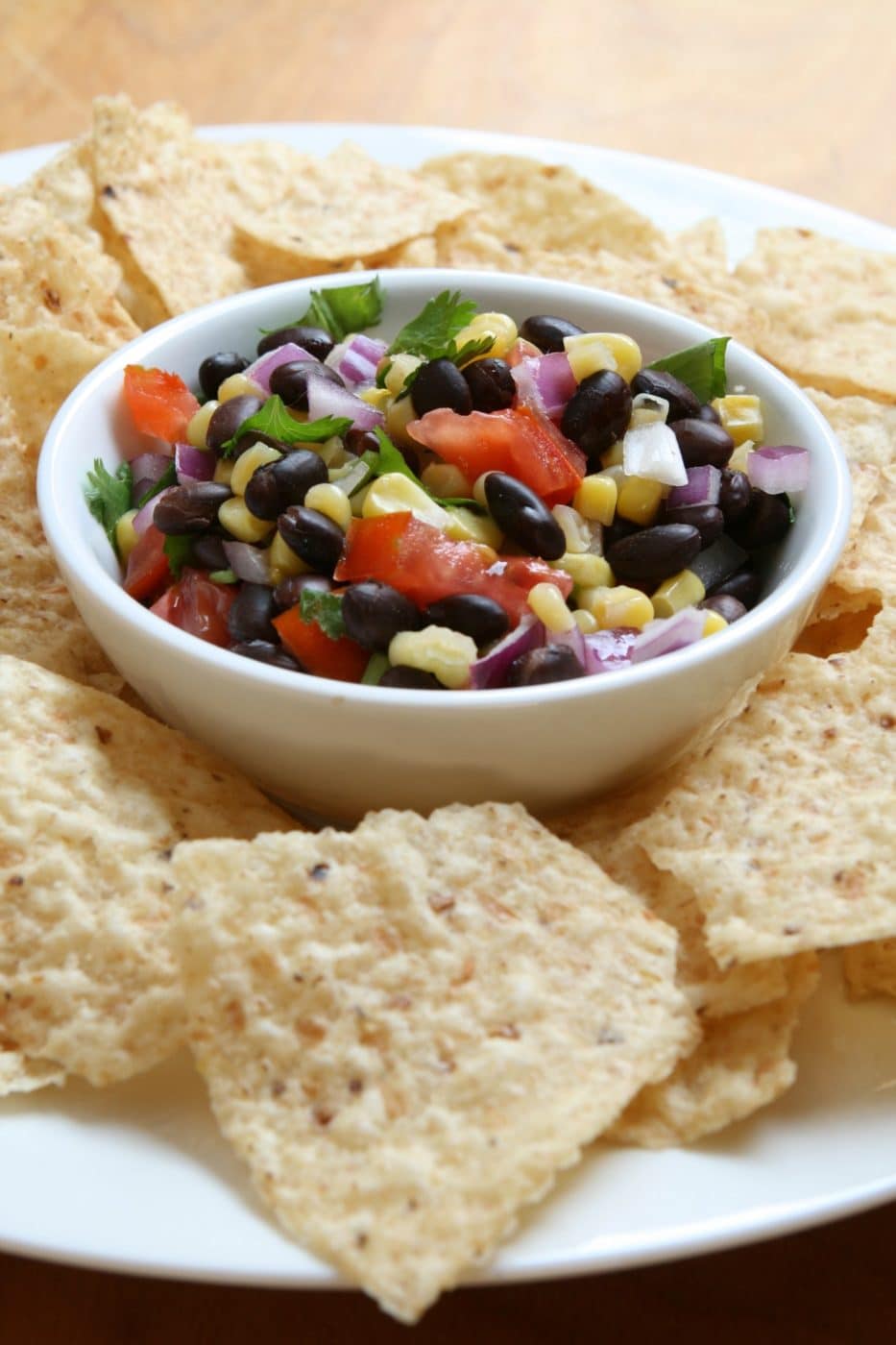 Servings: 6                                

Ingredients:
2 cans of black beans, drained and rinsed
3 cans of white corn, drained and rinsed
1 red bell pepper (or tomato), diced
1 small red onion, diced
1/2 cup fresh cilantro, chopped finely
1 jalapeno, deseed and diced
2 teaspoons chili powder
2 teaspoons ground cumin
4 tablespoons lime juice
Optional: 1/4 cup Monterrey Jack cheese, shredded
Directions:
Prepare rice according to package directions, fluff with fork, and set aside.
Meanwhile, lightly coat a large skillet with non-stick cooking spray and heat over medium-high.
Add chicken and red pepper flakes to skillet. Cook 5-7 minutes or until chicken is cooked through.
In a small bowl, stir together lime juice, vinegar, soy sauce, honey and set aside.
Add pineapple, bell pepper, and soy sauce mixture to skillet. Cook 3-5 minutes or until crisp tender.
Serve chicken over rice and top with onions.
Additional Tips:
Serve with celery, whole grain chips, pita bread or use as a topping for tacos and salads.
Substitute black eye peas for black beans.
 Full nutritional information about this recipe can be found here: ntfb.org/black-bean-and-corn-salsa-2/
---
Nutrition services is a critical component of the Food Bank's strategic plan to provide Food for Today and Hope for Tomorrow, and we have been providing free culinary and nutrition education to low-income populations since 1996. Visit our website to learn more about our education services.
Also be sure to subscribe to the Garden and Nutrition Newsletter, Spade and Spoon, to keep up with all the latest news from our Nutrition Services team. Subscribe here.
As summer continues, don't forget to check out ways you can engage the children in your lives in gardening and how you can get involved in the fight against hunger.
Have a great rest of the summer!
Ashton Hinckley is a Nutrition Education Specialist for the North Texas Food Bank.