Kid-Friendly Summer Recipe: Orange Oatmeal Pancakes
School is out for summer, and you might be looking for some new healthy, no-frills meals that kids will love.
For its summer recipe, the Nutrition Services team at the North Texas Food Bank recommends these Orange Oatmeal Pancakes. The combined prep and cook time is only 20 minutes, and with this simple recipe, you can get the kids involved in whipping up a batch as a summer activity!
We hope everyone has a great summer!
Orange Oatmeal Pancakes*
Servings: 6
Total Time: 20 minutes
Ingredients: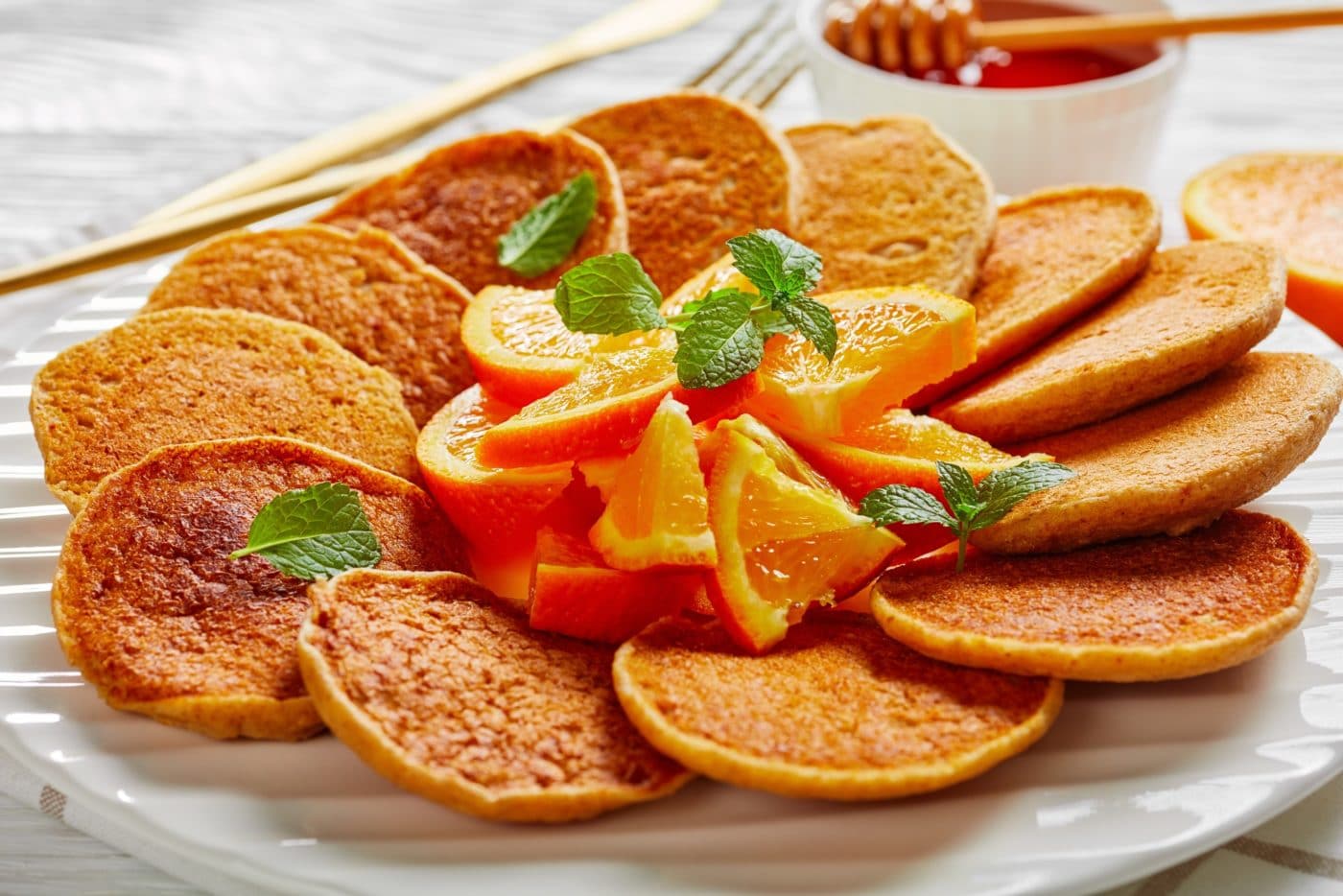 1/2 cup all-purpose flour
1/2 cup whole wheat flour
1/2 cup quick oats
1 Tablespoon baking powder
1/4 teaspoon salt
1 large egg
3/4 cup orange juice
1/2 cup nonfat milk
2 Tablespoons canola oil
Non-stick cooking spray
Directions:
In a large bowl, combine flours, oats, baking powder and salt. Mix well.
In another large bowl, crack egg. Beat lightly with a fork.
Add orange juice, milk and canola oil to egg. Mix well.
Coat large skillet with non-stick cooking spray. Heat over medium-high heat.
Add wet ingredients to dry ingredients. Stir just until dry ingredients are moistened. Do not overmix.
Pour 1/4 cup batter into hot pan for each pancake. Adjust heat as needed to avoid burning.
Flip pancakes when bubbles appear on top of the batter and the edges are slightly browned, about 3-4 minutes. Cook until second side is slightly browned, about 2-3 minutes more.
Full nutrition information and additional recipes can be found here: https://ntfb.org/recipes/.
*Recipe adapted from CookingMatters.org You can also find more ways to get kids involved in the kitchen here.
---
While summer is a fun break for many kids and families, we know that for many of our neighbors, it is one of the hungriest times of the year without access to the free and reduced-price meals they typically receive at school. Learn how you can help families this summer.
---
Nutrition services is a critical component of the Food Bank's strategic plan to provide Food for Today and Hope for Tomorrow, and we have been providing free culinary and nutrition education to low-income populations since 1996. Visit our website to learn more about our education services.
Also be sure to subscribe to the Garden and Nutrition Newsletter, Spade and Spoon, to keep up with all the latest news from our Nutrition Services team. Subscribe here.