Summer Food Ignites Summer Smiles
He tears through the cardboard box, pulling out a handmade "rooster" wrap, pico and a little baggie containing fresh, sliced tomato. The four-year-old looks up at me with wide eyes and exclaims, "Is this watermelon?!"
I explain the contents of the baggie, hoping his excitement doesn't dwindle, but he takes the news in stride and starts to tear apart the plastic wrap with tiny, uncoordinated fingers. I have just arrived at a Kid's Café site, where children receive free lunches and snacks all summer through the Texas Department of Agriculture's (TDA) Summer Food Service Program (SFSP).
The North Texas Food Bank is sponsoring 36 SFSP sites this summer, serving between 25 and 150 lunches per day. Sites range from Women, Infants, and Children (WIC) clinics, Girls Inc. and Project Transformations, to YMCA programs, apartment complexes and schools. Some of the sites have been serving summer meals through NTFB for more than five years!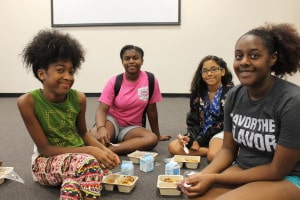 NTFB staff members Cindy Serrano and Dianna Rooney run the Kid's Café program, but during the summer, the entire Child Programs Department chips in to help monitor the growing number of sites during the hungriest time of year. Without access to school lunches, many young children aged one to 18 would go hungry over the summer. Through NTFB's SFSP sites, these children have access to breakfasts, lunches and afternoon snacks in addition to enriching activities and even nutrition education.
The Child Programs Team is tasked with monitoring each of the 36 sites, three to four times throughout the summer to ensure sites are distributing meals in accordance with TDA and Health Department policy and procedures. While we may be out in the field checking for hairnets and food temperature logs, we keep coming back for the relationships developed along the way—the site coordinators, the kids and the delivery drivers are all part of the culture and community of SFSP.
While visiting the WIC site, I also ran into Kenneth Knox, a beloved NTFB driver. Kenneth is no stranger to Child Programs and when he isn't around, our sites usually ask about him. His warm smile and inviting manner are part of what makes SFSP a full experience.
In addition to distributing 2,500 lunches per day over the summer, NTFB also provides bonus items to summer feeding sites, including Food 4 Kids backpacks and fresh produce. Kenneth had stopped by to deliver both of these items, much to the surprise of the little kids who had already received lunch and were now lining up for a bag of ruby red apples and other weekend, kid-friendly snacks. Jittery hands extended as the children accept their goodies one by one, barely able to carry both back to curious parents seated in the waiting room.
This is our second year operating SFSP at WIC sites. After piloting the program with seven sites in 2016, they were brought back this year with 12 wonderful clinics. The WIC partnership is just another way SFSP draws connections between food and health. Our vendor of three years, 12 Oaks, meticulously prepares meals that meet all TDA health requirements, and then some! Meals always include milk, meat/meat alternate, whole grains, fruit and/or vegetables. I can tell you from experience they always look and smell better than the lunch I packed for myself!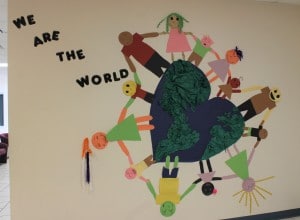 It is not hard to see why Cindy and Dianna were awarded Silver and Gold Sponsor by the Texas Hunger Initiative, FRAC and United Way for Excellence in Summer Meals two years in a row. From quality of food to quality of service, NTFB's Summer Food Service Program is filling bellies and igniting smiles across North Texas. Most importantly, we know the nutritious food is nourishing these children for their future.
While summer will eventually end, Kid's Café runs year round, transitioning from SFSP to the Child and Adult Care Food Program (CACFP). It is still nice knowing that kids like that little boy with his chicken wrap won't be forgotten during the summer; He won't go home hungry, and he might even learn the difference between a watermelon and a tomato along the way.
---
For more information about Summer Food Sites, text 'FOODTX' to 877-877 or visit the Summer Food website here to view locations.