Thanking Teachers as We Look Ahead to Summer Hunger Programs
This week is Teacher Appreciation Week, a time to express gratitude and thanks to the teachers who play such a vital role in the lives of young people. And this year more than ever, teachers and staff deserve credit for their flexibility, dedication, and commitment to the education and wellbeing of children across North Texas.
As we have seen, schools provide so much more than just academics. With the school year coming to a close, our attention turns toward the summer and the increased hardships families face to feed their children without the breakfasts and lunches students receive for free or at reduced prices at school.
According to recently released Feeding America projections, there are currently almost 300,000 children facing food insecurity in NTFB's 13-county service area. This is 1 in 5 children who do not know where their next meal will come from. Additionally, Dallas County has the 5th highest projected number of children living in food-insecure households in 2021.
The NTFB Child Programs team works hard every day to help North Texas families experiencing hunger. Thanks to the community's support, NTFB works with summer partners to ensure year-round food assistance for students and families. NTFB strives to provide relevant and accessible programming, which includes:
Extending the Food 4 Kids and School Pantry school year programs into the summer months as needed.
Collaborating with school districts to provide pantry staples.
Exploring innovative avenues to distribute weekend backpacks.
Continuing to stay engaged with Summer Food Service Program (SFSP) providers in North Texas.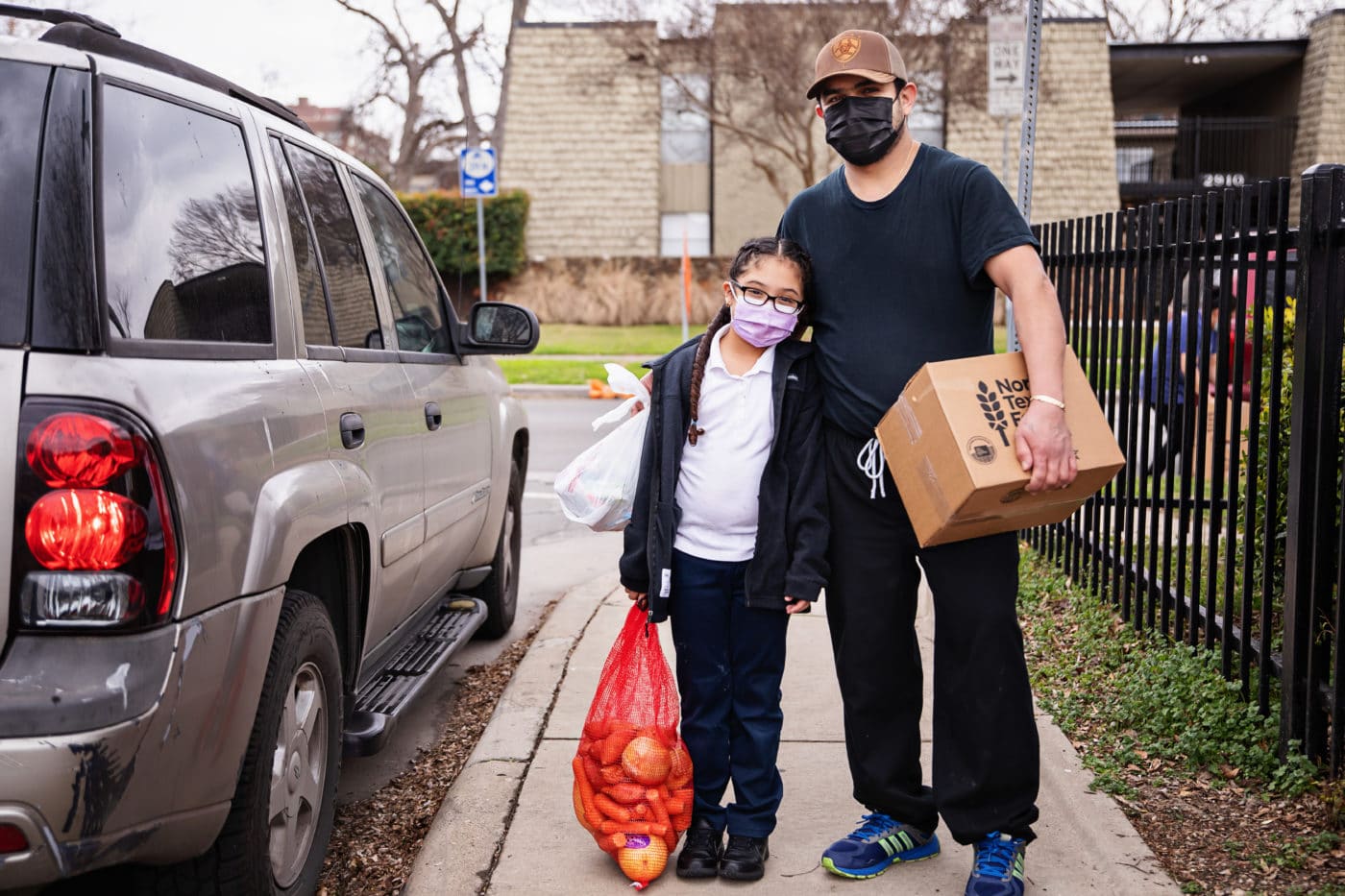 These programs are helping neighbors like Alejandro and Brittany. Brittany is a second grader at one of NTFB's School Pantry sites in Dallas, and the COVID-19 pandemic has impacted her family greatly as her father Alejandro's hours at work have been reduced. It has been challenging to get everything the family needs. The School Pantry program has been a big help for his family, providing shelf-stable items as well as fresh produce to help Alejandro provide healthy and well-balanced nourishment for his family. And Brittany loves the fruit snacks she receives!
In honor of Teacher Appreciation Week, we want to thank all the teachers, administrators and staff who have worked tirelessly this year to teach students in an ever-evolving academic environment and who have gone the extra mile to care for families like Alejandro's. We have seen additional involvement from faculty and staff this year in our food distributions, and we are so grateful.
From one of our Child Programs Specialists who works with our School Pantry Program:
"I could not do the work I do without the help of our amazing site coordinators. Sharing the same mission to feed students and their families has been the common thread. Our site coordinators know the names and faces of food insecurity. I appreciate all they do with an already full plate. They are the real hunger heroes."
Caryn Berardi is a Communications Specialist for the North Texas Food Bank.