Help Feed Families Like Nelson's This Summer
Summer break from school can last up to 90 days. For many children, this means fun and relaxation. But for kids who count on school meal programs to stay healthy, summer vacation could mean three months of worry and hunger.
At the North Texas Food Bank, we know summer is one of the hungriest times of the year, and this year brings additional challenges for families as they experience rising food and fuel prices. For kids who rely on free and reduced-price breakfast and lunch at schools, this means families are now faced with how to afford 10 extra meals per child per week during the summer months.
Through our feeding network of more than 400 food pantries and community organizations and our Child Programs, the Food Bank is working to get meals to the more than 300,000 children in our region – 1 in 5 – who experience hunger throughout the school year and the summer months.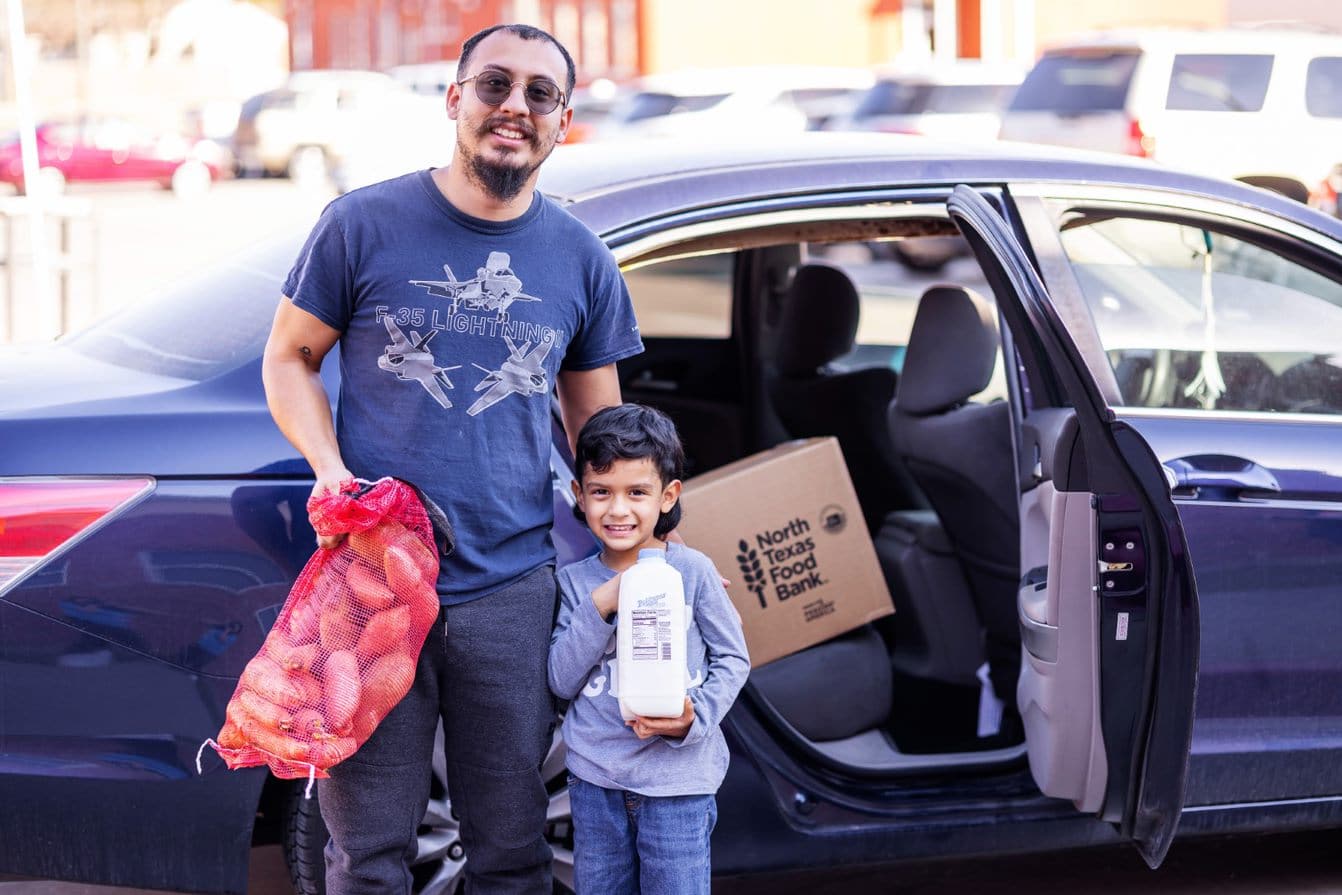 This includes families like Nelson's. With two young children and a wife, Nelson works hard to provide meals for the family. But with food costs continuing to rise, affording healthy food and living expenses became difficult. Nelson needed help to ensure his family had enough to eat. Fortunately, his mother-in-law suggested visiting a food pantry at his children's school, part of NTFB's School Pantry Program.
"It means a lot to see that the school cares about their students – and their families as well." Nelson said. "The pasta, the vegetables that we get, just a little bit of everything. We enjoy all the food. It helps a lot, especially in the pocketbook."
The Food 4 Kids backpack program and School Pantry programs that were once limited to the school year can now be implemented year-round to address summer hunger needs. There are also several ways the community can help us fight hunger this summer:
Donate to the NTFB Summer Million+ Meals Match. You can help provide access to 2.5 million meals for North Texans facing hunger through our Million+ Meals Match. Give now and our friends at the David M. Crowley Foundation will triple your gift – up to $425,000 – meaning $1 will provide 9 nutritious meals. Your chance to provide triple the meals ends June 30! Donate here: ntfb.org/summer.
Shop for a Cause. The Food Bank is grateful for community partners and retailers who donate a portion of their sales to hunger-relief. These community fundraising campaigns are an easy and impactful way of giving back. You can find the latest campaigns on our website here.
Start your own fundraiser. It is easy to launch your own online fundraiser straight from our website. Or perhaps you (or your kids) will be hosting a lemonade stand or neighborhood business this summer and you want to incorporate service into your enterprise. We love receiving donations from your creative endeavors and with $1 providing access to 3 meals, a little goes a long way!
Volunteer. Finally, if you want to be on the frontlines fighting hunger, we invite you to explore the various volunteer opportunities with the Food Bank. You can learn more about ways to get involved here: https://ntfb.org/volunteer/
---
You can read more about families like Nelson's and the increased summer hunger needs in the latest edition of our quarterly newsletter, Around the Table.