Standing with our Neighbors when the Storms Hit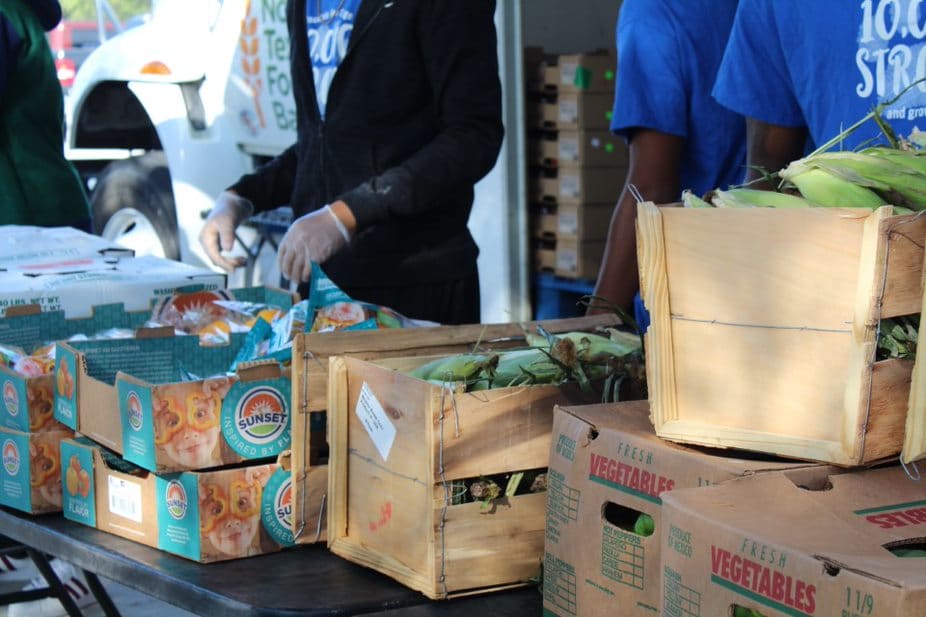 Recently violent storms wreaked havoc in North Texas, causing major destruction throughout our 13-county service area. Many in our community suffered damage to their homes and businesses, and hundreds of thousands were without power for several days. Repairing storm-ravaged structures and removing debris is still underway, but some of the most impactful damage is not what happened outside – but inside many of our neighbors' homes.
With the power out, so too were our neighbors' refrigerators and freezers, and perishable food will only keep for so long before spoiling and becoming unsafe to eat. For a family surviving on a budget stretched thin, losing the entire contents of a refrigerator and freezer can be devastating. A family's supply of proteins, fruits and vegetables, all lost in a matter of days. Following the storm, neighbors without power likely survived on items from their cabinets and pantries. These shelf-stable items must be replenished as well.
For just about anyone, restocking a refrigerator, freezer and pantry carries a financial toll. Now consider that food-insecure neighbors already carry a financial burden. Combine this reality with the fact that foods that are high in nutritional value are typically more expensive, but can be less accessible for neighbors residing in areas of high need. Such communities often lack traditional grocery stores or require some travel to reach, which can be difficult for neighbors with limited mobility. For these reasons, food-insecure neighbors will often purchase foods that are inexpensive, and likely provide little nutritional value.
The recent storms that hit North Texas provided an opportunity to better understand and emphasize the hard reality that crisis effects our community at vastly different degrees. This instance gives a snapshot of the spiral that can occur when a food-insecure family faces unexpected turmoil. When neighbors must quickly prioritize and decide what is most critical: purchasing food, paying for utilities or medicine, or gas for a commute to work or school.
Regardless of cause or circumstance, the North Texas Food Bank is prepared to provide access to nutritious food to all our hungry neighbors. This past year, our team has provided a swift response following unforeseen events that resulted in an increased need for food assistance. Not only are we, along with our vast feeding network of Partner Agencies, able to provide access to food assistance, but providing access to nutritious foods is a top priority.
In the next few months, the Food Bank will celebrate our one year anniversary of opening the new Perot Family Campus. Among many new innovations and enhancements, this facility has empowered our ability to provide rapid relief when needed. To all our hungry neighbors repairing their storm damaged homes and restocking their refrigerators and freezers – the North Texas Food Bank stands with you. To all our neighbors who stand with us, and help us provide nutritious food to our neighbors, thank you. With your support, when the next storm hits or tragedy should occur, we will be ready and prepared to feed our hungry neighbors.
With Gratitude,
Trisha
President and CEO, North Texas Food Bank
---
Trisha Cunningham, President and CEO
Trisha Cunningham is President and CEO of the North Texas Food Bank (NTFB) and is leading the fight against hunger in North Texas. Trisha and her team of 170 employees and 40,000 volunteers work with more than 230 partner agencies to provide access to nearly 72 million meals annually. For more than 30 years, Trisha has served her community in various capacities, most recently as Chief Citizenship Officer at Texas Instruments (TI). Her commitment to nourishing her neighbors is evident in her vast civic involvement, and when she is not volunteering her time in the community, she can be found with her husband Greg, and their two children, Chris and Carrie.