NTFB Bringing Culturally Familiar Foods to Neighbors with Support from Starbucks & Retail Partners
At the North Texas Food Bank (NTFB), we must be intentional in our efforts in reaching and supporting communities that historically have faced greater barriers to equitable representation, access and resources. Ensuring all North Texans have equitable access to available resources benefits individuals, families and society.
To help us in these efforts, we are so grateful to have received funding from Starbucks as a recipient of its equitable food access grant to continue to help increase access to nutritious food among households with individuals who are Black, Indigenous, and People of Color (BIPOC) residing in communities experiencing high food insecurity rates in North Texas.
The first gift from the grant came in 2021, when Starbucks provided an initial $80,000 investment in support of the Food Bank's equity efforts. In 2022, NTFB received an additional $100,000 from Starbucks. The Food Bank has been using this additional funding in our current fiscal year to build on the work it completed during the first year and will continue to engage local communities to better understand the barriers to accessing food and support new or expand existing interventions that can help overcome these obstacles.
One newer area of focus that the Starbucks grant is helping support within the Food Bank's equitable food access work focuses on the concept of Culturally Familiar Foods (CFF). North Texas communities represent diverse cultures. We know when a family visits one of our food pantry partners, it is because they need food. But if they can access not just any food, but food that they are familiar with, that perhaps they recognize from their childhood and know how to make into a meal and that represents love for their family, the food becomes more than food. It lets the family know they belong and boosts their chances of using that food to improve the health and nutrition of their family. 
The most sustainable way for the North Texas Food Bank to get more CFF items into our partner pantries is to develop relationships with retailers and wholesalers who offer specialty food items that satisfy various diets. As great early examples, NTFB recently onboarded Green Vine Market, a retailer in Plano specializing in Middle Eastern and Mediterranean foods, and Om Produce, a distributor of fresh, quality produce to many Indian and Latin grocery stores across our service area, to our retail donation program.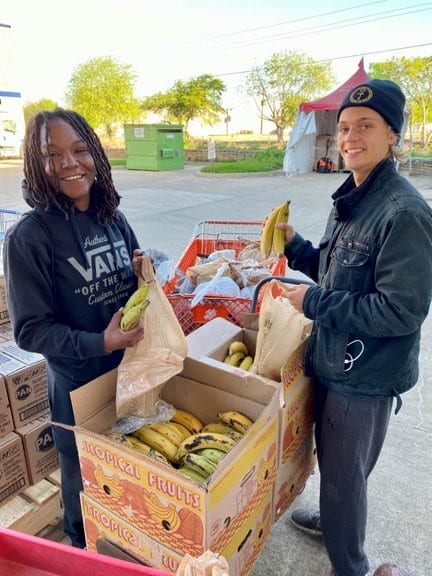 NTFB is still in the learning phase of its Culturally Familiar Foods work and to further our efforts, we also recently carried out a pilot with three agency partners in which we intentionally sourced food items familiar to the Venezuelan diet (such as plantains and Venezuelan corn flour), distributed them to neighbors, and captured information about their impression. Pilots like this are helping us better understand what works in this space and how we can bring familiar foods to a variety of cultures.
The North Texas Food Bank, a member of the Feeding America® network, is one of 16 food banks to receive this second grant from Starbucks. The NTFB was identified based on the location of a Starbucks Community Store  which are committed to economic development and opportunity in historically under-resourced communities. Since 2016, Starbucks has helped to provide more than 50 million meals to people facing hunger through its FoodShare program in partnership with Feeding America which has helped the NTFB in its food rescue and sustainability efforts.
We are grateful to Starbucks for their commitment to equitable food access and to all our feeding partners and supporters who are helping advance our CFF work. If you are a specialty retailer or wholesaler interested in being a part of the efforts to end hunger for all North Texans, please contact NTFB's retail team at ntfbretail@ntfb.org.