Spring Triple Match is Back
As we move toward the spring, the lush colors of the season begin to emerge, bringing vibrancy back to the natural landscape.
Just as the leaves and flowers grow again, the gift of resiliency is also what North Texas Food Bank supporters provide the more than 800,000 neighbors who face food insecurity in our region. Every dollar donated is helping provide more Food for Today and Hope for Tomorrow as we address the underlying barriers to food security.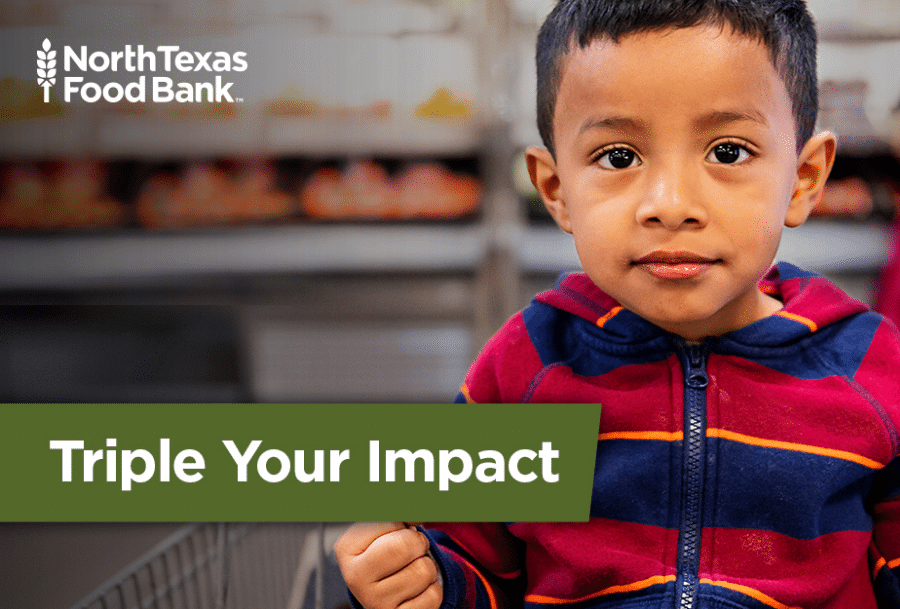 This makes spring the perfect opportunity to triple your impact for North Texans facing hunger. Through March 31, you can make three times the difference with just one gift. Thanks to our generous friends at the Lesley Family Foundation, gifts to the North Texas Food Bank are tripled – up to $85,000. With $1 providing access to nine meals, that means a donation of $30 will triple to provide 270 nutritious meals – a gift not just of nourishment, but of hope, encouragement and resiliency.
Your generosity makes an immediate difference for families like Lea's. She reached out for food assistance to help feed her three children in her family's most urgent time of need. "It helped us a lot," Lea shares.
The healthy groceries that Lea received from a Partner Agency food pantry in our Feeding Network helped feed her family. "We find everything here," Lea shares.
This spring, as always, your compassion and commitment to hunger relief is helping bridge the hunger gap and create lasting change in the lives of our neighbors. Thank you for your support.
For more information and to give, visit: ntfb.org/springtriplematch.