Spring Recipe: Fruited Spring Salad with Chicken
This week in North Texas the temperatures feel more like summer than spring, but we are hoping we still have some of those perfect, breezy spring days ahead of us!
To channel this season's vibe, for its spring recipe, the NTFB Nutrition Services team at the North Texas Food Bank recommends this Fruited Spring Salad with Chicken. The combined prep and cook time is only 30 minutes and includes fresh and healthy ingredients. Plus, you can make your own strawberry vinaigrette dressing to top off this delicious spring meal.
Don't forget to check out our Homegrown to Homecooked cooking demo video of this salad that features special guest Linnyette Richardson Hall of the DIVA's Kitchen who created this recipe!
Happy Spring!
---
Fruited Spring Salad with Chicken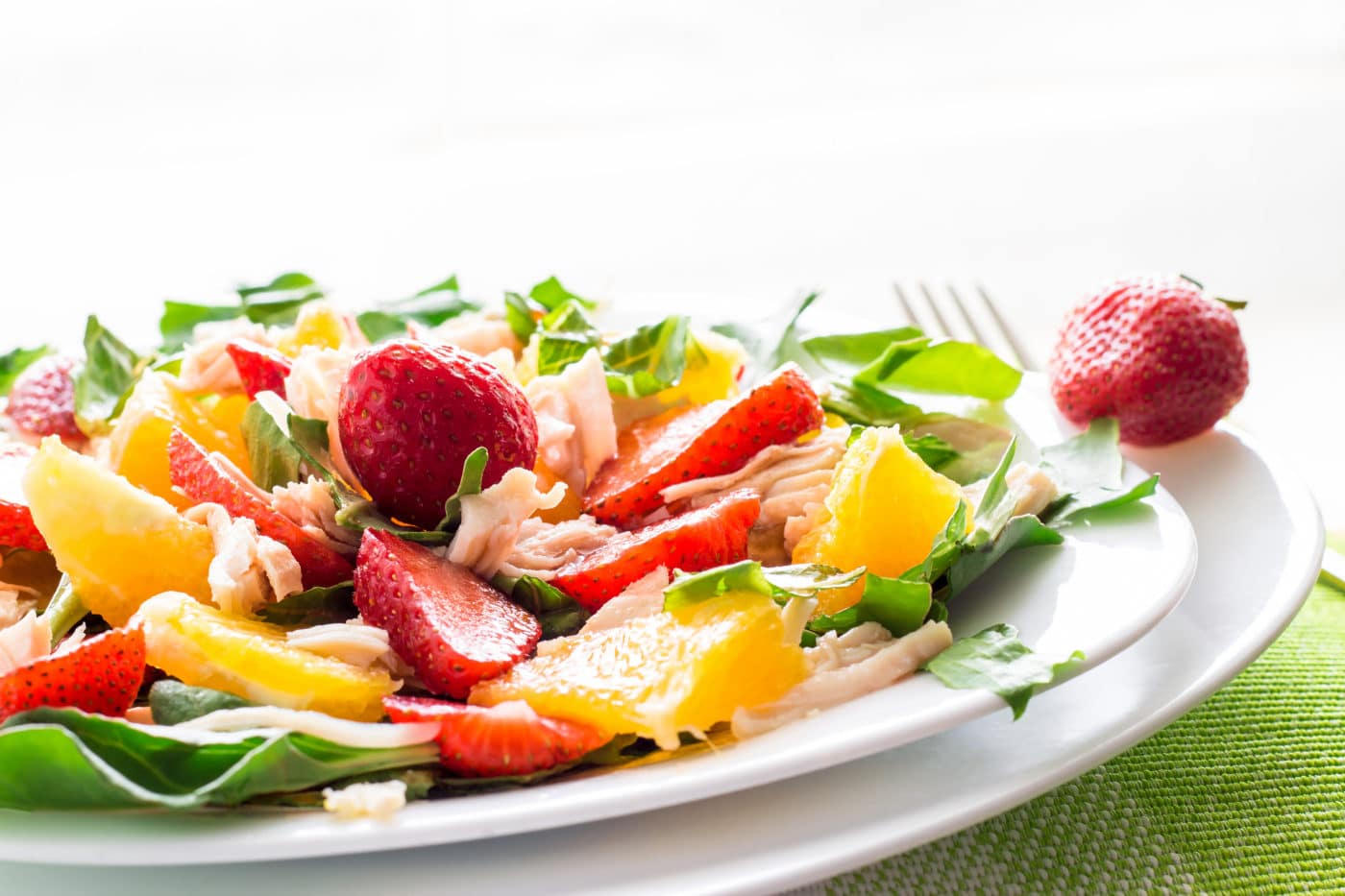 Servings: 4
Total Time: 30 minutes
Ingredients:
1 head fresh salad greens (butter lettuce, red lettuce, or a mix – bagged varieties can also be used), torn into bite-sized pieces
1/4 cup strawberries, sliced
1/4 cup canned mandarin oranges, drained
1/4 cup red onion, thinly sliced
2 boneless skinless chicken breasts
1/4 cup garbanzo beans, drained
1/4 cup walnuts, roughly chopped
3 tablespoons olive oil
1 teaspoon paprika
1 teaspoon garlic powder
1 teaspoon salt
1 teaspoon ground black pepper
Directions:
Slice chicken breasts evenly in half, then sprinkle with paprika, garlic powder, salt, and pepper.
On medium heat, pour the olive oil into a large skillet until it shimmers. Add the chicken breasts and cook thoroughly, approximately 8-10 minutes on each side, until done. Remove chicken from pan and place on a separate plate or cutting board to cool.
In a large bowl, add the lettuce, sliced onion, garbanzo beans, strawberries and oranges – toss to mix well.
Slice the cooled chicken into bite-sized pieces, add to salad and toss very lightly.
If desired, use the walnuts as a crunchy topper.
Drizzle your favorite dressing lightly over the surface of the salad.
TIP: Use our Fresh Strawberry Vinaigrette recipe for the perfect touch!
Full nutrition information and additional recipes can be found here: https://ntfb.org/recipes/.
---
Nutrition services is a critical component of the Food Bank's strategic plan to provide Food for Today and Hope for Tomorrow, and we have been providing free culinary and nutrition education to low-income populations since 1996. Visit our website to learn more about our education services.
Also be sure to subscribe to the Garden and Nutrition Newsletter, Spade and Spoon, to keep up with all the latest news from our Nutrition Services team. Subscribe here.