Donor Spotlight Q&A: NTT DATA
The North Texas Food Bank is incredibly grateful for the generous individuals, organizations and corporations who have allowed us to meet the elevated need of the North Texas community during the height of the COVID-19 pandemic. Many of these donors have supported hunger relief since before the pandemic and remain vital partners of NTFB as we nourish communities and provide Food for Today and Hope for Tomorrow.
We are honored this month to spotlight NTT DATA, one of our longtime corporate donors. Plano-based NTT DATA  has supported the Food Bank for the last nine years after being introduced to us by former Plano Mayor Harry LaRosiliere. When we launched the Plano Peanut Butter Drive in 2014 under Mayor LaRosiliere's leadership, NTT DATA  was one of the first companies to commit to the effort and has since become our largest corporate participant, even as the campaign has expanded outside of Plano. In the 2021 campaign alone last month, NTT DATA  raised more than $118,000 that will help provide healthy peanut butter to thousands of North Texas children and families.
The company also co-hosts the Plano Mayor's Day of Service for the city's annual summer internship program and supports the Food Bank generously through funds and time. We visited with Becky Hartgraves, NTT DATA's Director of Corporate Social Responsibility, about the company's focus on giving back locally as a global company and its reasons for supporting hunger relief during these challenging times.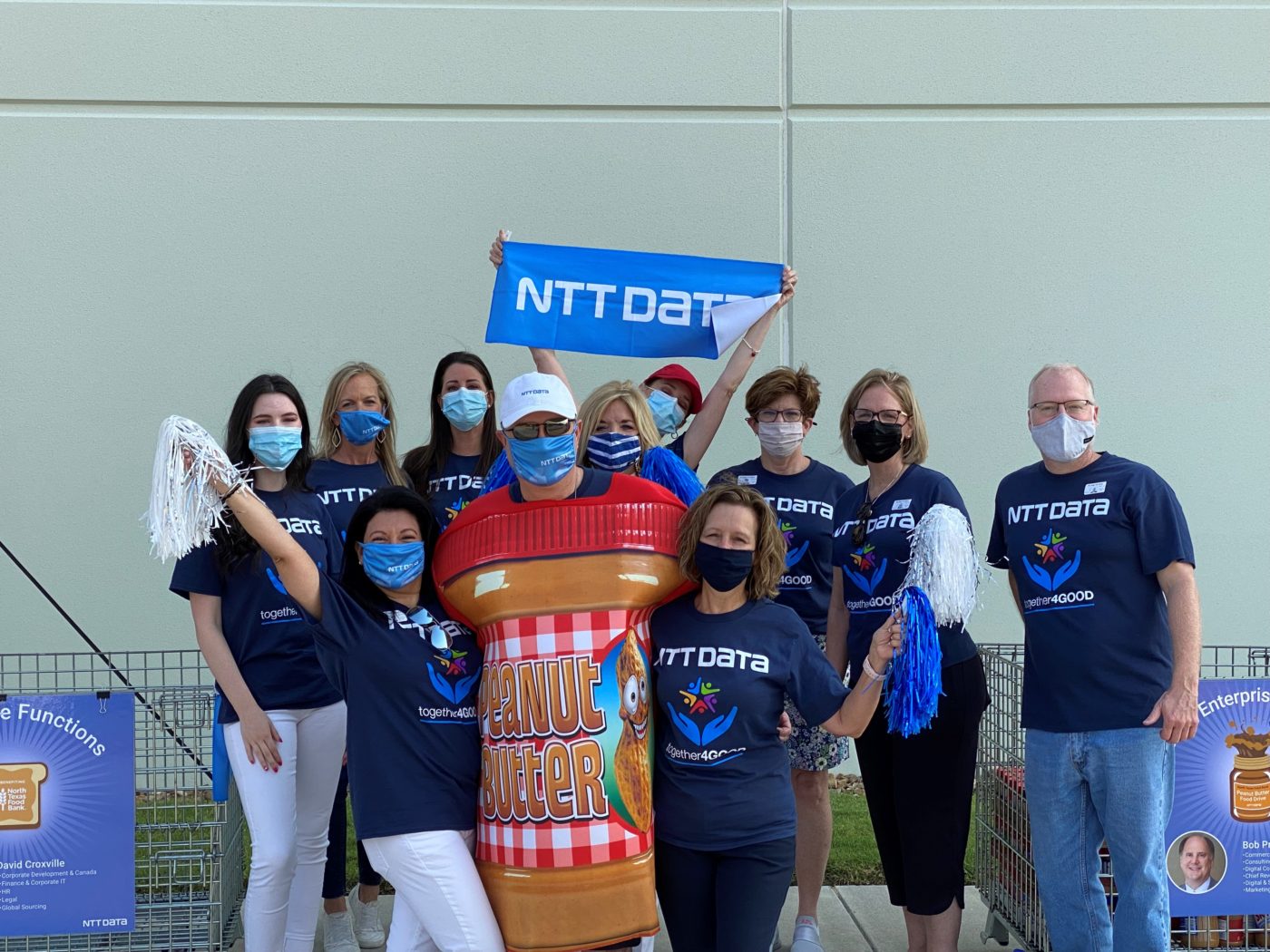 Q: How would you describe NTT DATA's philosophy in giving back to the community?
A: We believe we are the world we live in, and we should nurture the next generation, care for our environment, and contribute to society.
Q: Tell us more about the importance of being a global brand, but investing locally?
A: We believe we reflect our brand globally by living it out in the communities where we have clients and where we have local team members. Our personality shows through as we support those communities.
Q: As a supporter of the Peanut Butter Drive since its inception and now the largest corporate participant, why is the drive important to NTT DATA?
A: No one should have to wonder where their next meal is coming from. It is heartbreaking.
Q: How do you inspire your coworkers to get involved and achieve their fundraising goals while working remotely?
A: Without the human factor of face-to-face connection, it has been a challenge. We try to bring the human side into our communications. For instance, sharing the "face of hunger" as we communicated about the Peanut Butter Drive. We also throw in some healthy and spirited competition. Additionally, we connect with business partners and invite them to participate in our campaign.
Q: Why do you believe supporting hunger-relief so important?
A: Hunger impacts nutrition, which impacts human development, which impacts our worldwide economics. We must solve the hunger problem to ensure a sustainable world for the generations to come.
Q: What do you hope NTT DATA's current and future gifts can allow the NTFB – and as a result, North Texans facing hunger – to accomplish?
A: We want to see a reduction in the number of hungry people in North Texas – creating a world for the younger generations to grow, thrive and contribute.
Q: What would you say to other corporations that are looking for ways to help?
A: We must all do our part to end hunger. We are the solution. Roll up your sleeves and make a difference. It will do your heart good.
---
Thank you to NTT DATA and all our supporters for your commitment to hunger relief. We are incredibly grateful as we continue our mission to bridge the hunger gap in North Texas.