Partner Agency Spotlight: Jewish Family Service of Greater Dallas
The COVID-19 pandemic has altered the way the North Texas Food Bank and its more than 200 Partner Agencies connect with and distribute meals to their clients. To showcase the phenomenal work of our Partner Agencies in the face of so much change and adversity, we launched a special blog series to highlight organizations across our network in North Texas and their commitment to easing the hunger needs of our neighbors ─ now and always.
---
The staff at Jewish Family Service of Greater Dallas (JFS) has always known that hunger can impact anyone. But with the COVID-19 pandemic, this understanding is no longer limited to those who work in hunger-relief. The economic impact of the crisis has brought this reality to the surface.
And according to Robin Raxlin-Gormley, Senior Director of Hunger Relief and Emergency Assistance for JFS, this is what you are seeing every Thursday morning at the agency's weekly drive-through distributions, comprised mainly of the agency's North Dallas neighbors lining up at sunrise and stretching across blocks.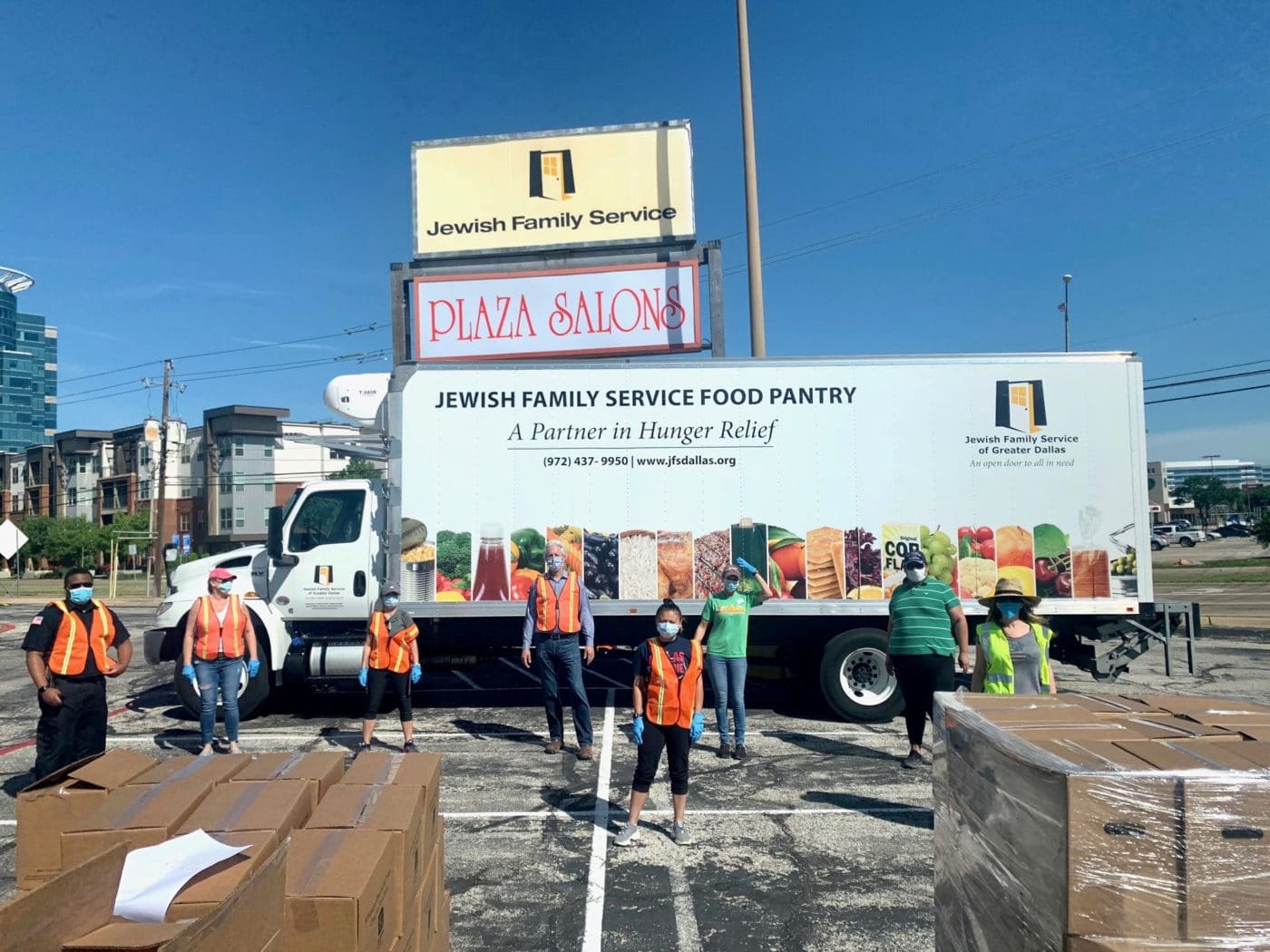 "Hunger does not discriminate. The issue of food insecurity is about all of us, all of the Dallas region, and what we are seeing every week is real," Raxlin-Gormley said. "It could be any of us."
Founded more than 70 years ago, JFS is a nonsectarian mental health and social services agency that impacts over 14,000 lives a year. In addition to its hunger-relief program, JFS offers 150 services including mental health counseling, employment guidance and financial coaching, family-violence intervention, and senior services. "We encompass the whole individual," Raxlin-Gormley said.
Like many agencies on the frontlines, JFS needed to completely overhaul its business operations when the pandemic hit. Its services went – and most continue to be – virtual in mid-March. The usual client-choice, grocery-style model of its food pantry was reconfigured to the current drive-through model where clients receive kitted boxes from the North Texas Food Bank of shelf-stable items and produce, as well as additional food staples provided by JFS and, when needed, diapers and baby wipes.
Since its first distribution on May 1, JFS has served 50,000 individuals through its weekly distributions, averaging around 3,000 clients per week, including many seeking assistance from the agency for the first time. About 38 volunteers are on-hand to ensure the process runs smoothly, and ensuring safety for its staff, volunteers and clients is paramount. These details and logistics are representative of the extensive changes that have characterized this crisis response.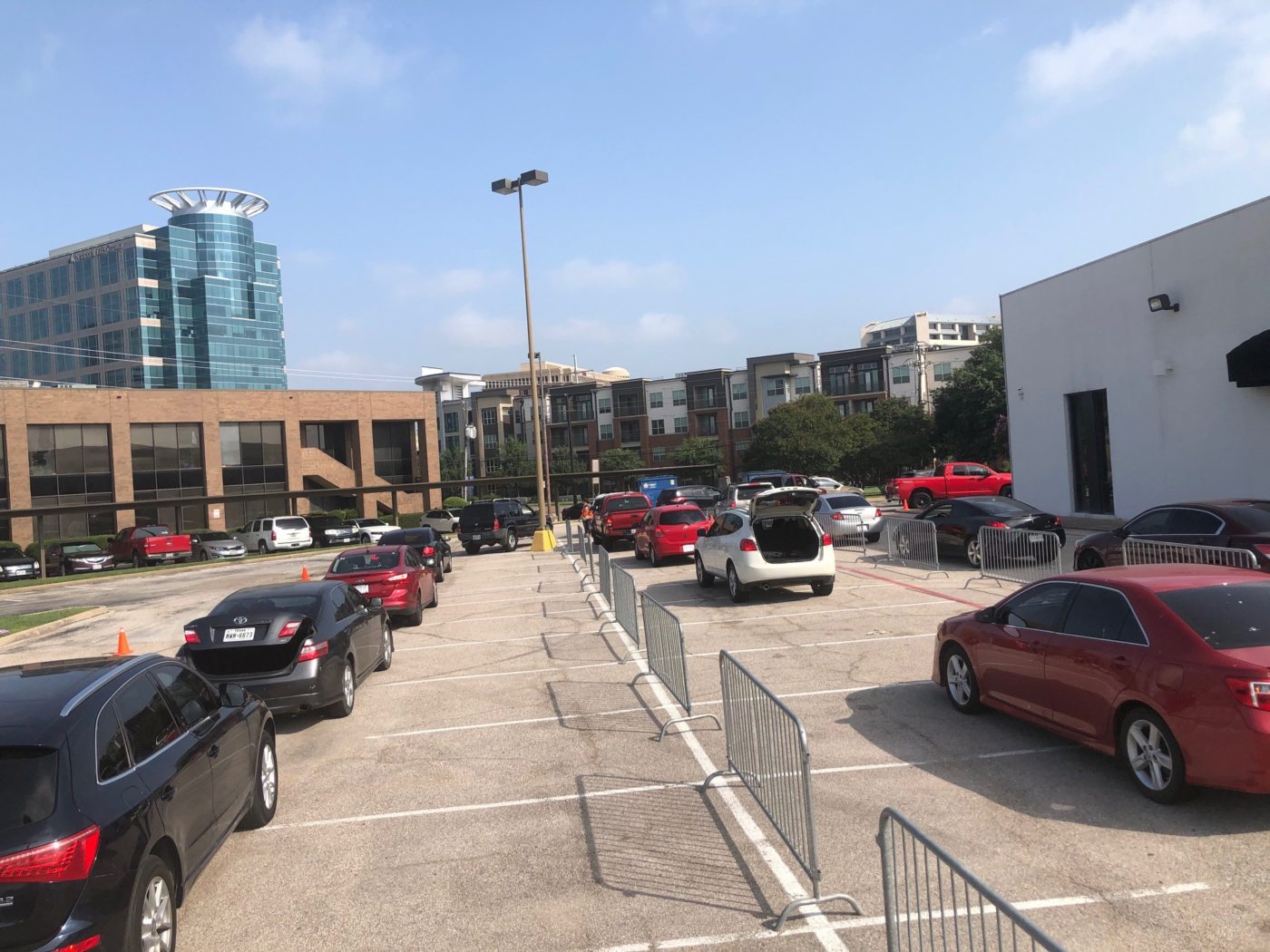 "We hear a lot about the big organizations, but this is really a heartwarming story about the local nonprofits who have had to adjust their whole systems," Raxlin-Gormley said. "It is well-orchestrated now, but we had to learn it all from scratch."
Raxlin-Gormley says the agency's goal is to eventually expand its food pantry space and return to the client-choice model when it is safe to do so. This allows the JFS team to provide case management and wrapround services to clients to address other basic needs and help them regain self-sufficiency.
It will be yet another change when the program returns inside because it will be within the new reality, with additional safety protocols and considerations, as well as the increased demand from those for whom COVID has deepened their struggles and from those who are experiencing hunger for the first time. Despite the challenges still to come, Raxlin-Gormley knows her team is ready to serve everyone hunger affects because they have already proven what they are capable of accomplishing.
"It is emotionally and physically draining, but everyone has been able to push through the fear of change and their own concerns and go into unknown territories and create such a powerful system," she said. "We have been able to make a difference, have an impact on the clients we serve and the community at large."
---
Caryn Berardi is a Communications Specialist for the North Texas Food Bank. Check here to find a food pantry near you.