Donor Spotlight Q&A: Bread Financial
The North Texas Food Bank is grateful for the generous individuals, corporations and foundations who have allowed us to meet the continued elevated need of the North Texas community through their financial support. This month we are excited to spotlight Bread Financial, formerly Alliance Data, who is the corporate sponsor for a new initiative to engage our amazing volunteers.
Launching during Volunteer Appreciation Month, Bread Financial will be matching donations from volunteers through a new Volunteer Match Program. For every dollar donated, Bread Financial will donate $2, up to $85,000! This means $1 will provide access to nine meals.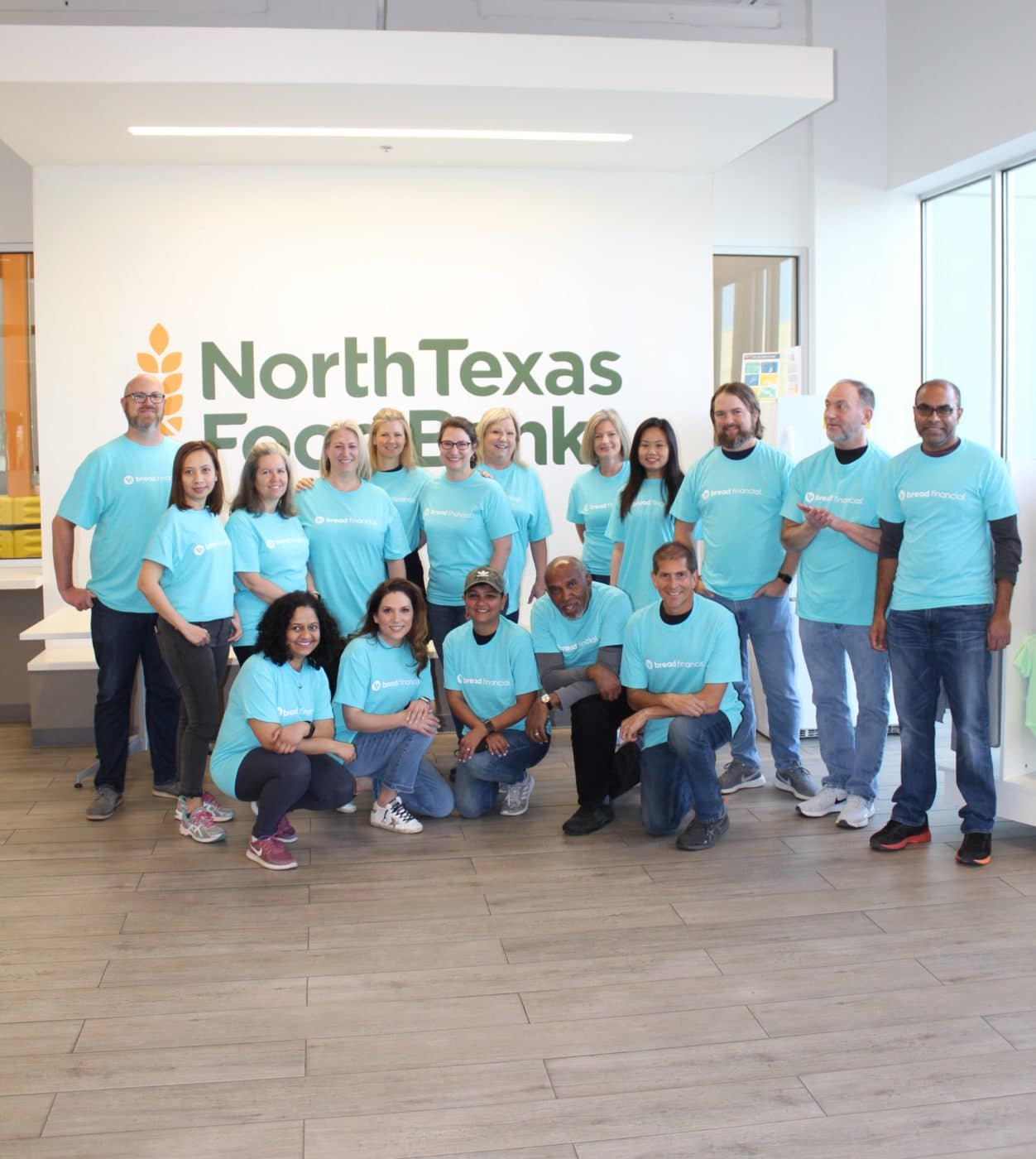 We are extremely grateful for the gift of time our volunteers give to NTFB and this support from Bread Financial allows them to further their engagement and impact with the organization.
We spoke to Bread Financial about this new initiative, its commitment to service and why supporting hunger relief is important to the company.
---
Q: How would you describe Bread Financial's philosophy for giving back to the community?
A: Community-minded values have long been ingrained in Bread Financial's company and culture. We abide by a time-honored commitment to advance initiatives that are good for society – investing in programs that strengthen our communities, foster independence, and create opportunities for our associates to engage through volunteerism and supported giving. We strive to identify non-profit partners that align with these priorities and have a proven record of impact in the communities that they serve.
Q: Tell us more about your relationship with the North Texas Food Bank and your support of hunger relief?
A: Bread Financial has had a long-standing partnership with the North Texas Food Bank. We were one of the first major donors to the Perot Campus, and we continuously support the NTFB's mission to create a hunger free and healthy North Texas. Over our longstanding partnership, we have provided nearly $5.7 million and more than 150 volunteer hours to support the critical mission to feed North Texans facing hunger. Each year our associates raise funds for the NTFB during our Operation Feed campaign. We are thrilled to also have our Chief Diversity Officer Calvin Hilton as a current member of the NTFB Board. 
"I've always had a deep desire to serve meaningful causes. I've been fortunate in my personal and professional life and believe it's important to give back in a way that helps enrich the lives of underserved people. Bread Financial has given me an opportunity to become truly engrained in the work of the NTFB through my role on the board and executive committee. Through my time on the board, I've learned that most people don't recognize the face of hunger in their own communities, and that's particularly true during the pandemic. One in six people in North Texas are hungry and need our help." Calvin Hilton, Chief Diversity Officer, Bread Financial.
Q: Why is supporting hunger-relief important to Bread Financial?
A: Having a nutritious meal is one of the most fundamental things for individuals to survive. Hunger and health are deeply connected, whether that be physical health, mental health, or even the link to academic achievement and sustained economic prosperity. The Food Bank is doing an incredible job working to distribute food in new and innovative ways to help address the unprecedented hunger in our community. We stand with the NTFB in its belief that a nourished community is a thriving community.
Q: Why did Bread Financial choose to support the NTFB through this volunteer match?
A: Bread Financial understands that raising funds for the NTFB mission is the most effective way to get neighbors facing hunger the food they need. We are excited to add an extra incentive for the NTFB's loyal volunteers, starting during Volunteer Appreciation Month, by providing a 2:1 match up to $85,000. 
Q: What impact do you hope Bread Financial's support will have?
A: We hope that these matching funds provide an additional incentive for volunteers to donate to a cause that is already important to them. These funds will help ensure the NTFB can continue to provide food for today and hope for tomorrow to those who need it most. Plus, this is a great way to truly maximize our investment, knowing that every $1 donated = 3 meals for those in need.
---
Thank you to Bread Financial and all our supporters for your commitment to hunger relief. We are incredibly grateful as we continue our mission to bridge the hunger gap in North Texas.