Area Sports Organizations Score Big for Hunger Relief
While sporting events have looked different since the onset of COVID-19, they have continued to provide comfort, enjoyment and connection over this last year.
But the contributions of professional sports teams, athletes and their foundations have offered more than just entertainment; they have helped support the North Texas community through their charitable efforts as our neighbors struggled with hunger and other basic needs during the pandemic.
As sporting events begin to open back up to spectators, the North Texas Food Bank is excited to also welcome back in-person events with a new format of one of our signature events, Taste of the Cowboys on June 6, 2021, at AT&T Stadium in Arlington. Hosted by the Dallas Cowboys, the reimagined event will feature a live concert from three Texas Country bands and gourmet tailgate food stations from our restaurant and chef partners. All proceeds benefit NTFB Child Programs.
This support from the Dallas Cowboys is just one of the ways professional sports organizations and athletes have answered the call as hunger-fighters and used their platforms to provide hope for our community during these uncertain times. This is not an exhaustive list, but we invite you to read more below about these championship performances from some of your favorite North Texas teams and players.
Thanks to all for being part of our team!
The Dallas Mavericks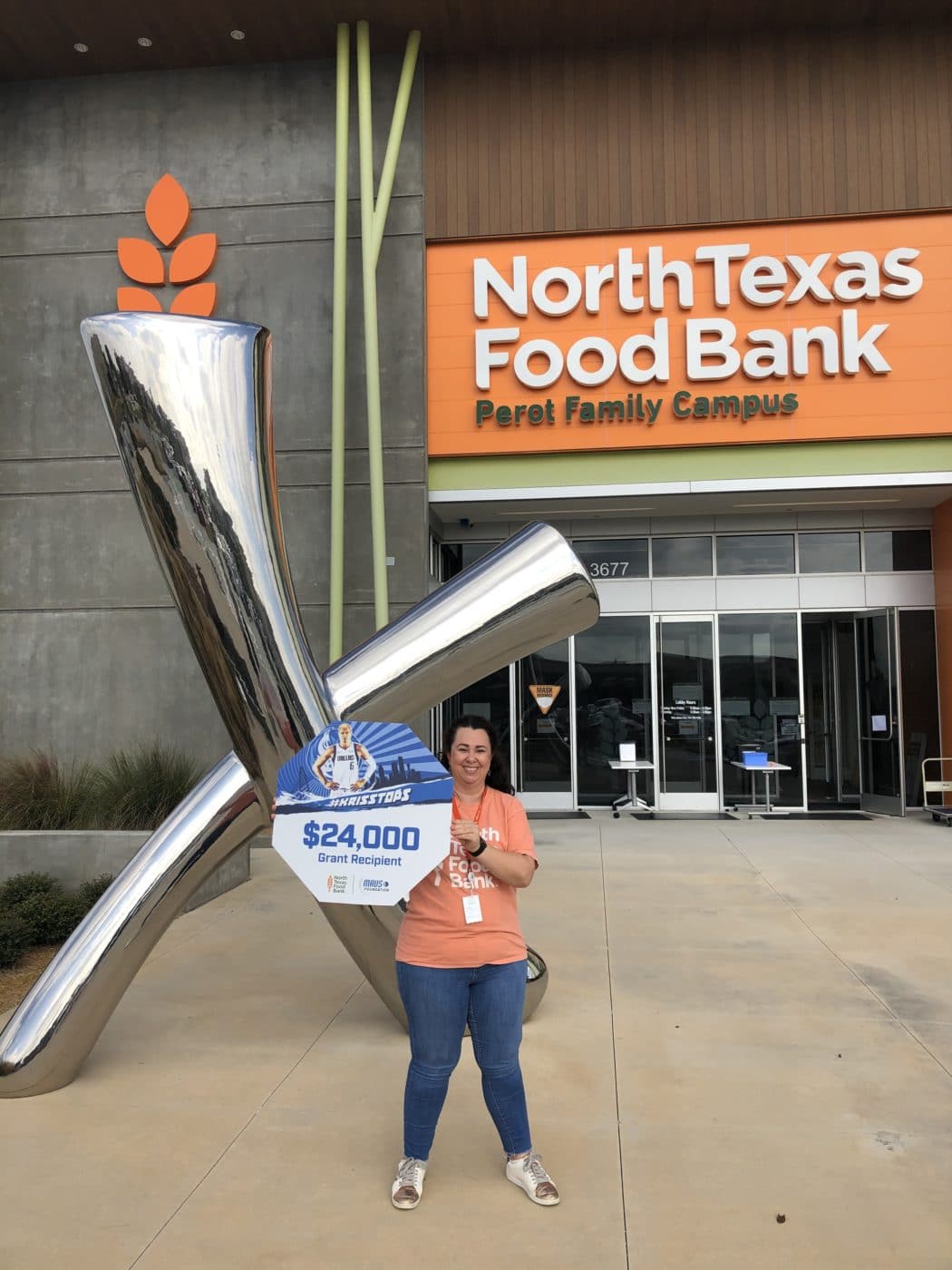 The Dallas Mavericks organization has been a longtime dedicated supporter of the North Texas Food Bank. We are grateful to be a grant recipient of the Dallas Mavericks Foundation for the last three consecutive years. During the pandemic, the Mavs provided essential items to the Food Bank to keep our frontline staff safe, including the donation of 1,000 hand sanitizers and personal protection masks.
The Dallas Mavs and the NBA teamed up to provide support for ongoing COVID relief efforts with its "Mavs Forever Collectibles Masks" initiative. Proceeds from the sales benefitted NTFB and raised more than $34,000. Additionally, in March 2020, Dallas Mavericks staff jumped in to volunteer as the country began to shut down and the need for food became even greater in North Texas. Finally, The Dallas Mavericks and the Mavs Foundation partnered up with Mavs player Kristaps Porzingis to launch the #KrisStops campaign to fight childhood hunger. With every block last season, Porzingis personally donated $500 to the Mavs Foundation to be distributed to local organizations to help stop childhood hunger in North Texas. NTFB is honored to be a recipient in the 2021 season as well!
"The Dallas Mavericks organization has always been bigger than basketball and this year more than ever we are committed to taking care of people in the place we call home," said Katie Edwards, SVP of External Affairs and President of the Mavs Foundation. "The North Texas Food Bank has been a long-time grant recipient of the Mavs Foundation and was one of the first to be awarded support from our COVID-19 Relief Fund in March 2020. We know the work they are doing to provide food to those who need it is so critical. We're proud to partner with them to help fight hunger here in our area."
The Texas Rangers
The Texas Rangers Baseball Foundation, fans, players, and coaches all stepped in to help North Texas families struggling with food insecurity. Since the onset of COVID-19 more than $18K has been contributed to NTFB by the Rangers along with their massive help with three mobile food distributions in West Dallas, Oak Cliff and Frisco.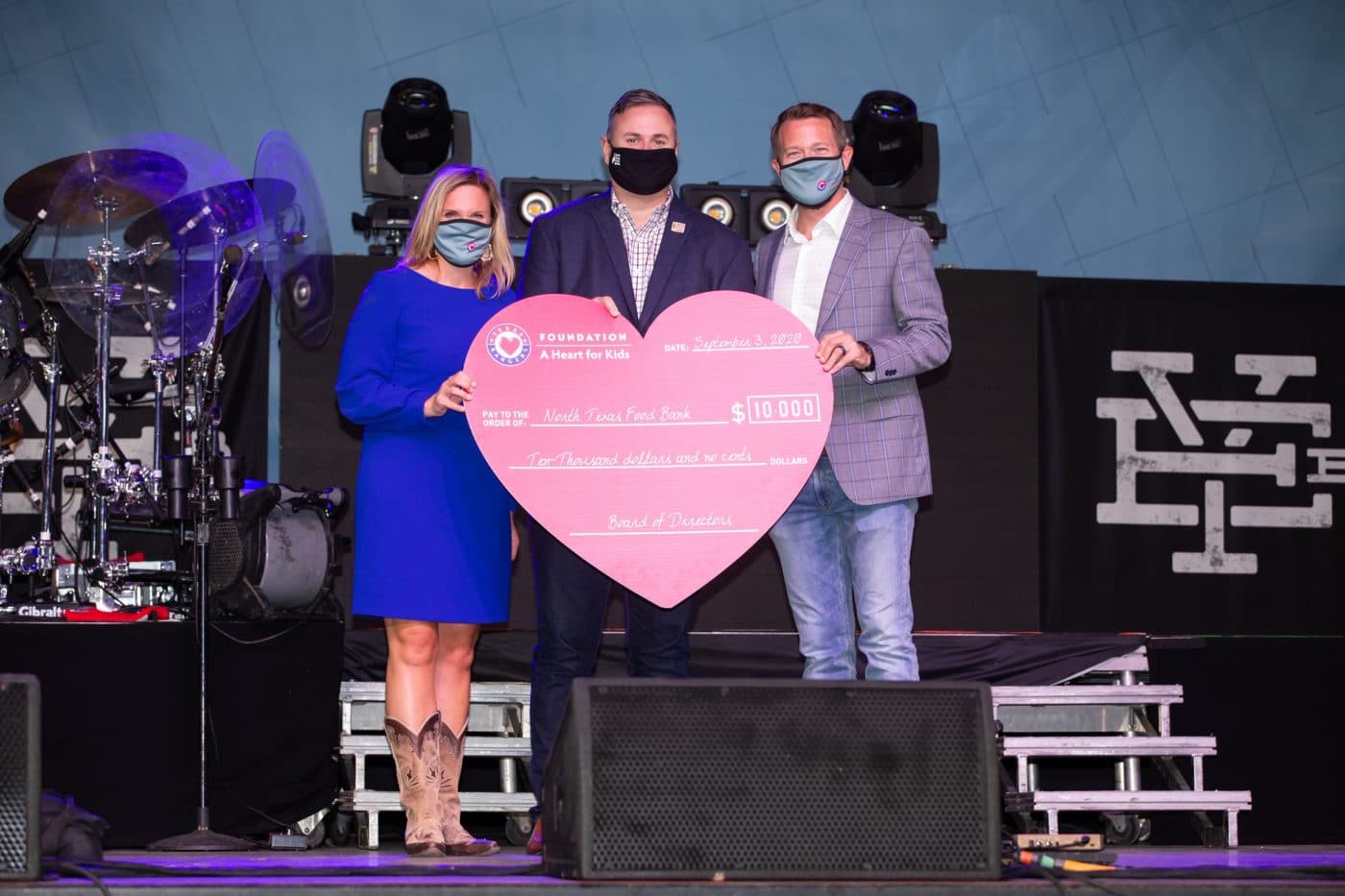 The Texas Rangers Baseball Foundation, Rangers Manager Chris Woodward and his wife Erin, Rangers pitcher Kyle Gibson and his wife Elizabeth along with Rangers fans "stepped up to the plate" when North Texans experienced a multiple-day freeze that left thousands without power, heat, water, and for many without a home.
"The Food Bank's work is incredible during normal conditions, but the storms coupled with the ongoing Pandemic, have taken their toll on all of us and especially those already facing hardships. We thank you for all you do to support those that need it the most," said Karin Morris, Senior Vice President, Community Impact & Executive Director, Texas Rangers Baseball Foundation.
FC Dallas
While COVID kept FC Dallas players on the sidelines, the organization turned their attention immediately into helping fans and the communities hit hardest with the pandemic. Brooke Leverette, Manager of Foundation & Community Relations with FC Dallas reached out to NTFB with a simple question – How we help you?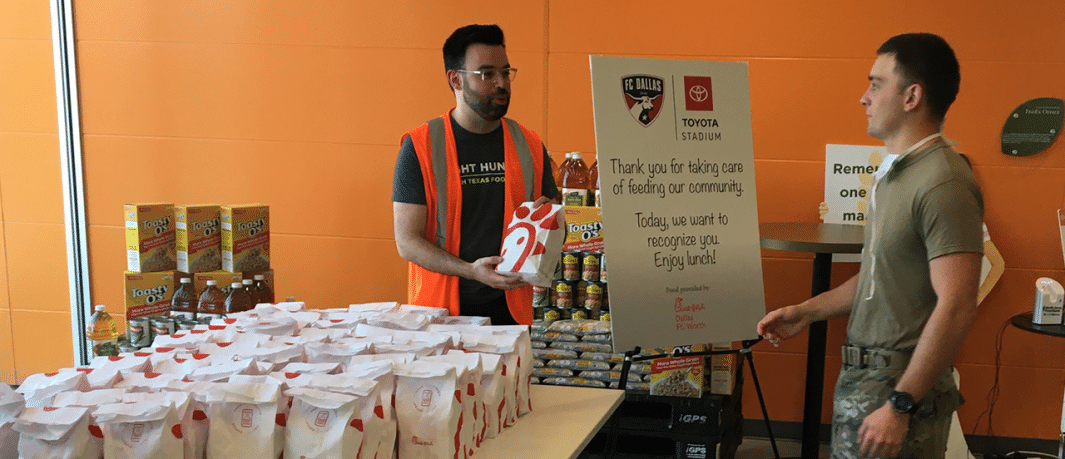 FC Dallas, along with corporate sponsors, aligned their efforts to begin planning a set of fundraising initiatives to benefit NTFB's COVID response efforts. The FC Dallas family rallied with NTFB to deliver lunches to volunteers, creating a limited-edition t-shirt fundraising campaign, hosting mobile pantry distributions at Toyota Stadium, and naming NTFB as the beneficiary in community events all to help neighbors across North Texas have access to nutritious food.
The Dirk Nowitzki Foundation
There are not many people who loom taller (literally) for Dallas sports fans than retired Mavericks player Dirk Nowitzki. Along with his wife, Jessica, his off-the-court efforts in giving back to the North Texas community are just as impressive as his historical time on the team.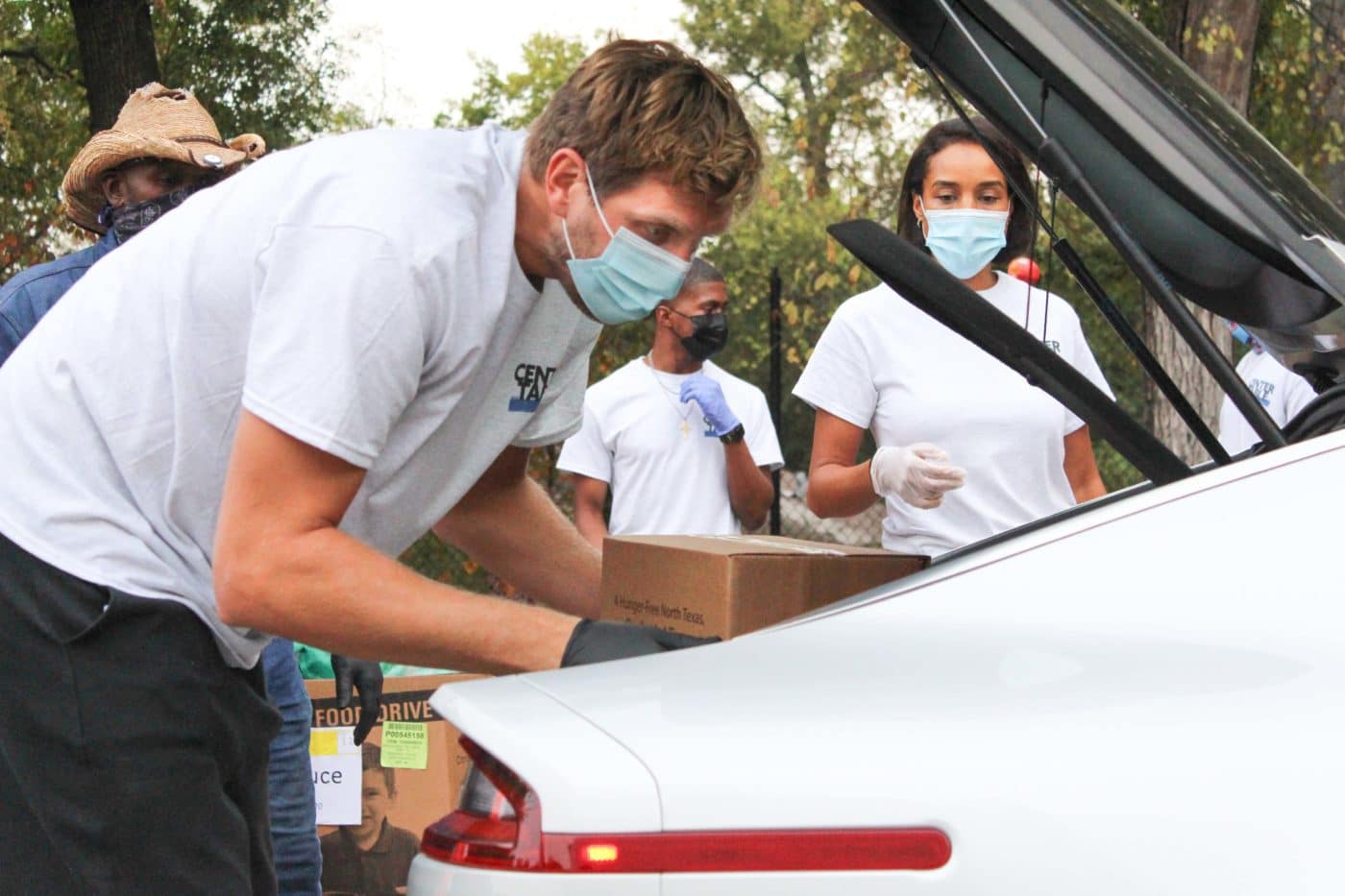 The Dirk Nowitzki Foundation is dedicated to putting children first and assisting them through programs focusing on their wellbeing, health and education, including hunger-relief. Having personally long supported NTFB Child Programs though financial contributions and volunteer time, the Nowitzki's continued this commitment early in the pandemic though a gift of $100,000 from the foundation to NTFB to provide food boxes to struggling families. Through a collaboration of his foundation, the Mark Cuban Foundation and the Heroes Foundation, Dirk also joined Mavericks owner Mark Cuban to assist at North Texas Food Bank and other community distribution events during the holiday season to ensure families experiencing hunger had food during one of the most needed times of the year.
Athletes
Through foundations, partnerships or individual efforts, professional athletes have provided relief for both the pandemic and February winter storms. A few examples include: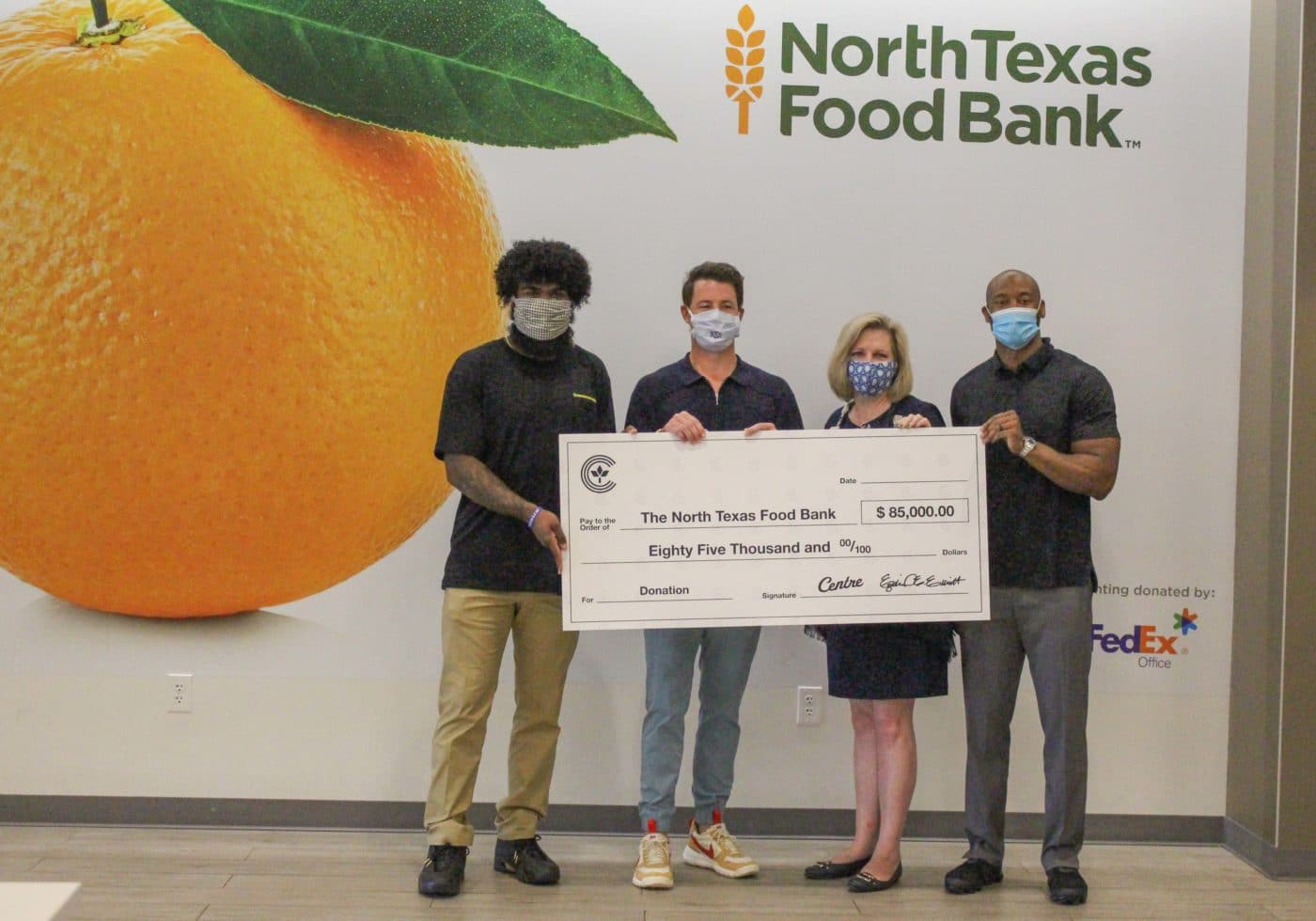 In addition to his efforts as part of the Dallas Cowboys organization, running back Ezekiel Elliott partnered with Dallas-based activewear company CentreTx in summer 2020 to release exclusive merchandise with 100 percent of proceeds going to NTFB. This initiative raised more than $85,000 for hunger relief. Zeke also collaborated with Main Event to auction off one exclusive pair of custom bowling shoes with the money raised benefitting the Food Bank.
We are grateful for the support of athletes who play for non-Texas teams but are from the Dallas/Fort Worth area and want to give back to their hometowns. Arizona Cardinals quarterback Kyler Murray, who went to Allen High School, donated 60,000 meals to the Food Bank to help with winter storm relief efforts.
Shortly after the onset of the pandemic, Denver Broncos linebacker Von Miller launched his "Von Miller Sacks COVID" campaign to raise money for hunger relief in Texas and Colorado. Miller, born and raised in DeSoto, contributed $58,000 to the campaign that provided more than 312,000 meals for kids experiencing hunger.
---
To learn more about the Taste of the Cowboys event on June 6, visit here.