Before the big game on February 3rd, the Souper Bowl of Caring is seeking to mobilize youth to care for members of their local communities who are food insecure. This morning, Bishop Dunne Catholic School kicked off Souper Bowl of Caring with a pep rally and press conference to get the word out. We are so excited that so many young people are interested in fighting hunger, and we are thrilled to work alongside the Tarrant Area Food Bank, Kroger, Tom Thumb/Albertsons, and Market Street to tackle hunger.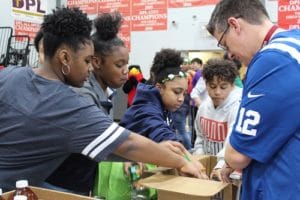 Our retail partners pumped up the crowd this morning and let everyone know that while grocery shopping at Kroger, Tom Thumb/Alberstons, or Market Street, to keep your eyes open for the Souper Bowl of Caring boxes or bags by the register. These items will be sent to a food bank or pantry in your area to help feed a hungry neighbor. You can also ask your cashier about donating money that will go directly towards providing a nutritious meal.
If you would like to join Bishop Dunne in hosting a collection campaign, sign up on the Souper Bowl of Caring site, and 100% of what you collect will go to your charity of choice. In addition to schools like Bishop Dunne; places of worship, businesses, charities, and individuals are all welcome to participate in this fight against hunger. While you're rooting for your favorite team during the game, we appreciate you rooting for a hunger-free, healthy North Texas too.