Growing Access to Benefits and Resources
Hunger is a complex issue that requires support from a broad range of community resources. The North Texas Food Bank (NTFB) can provide access to millions of nutritious meals and additional assistance each year through the Supplemental Nutrition Assistance Program (SNAP) and Social Service Programming.
In the recent fourth installment of an exclusive "Behind the Scenes" virtual series for NTFB supporters, NTFB Director of SNAP and Social Services, Alana Pierre, offered a closer look at how the Food Bank aims to increase access to SNAP meals for our neighbors facing food insecurity and connect eligible participants to other vital services through hands-on assistance, innovation and collaboration. These initiatives are an integral part of NTFB's Nourish North Texas plan to provide equitable access to Food for Today and Hope for Tomorrow.
Alana's Social Services team is comprised of 31 team members, including Social Services Case Assistance Navigators who answer questions about the application process and help clients complete and submit SNAP (formerly known as food stamps) and other benefits applications across our 13-county service area. Assistance is free to the applicants.
SNAP
Alana shared that for each physical meal NTFB can provide, SNAP is able to provide nine meals, making it the first line of defense for fighting hunger and a key tool for assisting low-income Americans and low-income communities in prioritizing spending on other areas of need, such as medical and transportation expenses. In the NTFB service area, 62% of food insecure individuals are below the SNAP threshold of the 165% poverty level making them potentially eligible for SNAP.
In FY21, the NTFB SSA Team aided in the submission of 27,150 SNAP applications, which translated to over $107 million estimated local economic impact and more than 27 million meals.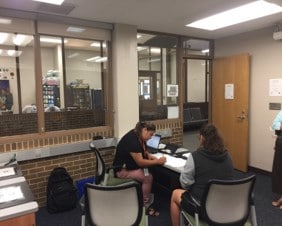 Benefits Assistance Program
In addition to SNAP/food assistance, Alana went on to share how her team helps with application assistance and resources to aid neighbors in accessing benefits such as financial assistance and healthcare. Case Assistance Navigators do this in various ways, including onsite at Partner Agencies, community events and mobile and school pantries; virtually via Zoom; or by phone through NTFB's call center.
Referral Partner Program
The presentation also included information about the Referral Partner Program, where the Social Services team facilitates and maintains partnerships with community organizations willing to provide services to individuals seeking assistance. Referral Specialists administer a needs assessment to determine the applicant's non-food needs, offer available resources, and provide follow-up services for 12 months.
Community Engagement
Alana concluded with sharing the many ways the Social Services team works hard to engage with the community to foster relationships, build awareness of SNAP and other assistance programs, and spread education and encouragement across North Texas. This includes hosting virtual and onsite events, such as "Eating Well is a SNAP," a Back to School event, NTFB Holiday Angel Tree, and assistance to individuals reentering society from incarceration. NTFB also attends community events to share Food Bank resources, benefits education and application assistance.
Those who need benefits assistance can call 214-269-0906 or email SNAP@ntfb.org. More information about NTFB's social services programming can be found here.
---
All these initiatives are made possible by our incredible, committed supporters. We invite everyone to join us in the hunger fight by donating, volunteering and/or becoming an advocate. Email corporate@ntfb.org for sponsorship opportunities.
The full video of Alana's presentation, including success stories and Q&A, is below, followed by links to our previous Behind the Scenes summaries and videos. We look forward to seeing everyone at our next Behind the Scenes event!
Past Behind the Scenes Summaries: