Celebrating & Nourishing Seniors in North Texas
The high costs of daily living in North Texas have strained budgets, especially for seniors in our community – many of whom are on fixed incomes. According to research from Feeding America, Texas has one of the highest state rates of food insecurity in seniors in the country, with 8.5% of seniors experiencing food insecurity. In the Dallas-Fort Worth-Arlington area, 6.7% seniors are facing hunger.
The Food Bank is committed to addressing the needs of our senior population. In our last fiscal year, NTFB provided seniors with access to 20 million nutritious meals through our dedicated Commodity Supplemental Food Program (CSFP), as well as our main services and SNAP. We also offer delivery of meals in certain locations through DoorDash to assist seniors who may have health, mobility or transportation issues that make attending a distribution site challenging.
May is Older Americans Month, and we want to celebrate our older neighbors who have contributed so much to North Texas and spread awareness about the services available to those seniors who are experiencing hunger. Our communities are stronger when older adults remain engaged, healthy, independent and included.
This includes neighbors like Patsy. Patsy is struggling to cover the rising food costs and meet other needs.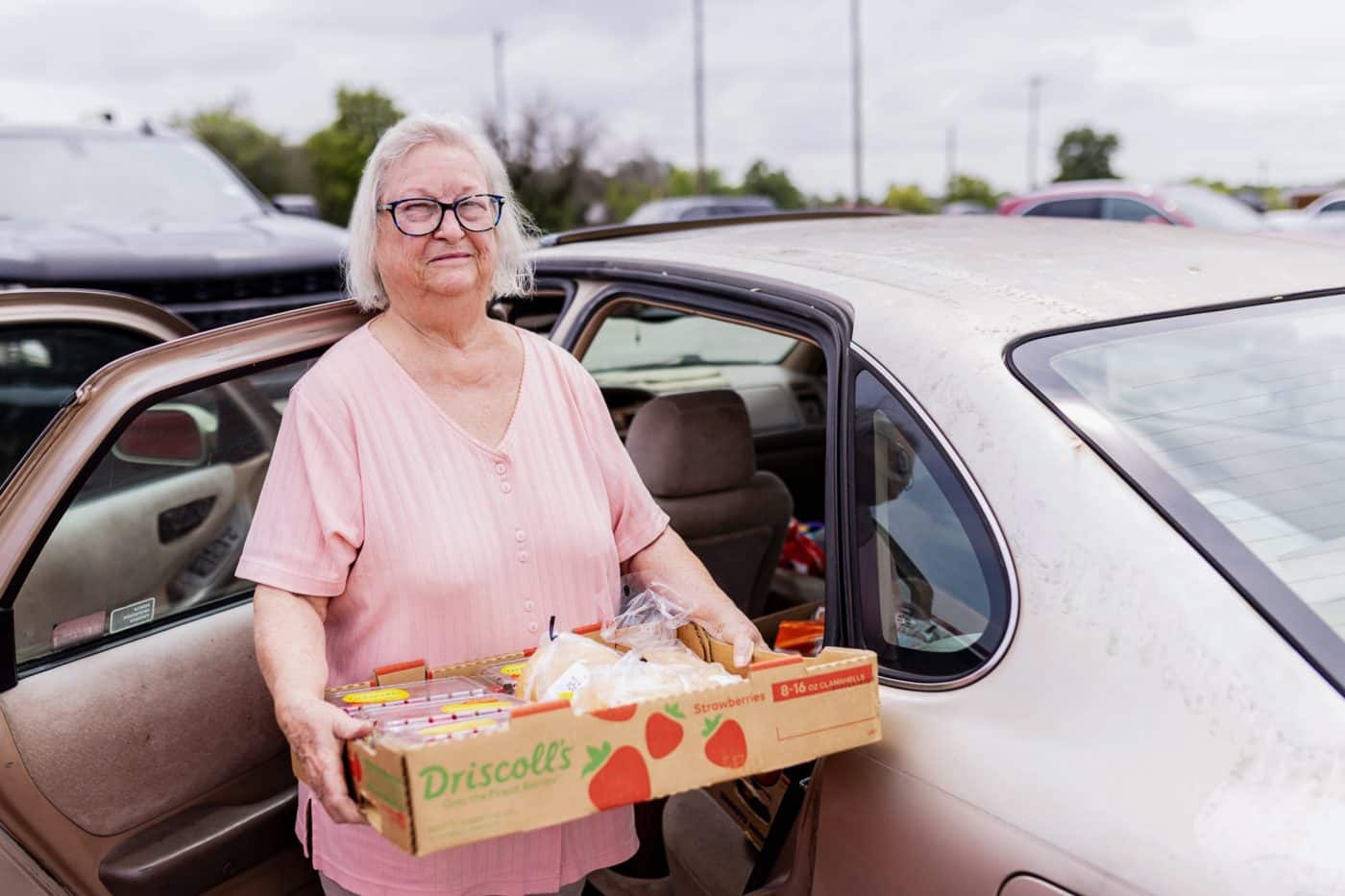 "I'm almost 80," Patsy says. "My little check I live on doesn't go very far."
Living on a fixed income, Patsy says that she often must choose between buying food and paying her bills. Thankfully, Patsy found a local food pantry run by a partner in our Feeding Network, Amazing Grace Food Pantry. She is thankful for the nutritious food items the wonderful team at Amazing Grace and that Food Bank supporters make possible.
"This helps a lot when I have to pay bigger bills like my electricity and water and everything," she says. "And I have to keep my car going, which is old. It helps on my gas bill so I can drive. It really helps."
Now Patsy doesn't have to worry about having enough to eat or choosing between food, gas or bills.
"My favorite food I get is probably vegetables," Patsy says gratefully. "Then they're really good about giving me eggs. I love eggs. I eat one egg for breakfast."
****
We are thankful for the contributions of seniors in our community and honored to be able to help those like Patsy who find themselves in difficult times and needing extra assistance. If you are a senior in the community who could utilize the Commodity Supplemental Food Program, please learn more about the requirements and how to apply here.
Jordyn Puente is the Program Coordinator for NTFB's Senior Programs.