Kick Off Summer With Your Own Salsa Garden
Who isn't ready to grab your favorite chips and drink and melt into the lazy summer days with some homemade salsa? Add the tomatoes, onions, bell peppers, hot pepper (if you can handle that), and lots of cilantro and you are ready to go. This Texas staple is easy to make for all levels of chefs, from the boxed mac 'n cheese pros to the three-course meal experts.
When it comes to flavor, fresh ingredients make a world of difference, so try growing your own salsa garden. It is perfect for the summertime heat since most ingredients are grown during the warm months. And you do not have to worry about space because the ingredients can easily be grown in containers which is great for a balcony or patio garden! Be sure the containers have adequate drainage and are at least 1' tall and 1' in diameter. All the ingredients can be grown together in a raised bed, too.
There are many varieties of plants to choose from, so let's talk about some options.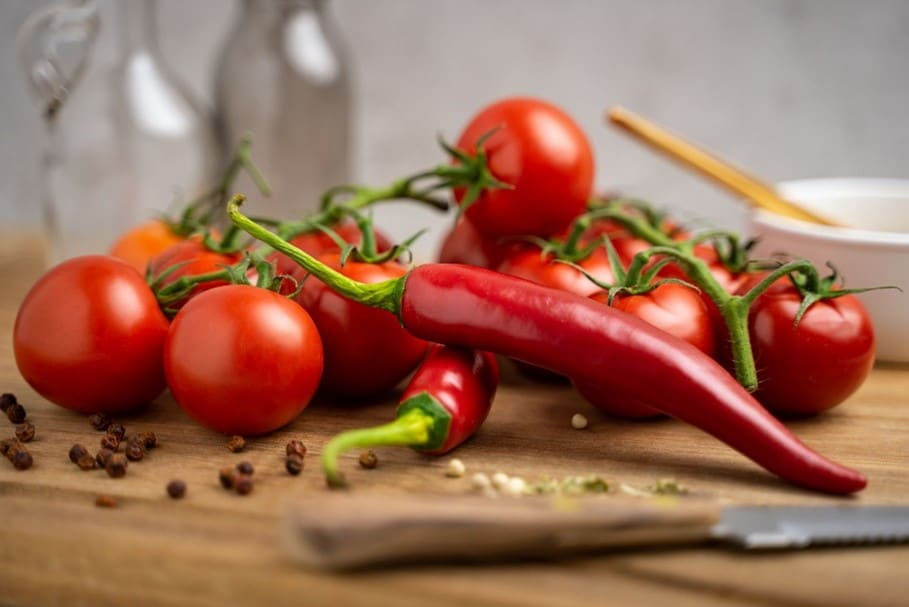 For tomatoes, large varieties, such as Beefsteak, are hard to grow in Texas. Smaller varieties like cherry and Roma (among many others) do great in our Texas heat and are heavy producers. One or two tomato plants produce enough for a family of 4-6. Plant with onions or cilantro, but don't forget to trellis your tomatoes!
Homemade salsa is easy to tweak and personalize, so peppers are up to the tastebuds of the chef. Any sweet pepper variety will do, and the same goes for hot peppers. One hot pepper plant will provide plenty of heat for one family of 4-6 people.
Onions are planted in the cooler months. Plant these in a separate container or with cilantro or peppers.
Garlic is planted from garlic cloves and is planted in the cooler months. Plant with cilantro, peppers, or tomatoes.
Cilantro struggles in our Texas heat, so be sure plant it in part sun or on a sunny windowsill indoors.
Make sure your salsa garden gets full sun (6-8 hrs/day), except the cilantro! If planting multiple plants in one bed or container, be sure to put the taller plants, like tomatoes, in the back and shorter ones in the front. Read the plant tag or seed packet to properly space the plants.
If you would like to try adding a sweet zing to your salsa, try this twist on the classic salsa from NTFB's Nutrition Services Team!
INGREDIENTS: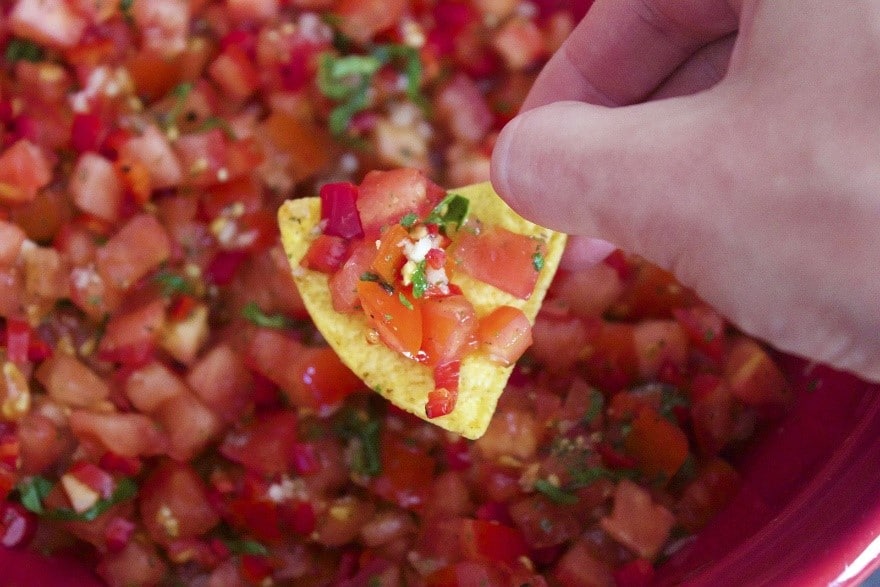 1 1/2 pounds tomatoes, chopped
2 bell peppers, seeded and finely chopped
2 jalapenos, seeded and finely chopped
1 medium onion, finely chopped
1-pound peaches, pitted and chopped
1/2 bunch fresh cilantro, minced
1 lime, juiced
1/4 teaspoon pepper
DIRECTIONS:
Add tomatoes, bell peppers, jalapenos, and onions to a large bowl and mix well.
Add chopped peaches to the bowl.
Add cilantro, lime juice and pepper and mix.
Serve with whole grain tortilla chips.
TIPS: For a more intense flavor, refrigerate salad 1-2 hours before serving.
Emily Anderson is the Garden Coordinator for the North Texas Food Bank. And don't miss the next episode of Homegrown to Homecooked on May 26 at 5 p.m. on the NTFB Facebook page to learn how to grow fresh produce in your garden and turn it into a delicious meal!