Dear Friends,
One year ago today, the North Texas community lost a leader and innovator. Jan Pruitt served as the Food Bank's President and CEO for nearly 20 years. Like many others in North Texas, I mourned the loss of a someone who had changed our community for the better – not knowing at that time that I would succeed her. Since coming on board in July, I have an even deeper understanding and appreciation of Jan's passion for a hunger-free North Texas.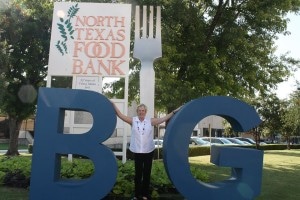 Jan was a big thinker and above all else someone who took action against hunger. Each day, I am inspired by stories from employees, gratitude from clients served, or encouragement from our supporters who know first-hand the impact that she had. We know that the work she did – and the work that we continue to do – means something.
Jan believed that having enough food to eat was a basic human right. Her many years of work as a hunger fighter helped us to be able to provide the 70 million nutritious meals we are today, but that work isn't finished. As part of our strategic plan, we are steadily working our way toward closing the hunger gap by providing access to 92 million meals by 2025. In the year since her passing, we are making great strides on this plan by investing in our Partner Agencies to ensure they have the right infrastructure in place to be able to provide nutritious foods to our clients, especially fresh produce which makes up about 50% of the food we distribute today.
We have also laid the foundation – literally – for our new home in Plano, our Perot Family Campus. Scheduled to open later this year, this facility will expand our capacity to house volunteer and distribution efforts. This facility was a dream of Jan's and I believe will be a beacon for future work to fight hunger.
As we look forward to the future, we will honor Jan's lifework by fulfilling our vision of a hunger-free, healthy North Texas. Thank you for continuing to champion the North Texas Food Bank – your support means the world to us.
Sincerely,
Trisha Cunningham
President and CEO
North Texas Food Bank
ntfb.org