Spring Recipe: Blueberry Zucchini Muffins
May is Mental Health Awareness Month, a time to bring attention to mental health and its critical role in our overall health and wellness. According to Mental Health America, nearly 1 in 5 American adults will have a diagnosable mental health condition in any given year. It impacts young people as well, and, like hunger, no zip code or community is immune from it.
We know that hunger and health are inextricably linked, and that includes mental health. According to the Academy of Nutrition and Dietetics, one of the best things you can do for your body to limit stress is to choose a balanced, healthy eating style. Burgeoning research also shows that diets high in foods like vegetables, fruits, whole grains, and fish and seafood can have a positive impact on mood and overall mental health.
In honor of Mental Health Awareness Month, we are sharing a recipe that uses whole grains, vegetables and fruit to boost your mood and contribute to your overall wellbeing. These Blueberry Zucchini Muffins are healthy and delicious – two of our favorite things at the North Texas Food Bank! And breakfast is a great way to start your day and fuel your brain!
Beyond a well-balanced diet, other ways to ease stress and bolster your mental health, adapted from the Academy of Nutrition and Dietetics, include:
Relaxation activities, such as meditation, guided imagery or breathing exercises
Spending time with friends and loved ones for emotional support
Limiting caffeine
Seeking professional help. There is no stigma in reaching out for help and getting the treatment you need.
---
Blueberry Zucchini Muffins
Servings: 16
Total Time: 40 minutes
Ingredients: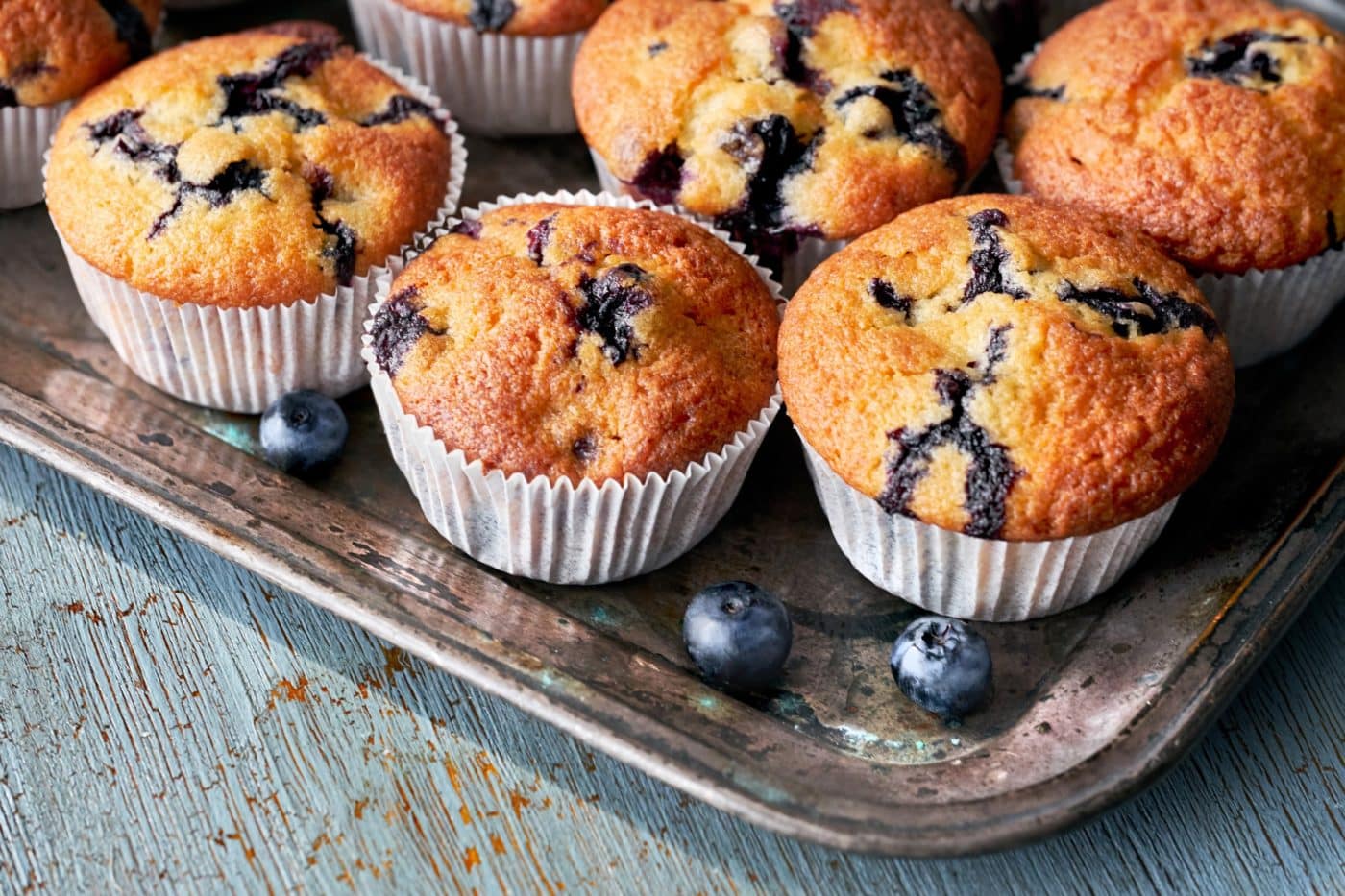 1 large zucchini, grated, squeeze out excess water
1/2 cup applesauce
1/4 cup nonfat milk
3/4 cup honey
2 tablespoons olive oil
1 teaspoon vanilla extract
2 cups whole-wheat flour
1 teaspoon baking soda
2 teaspoons baking powder
2 teaspoons cinnamon
1/8 teaspoon salt
Non-stick cooking spray (Olive or Canola)
1/2 cup blueberries
Directions:
Preheat oven to 350°F.
In a large bowl, add zucchini, applesauce, milk, honey, olive oil and vanilla. Mix well until combined.
In the same bowl, add flour, baking soda and powder, cinnamon, and salt. Mix well until combined.
Lightly coat muffin pan with cooking spray. Fill cups halfway with muffin mix.
Add blueberries to the top of each muffin mix.
Bake 20-30 minutes, or until the tops are browned. To check muffins, insert a knife in the middle and if ready, it will come out clean.
Let muffins cool to firm up or enjoy tender and warm.
Full nutritional information about this recipe can be found here: https://ntfb.org/blueberry-zucchini-muffins
---
Nutrition services is a critical component of the Food Bank's strategic plan to provide Food for Today and Hope for Tomorrow, and we have been providing free culinary and nutrition education to low-income populations since 1996. Visit our website to learn more about our education services.
Enjoy the rest of your spring!
Jamie Palefsky is a Nutrition Education Specialist for the North Texas Food Bank.