Summer Recipe: Rainbow Smoothie
June is the official start of summer and the heat, longer days, swimming, and more heat are definitely upon us! And nothing goes better with a day outside in the sun than a refreshing cold treat or smoothie.
As June also marks National Dairy Month, the Nutrition Services team at the North Texas Food Bank has recommended several dairy-forward frozen yogurt and smoothie recipes that can help you incorporate more dairy into your day and eating patterns.
The Dairy Group includes milk, yogurt, cheese, lactose-free milk and fortified soy milk and yogurt. According to the U.S. Department of Agriculture, there are many health benefits of dairy, but it is especially helpful for building and maintaining strong bones (as we are sure you have heard all your life!). Dairy products are the main source of calcium in American diets, but dairy is also rich in nutrients such as potassium, vitamin D and protein. Yogurt is an especially great dairy product for potassium, and it is the main dairy ingredient in a few of our favorite recipes.
It was hard to choose which refreshing recipe to feature, but we ultimately went with the Rainbow Smoothie. The best part about this smoothie? It only takes five minutes of prep time, and you are back to the pool! And be sure to check out the links below to a few other yogurt-centric recipes for some cool and healthy treats this summer.
Rainbow Smoothie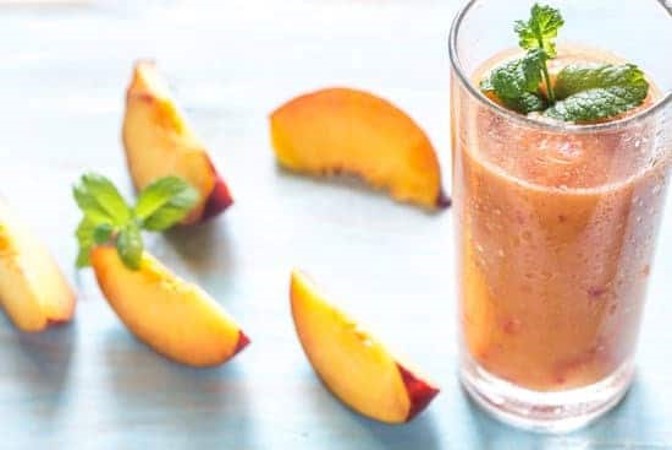 Servings: 4                                
Total Time:
5 minutes
1/2 cup of ice cubes
1/2 cup of strawberries
1/4 cup of blueberries
A handful of spinach
1/2 cup of peach slices
1 ripe banana
1/2 cup of 100% fruit juice
1/2 cup of low-fat plain yogurt
Additional tips:
Fruit can be fresh, frozen, or canned.
Experiment with other fruits like blackberry, orange, mango, pear, raspberry, pineapple, seedless grapes, watermelon, kiwi, or grapefruit.
Use any of your favorite juices: orange, pineapple, and apple juice all work well in smoothies.
Smoothies are a great way to hide and incorporate vegetables without sacrificing flavor. Try adding vegetable juice or kale in place of spinach.
Full nutrition information can be found here: https://ntfb.org/rainbow-smoothie
Here are some additional delicious dairy-centric recipes:
All NTFB recipes can be found here: https://ntfb.org/recipes/.
Looking for more nutrition ideas? Check out the recording of our latest Cooking Matters class, "Hack Your Snack."
Finally, in collaboration with the NTFB Garden team, Nutrition Services has launched an e-newsletter called Spade and Spoon to give you regular access to delicious recipes, cooking demonstrations, nutrition/garden classes, gardening how-to's and more! Click here to sign up.