Pride Month Volunteer Spotlight: Nancy Levenson, Production Kernel
We continue to celebrate the achievements and contributions of members of the LGBTQIA+ community throughout June in honor of Pride month.
The North Texas Food Bank is committed to providing access to nutritious food for all North Texans facing hunger, and we are proud to both partner with organizations in our service area that have outreach programs focused on our LGBTQIA+ neighbors and to also create an inclusive environment for all who want to join the fight against hunger and make a difference in our community.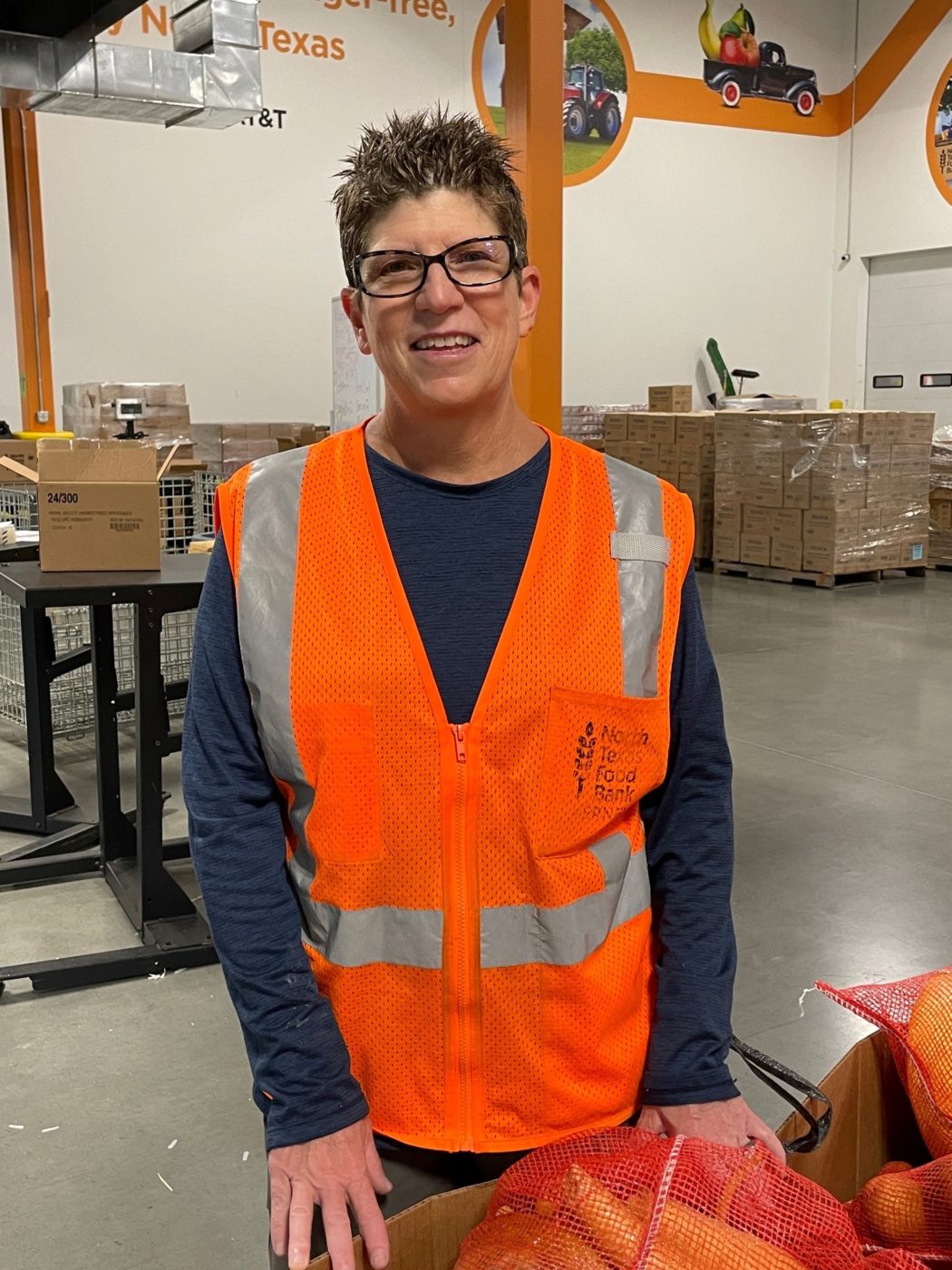 Volunteers are the hearts and hands of the Food Bank, and today we are spotlighting one of these hunger fighters, Nancy Levenson, who has been volunteering at the NTFB for 1.5 years and serves as a kernel (what we call our volunteer leaders) on our production floor. Nancy lives in Frisco and with her wife and two daughters, and she brings leadership, warmth and a passion for service to every shift.
We are grateful to Nancy and all our volunteers for helping us advance our mission to close the hunger gap in North Texas!
---
Q: What inspired you to volunteer here and how did you get involved?
A: In the Fall of 2020, I was deep into a new job search journey, and was looking for an outlet to feel more connected, productive and positive. Friends and family suggested that I volunteer, and that sparked my involvement with several agencies starting in October 2020. Someone in my network had great things to say about NTFB and I started volunteering here in March 2021.
I enjoyed the experience so much that I wanted to contribute more, so I became a Kernel in August 2021. I typically volunteer for 4 Kernel shifts (16 hours) on a weekly basis. Drawing on my business background, I am also part of a pilot program to assist NTFB with annual compliance audits of our partner agencies.
Q: What do you like most about volunteering in the distribution center?
A: The people! The passion and commitment of the NTFB employees and the volunteers is so energizing! Dan, Amal, Jennifer, Haley and Carlos do an outstanding job of directing and motivating the volunteers to be safe and productive while having fun. Every shift brings excitement and teamwork, and it is always rewarding to see the amount of food that gets packed and sent out to our communities.
Q: Why do you think giving back to your community is important, especially in these last couple of years?
A: For me, it gives me a stronger connection to my community, it serves as a role model to my two daughters (I'm excited for them to turn 12 so that they can start volunteering here), and it makes me feel more appreciative. Volunteering at NTFB for the past 1.5 years has really opened my eyes to the amount of people that face food insecurity in North Texas and the critical need of organizations like NTFB and significant volunteer hours to help our communities fight hunger.
Q: What would you say to others who are considering getting involved in the North Texas Food Bank?
A: Please join us! Volunteers are the special ingredient to NTFB's success. NTFB consistently creates an amazing volunteer experience that leaves you feeling appreciated, grateful and productive! In 2 hours, you will easily see the huge positive impact you made on many lives in our community.
---
Learn more about all NTFB volunteer opportunities here: https://ntfb.org/volunteer.