Preparing Before Disaster Strikes
When a hurricane hits, every second truly does count – that's why it is critical to have a plan and prepare supplies before a disaster strikes. The Food Bank is proud to have partners that aid us in our efforts to prepare for disaster relief. Today, thanks to Feeding America and the global healthcare company Abbott, the Food Bank has supplies on hand to distribute in the event of a disaster.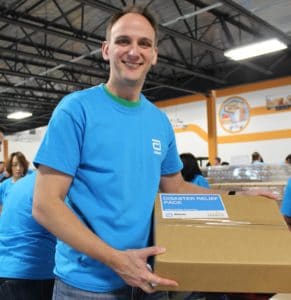 Abbott volunteers were onsite at the NTFB Perot Family Campus to pack disaster relief packs which are designed to be given directly to families affected by disasters, and are meant to meet immediate nutritional needs for three days. The packs have very specific Abbott products which would be critical in the event of a disaster, including nutritional bars and drinks for adults and children, as well as rehydration solutions.
The partnership between the NTFB, Feeding America and Abbott is longstanding. In fact, in 2017 these packs provided families with rapid aid following Hurricane Harvey. As a member of the Mass Care Task Force, the Food Bank was pulled in early on into the disaster relief effort following Harvey, and having these packs ready was an invaluable resource.
All told, Abbott disaster relief packs have helped more than 20,000 people affected by hurricanes, storms and flooding across the region in recent years.
---
Anna Kurian, Director of Marketing and Communications
Anna Kurian is a Dallas native, and passionate about telling a good story. Alongside a talented team of Food Bankers, Anna is privileged to hear firsthand accounts of the impact the North Texas Food Bank and their partners make in the community.