Black History Month Celebration Honors Community Leaders, Raises Funds & Foods
To mark the culmination of Black History Month while raising critical resources for hunger-relief after the recent devastating winter storms, POWERHANDZ and the Power to Give Foundation hosted a special volunteer day and donation drive on Saturday, Feb. 27 to benefit the North Texas Food Bank.
The Stronger Together, Celebrating Black History and Uniting our Community event brought together POWERHANDZ's network of athletes and supporters, collecting donations of food and funds for the North Texas Food Bank and the 200+ member agencies that it serves. The event raised more than $10,000 with volunteers helping create more than 24,000 meals for our neighbors. The  food drive effort helped raise more than 1,700 pounds of food which will be distributed in the coming days.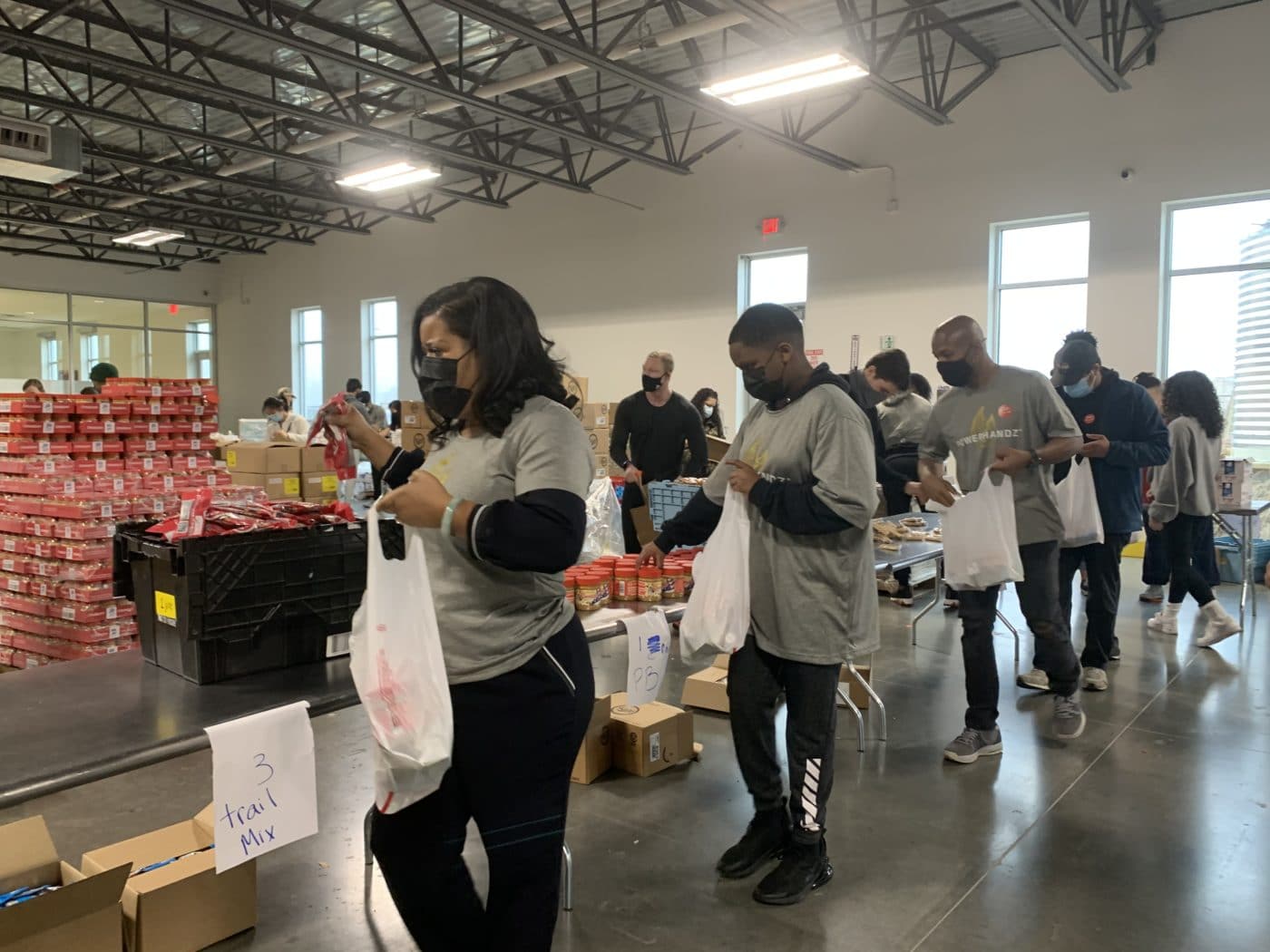 Based out of Frisco, POWERHANDZ is a global athletic training and rehabilitation product tech company that includes a line of innovative products used to enhance human performance. Its CEO and co-founder, Danyel Surrency Jones, is an NTFB Advisory Council Member and dedicated hunger fighter in North Texas. She started the Power to Give Foundation to "build character through athletics, focusing on programs that enhance academics and athletic success and that provide life skills and leadership training designed to promote our core values of community service."
During the event, volunteers helped sort and pack kitted food boxes on the NTFB production floor. This included former Dallas Cowboys players Darren Woodson and Greg Ellis. Before the volunteer shift, NTFB CEO Trisha Cunningham presented the Black Leadership Power of Community Awards, honoring local leaders who have made countless contributions to the North Texas region, especially when it comes to advancing the issue of racial equity and ensuring equitable access to nutritious food.
The following recipients were honored for their service:
Randy and Rev. Dr. Lael Melville
Randy and Rev. Dr. Lael Melville founded The Melville Family Foundation to improve the lives of black and brown children in the southern sector of Dallas via economic stability, food security and academic excellence.  Randy, a college athlete himself, and Lael Melville established a relationship with NTFB and have helped us via volunteerism, donations of funds and by identifying high need schools that could benefit from NTFB's services.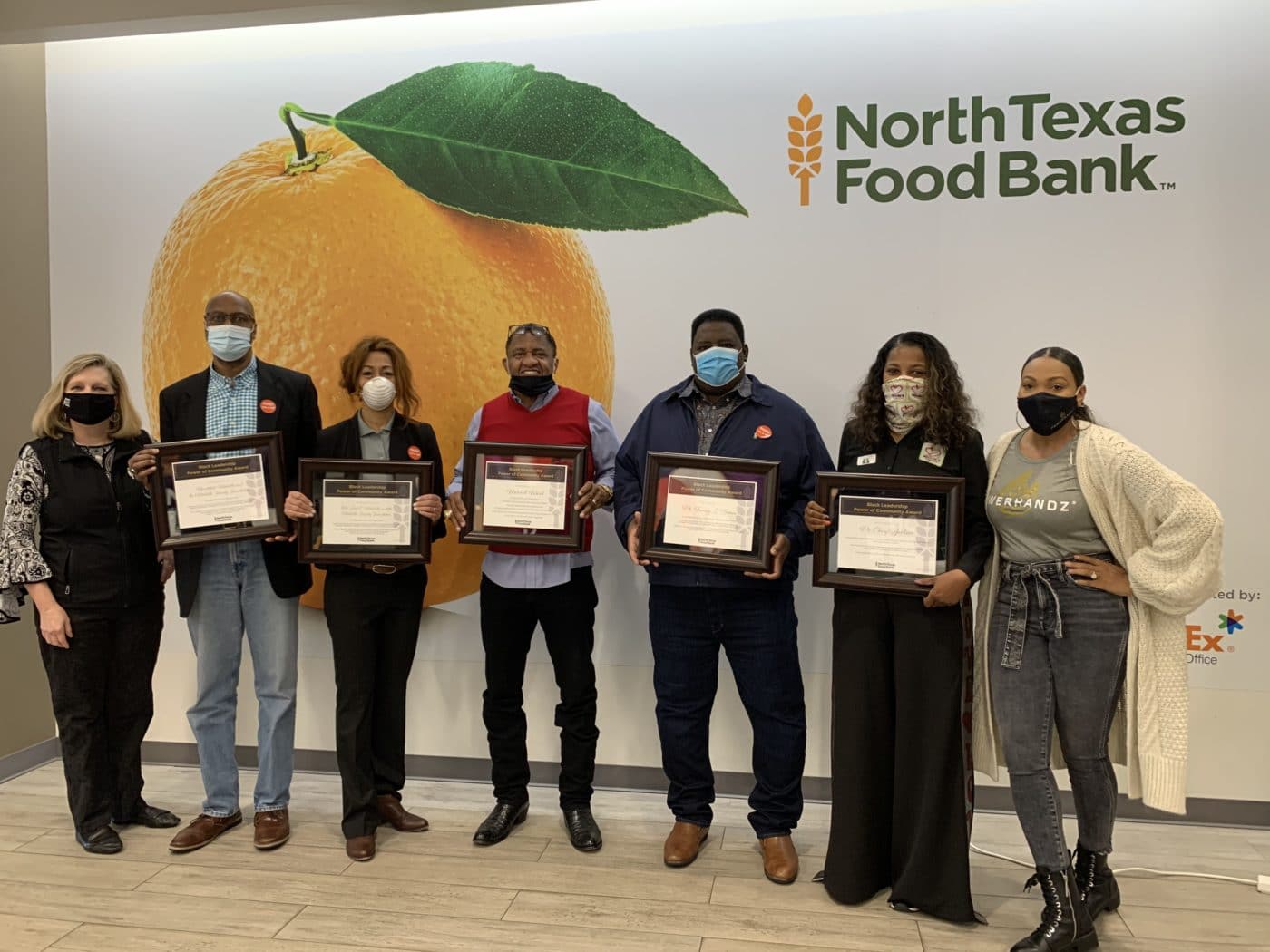 Pastor Tommy Brown
Pastor Brown's New Mount Zion Church, appropriately located on Shepherd Road in Dallas, is known as a beacon of light for the community, providing resources and hope both for members of the congregation and the community at large. As the pastor and leader of the Ministerial Alliance, he has not only set-up multiple food distributions, but he has also worked to connect NTFB in other areas of need, including his hometown of Ennis, TX. He encourages neighbors to help neighbors, and his work ensures that hard to reach and underserved communities have access to the healthy food they need to thrive.
Mitchell Ward
As the CEO of MW Logistics and founder of MW Cares, Mitchell Ward works to provide food and hope to the community each holiday through an annual turkey distribution in partnership with Pastor Brown and the Ministerial Alliance. Last year, through a collaboration with the North Texas Food Bank, he facilitated the largest distribution to date where we were able to serve more than 25,000 families. He is another former athlete with a heart for service.
Dr. Cheryl Jackson
She may as well be named wonder woman – that's how big Dr. Jackson's impact has been in our region. As the founder of Minnie's Food Pantry in Plano, an organization established to carry on the legacy of her mother, Dr. Minnie Hawthorne-Ewing, Dr. Jackson has literally fed millions of our neighbors. Since the COVID-19 pandemic, Minnie's Food Pantry has seen a drastic increase in the need for food assistance. Under her leadership, the agency has served nearly triple the number of individuals in 2020 compared to previous years and distributed more than 4.8 million meals last year alone. We are so honored to have Minnie's as part of the NTFB network.
Thank you to all of the honorees and the Power to Give Foundation for your commitment to fighting hunger in North Texas. Hear from some of the awardees and volunteers and learn more about the event in this special media coverage here.